After more than a year of work and 1500+ users that helped us improve, last week (Thursday 25th) we officially launched Competitors App on Product Hunt (PH) As Răzvan (Founder & CEO Competitors App) posted on his Facebook account, being featured on PH is a significant moment in an entrepreneur's life, so we had to do our best to take advantage of this day.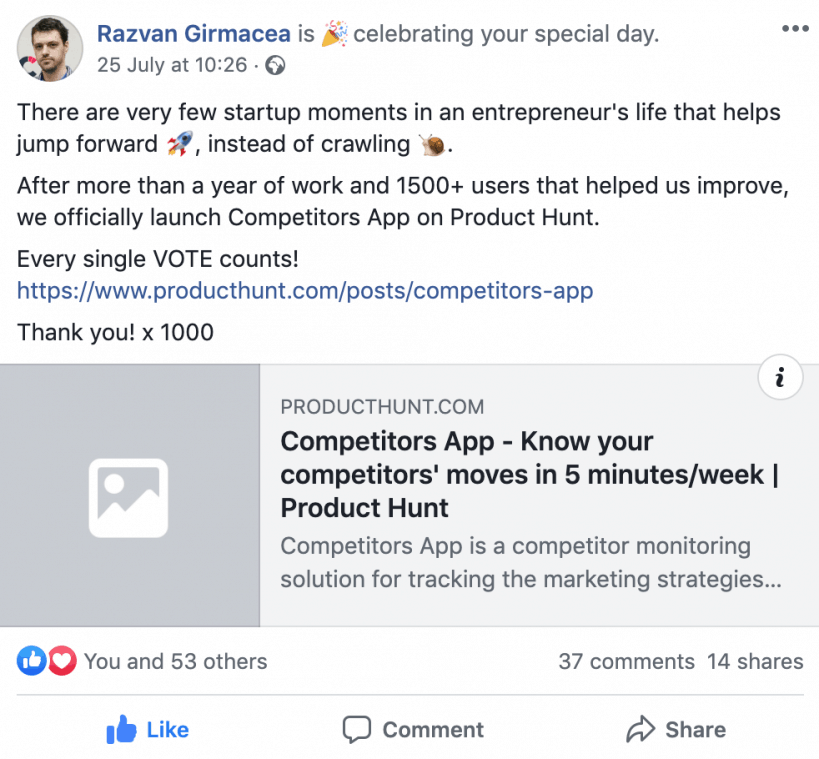 In the tech world, Product Hunt is the best destination for product discovery. It's like the Eiffel Tower for tourists – once you're in Paris, you can't skip it, it's a must. So, once you're part of this tech-focused community, launching your product on PH is a "to do" on your list.
For any startup, launching a product on PH means gaining media attention and users, and not only on their launch day. Our primary goals in launching Competitors App on PH was to receive feedback from the tech community, to see what's our position in the market, and to get new users.
How did we prepare for the launch?
1. Networking
Planning to launch your product soon? Then start growing your network!
Be active on PH (starting with months before your launch), upvote your favorites, start discussions, and interact. Networking will bring some benefits to you and your business, not just for the launch but also for your entire carrier. When Răzvan and I had a chat the next day after the launch, we underlined many times that "networking" is an essential key in those kinds of "racing games."
In our case, more than 80% of the votes come from our networks, so be prepared to ask for support and even to beg for it – I know, sounds dramatic, but you're not every day featured on PH.
2. Take notes
Read and learn how to launch your product and how to make the most of it. Some weeks before the launch, we started to document ourselves about other PH launches' experiences, read step-by-step guides on how to launch on PH, and we began to prepare our version of launch.
Make sure that you keep an eye on PH blog posts regarding the launch of a product, the "KIT," tips & trips, do's, and don'ts.
3. Make a plan 
Make sure you have a clear plan before the launch.
It will help you to optimize your work and to structure it before the big day.

When planning to launch on PH, make a short analysis of your product. Our advice is to don't launch on PH too soon. As mentioned above, we waited 1.5 years and 1500+ users until the launch. Maybe it was too late; perhaps it was too early – this is questionable. But launching too early may not get you enough attention from the PH community. Also, when you plan your launch, make sure that you have a clear definition of your ideal customer so you can adapt communication and your Unique Selling Proposition to your targeted audience.
4. Prepare everything in advance!
Product Hunt Kit, Social Media posts, etc.
Also, have a list of groups from your industry (FB, LinkedIn, etc.) in which you can share the news and receive support.
Here are some groups where we posted our launch:
Product Hunt upvote exchange (FB); SaaS Products & Marketing (FB); Product Hunt Romania Fb), The Content Marketing Forum (LinkedIn), Reddit Upvote Exchange (Reddit).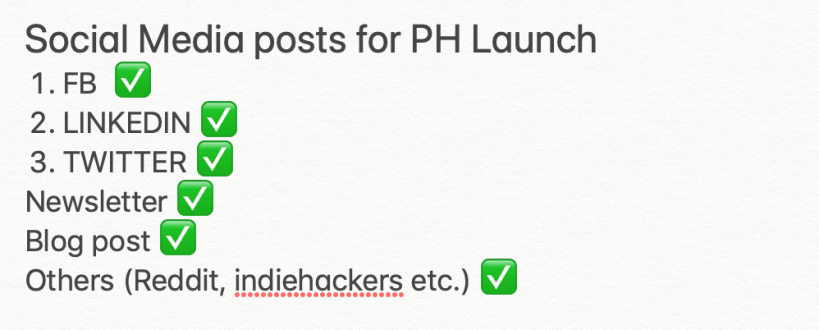 During the launch – BIG DAY IS HERE
Good mood and good Wi-Fi connections are a must, so make sure you have them both. And some good sleep the night before because the "race" takes 24h and you may want to be on guard. At 10 AM, on Thursday, we were live on PH, hunted by Răzvan. Initially, we planned to launch on Wednesday, being haunted by a PH hunter, but in the end, we decided to launch ourselves, one day later.
We were already in the mood for it, so we didn't want to wait anymore.
1. Pass the news on Social Media – ASAP!
We covered FB, Twitter, LinkedIn, and our blog.
During the day, we've also sent a newsletter and consistently posted "live" updates on Social Media regarding our position on PH.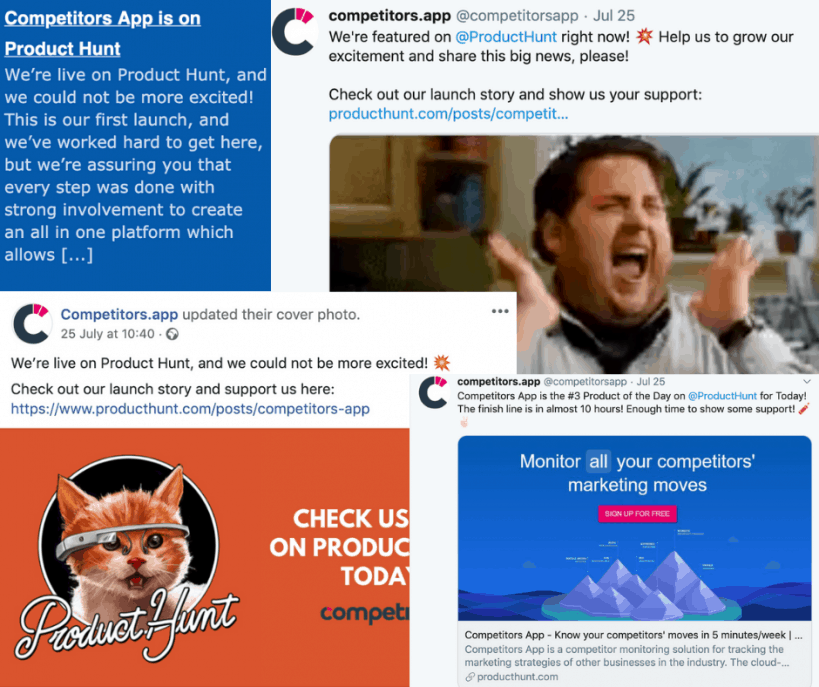 2. Start networking!
While I was covering our Social Media channels and scheduling the next posts for the day, Răzvan started already to message his network about the launch. We first sent messages to Facebook friends, LinkedIn connections, technology influencers, and share the news in groups.
After almost 1h30 from the launch, we were #5 Product of the day, but still not on the homepage, mentioned as Popular Products. We assumed that, even if we had votes, we did not have the same chances of exposure as products haunted by a famous hunter from the PH community.
Our advice is to talk everywhere, to everyone! On Facebook & LinkedIn groups, on Reedit channels, and your social networks. Pass the news, share the link to your PH product, and ask for support and feedback, respond to comments, interact with the audience, especially on your PH page.

At midday, 2h, after the launch, we were #3 Product of the Day.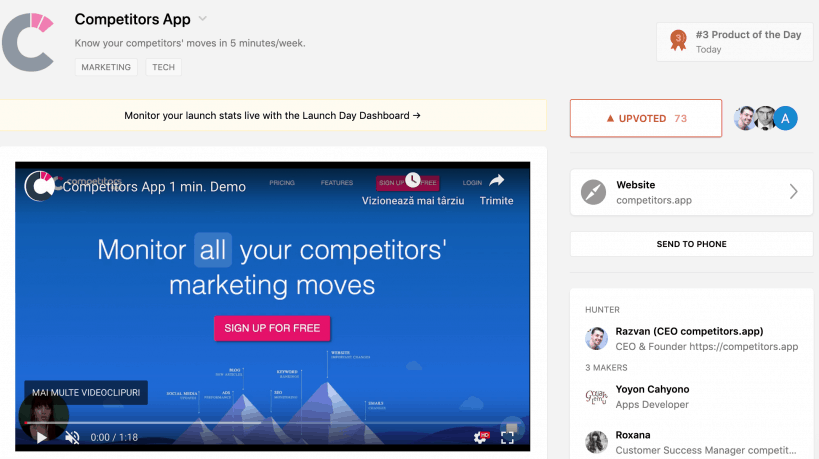 During the rest of the day, we spread the news, find and join new tech/marketing groups and, we explore new sources from where you can gain support and feedback. After 24h, the race has ended, and the #2 Product of the Day was ours.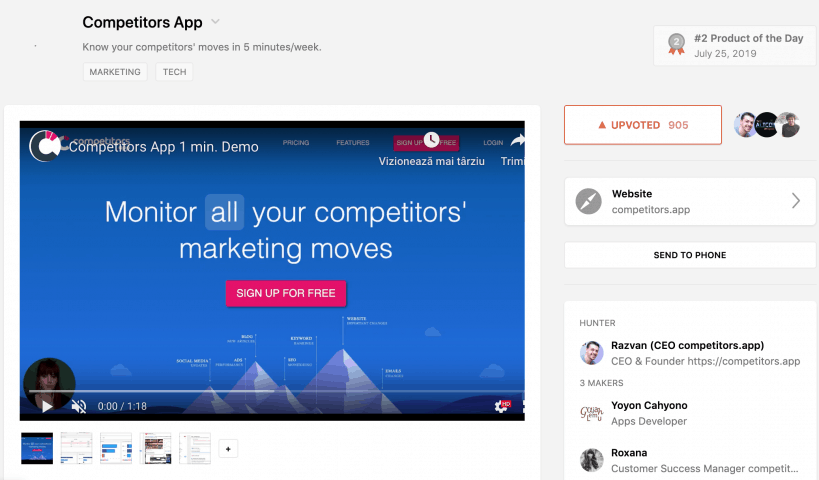 After the launch
1. Feedback
Customers' feedback is essential to us. Gathering and analyzing user feedback gives us a much clearer picture of what our platform should deliver to satisfy our customers' needs.
We received feedback on each post related to our launch on PH. In total, over 300+ comments, new ideas to implement, and a lot of support. We thank you for that!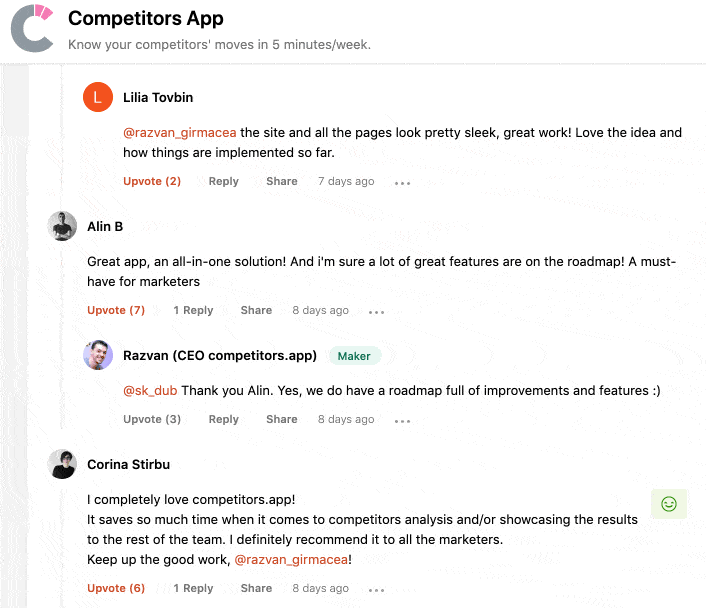 2. New users
Starting from the launch, approximately 700+ users signed up on Competitors App. Since that day, the number of unique users coming from the PH community is still increasing.

Regarding the number of users converting to Premium, we had no expectations, taking into account that users from the PH community sign up for new tools every day, for a testing purpose or to see what's new on the market. To our surprise, the audience liked us and some users representing big, but also small companies became Premium users right away.
By the end of the week, we got #4 Product of the Week, with a total of almost 1,100 votes.
So during those days, we were constantly up-voted. Thanks for this, too!