Nowadays changes happen quickly in the digital world and competitive analysis becomes an increasingly critical element of success. Knowing your competitors' website changes will allow you to stay ahead of the curve and possess the vital information necessary for strategic decision-making.
Setting up change monitoring on your peer websites will give you a competitive advantage and make you well aware of your competitors 'activities such as new products, promotions, price, and package changes as well as SEO updates. The latter in turn is a great strategy especially in competitive verticals, that can make the difference between securing a page-one ranking or
being stuck at the top of page two. Stop wasting time on costly tries and tests – implement changes and improvements that are already working for your competitors and watch your
conversion grow.
When it comes to the competitive market, staying consistent in monitoring competitors' website changes is an essential step. Regularly visiting and scrolling through your competitors' requires time and hassle.  Competitors App allows you to monitor competitive websites for the content changes that matter most to you, keep track of the competition through one central interface and receive immediate email notifications about new adjustments.
Benefits of website changes monitoring
competitive insights into ad hoc opportunities;
benchmark against the competition to catch pricing and inventory gaps;
understand what works and what doesn't;
stay on top of industry trends;
get insights into new testing hypothesis;
identify and prepare for new competitive threats.
Let's go to some use cases:
1. Detection of the new website pages
Monitor your competitors' activity and spot relevant changes as they occur:
see new products and promotions instantly;
spot industry, technology, and market trends;
track site structure updates.

2. Page content changes
Adjust your product strategy in time by getting insights into competitors' page content changes – features, pricing, delivery, packaging & return policies.
receive alerts on new product content;
keep up-to-date with your competition's pricing strategy;
see products and services that scale-up or scale-down.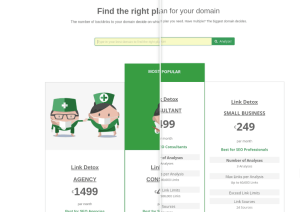 The website changes visual slider from above allows marketers/business owners to easier locate the change and to see the comparison "Before-After", rather than sorting through screenshots or other ways to capture manually competitors website changes.
3. SEO changes:
See your competition's strategy across the web to get insights into their target audience and keywords and differentiate in content:
refine messaging, value propositions and selling points;
get fresh keyword ideas to increase traffic;
replicate the best SEO strategies in your space.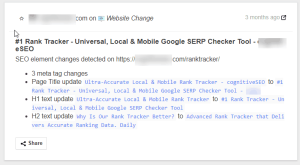 4. New languages added:
See when your competitors target local presence on the new geographic locations or when they plan to extend their business on other markets by adding new languages:
receive marketing ideas for your location-specific campaigns;
use data insights to leverage your own local market entry points;
learn successes and mistakes of becoming locally relevant from your competitors

5. Website design changes:
Understand what is your competitors' positioning and messaging and find new ways to differentiate your brand and make it more competitive for your shared audience:
spot positioning changes across the website;
identify design changes that lead to a brand refresh;
get insights into competitors' direction by tracking their boilerplate.

Monitoring competitors' website design changes can suggest what's their next moves on the market. If a company changes the landing page, features a new product, or restructure their navigation can be a sign that something new is prepared, such a product being released or a new initiative is launched.
6. Call-to-action and conversion changes
Get insights on the latest campaigns and promotions across your market:
spot newest landing pages and calls to action;
easily track any A/B test your competitors are doing;
see ads that convert and get inspiration for your marketing strategy.

Tips on tracking website changes to outperform your competition
1. Track the RIGHT information
The first thing you need to do when launching a competitors' website changes monitoring program is to decide what information and data points you actually need to know about your
competitors. Here are the most important competitor website pages to track for most industries:
Homepage: call-to-action, conversion strategy, featured products;
Main category pages: sections and new products;
Prices and packages;
Offers, promotions, and banners: new and hot products;
Features, functionality, benefits: for online/SaaS products;
Press, media, and news: get trends and forecasts;
Terms and conditions: pricing, shipping, return policies;
Blog posts: product updates and how-to's.
2. Decide which competitors to target
Of course, your company's marketing strategy is unique, as you may provide a product or service that's geared to a different customer group than your competitors. However, it is
important you decide on which of the main categories of competitors you are after:
Direct competitors – These brands offer essentially the same product as you;
Indirect competitors – These have different products but target the same need;
"Available spend" or replacement competitors – These compete for the same budget as your brand, even if their product is different.
To understand your market, you need to be aware of what all your types of competitors are doing. Make a list of competitors including direct, indirect, and replacement examples and start tracking their activities. Choose a handful from each category, so that you have a range of brands to monitor. You'll receive insights into close opponents, but also your wider ones and well as details regarding the industry.
3. Discern What Works for Your Competitors and What Does Not
There's no point in trying to imitate a competitor's strategies if you've noticed that the results are not positive or you've seen that the steps that your competitor is making don't go in the right direction. The same goes for their product updates and industry opportunities. Another thing to consider is that you may
not be 100% sure which factors are correct. So instead of just blindly copying your competitors' moves have the mindset that you are running an experiment and just take notes and play the "observer" role. After gathering all the insights you need, run the hypothesis you copy against your current
website and see if it makes a difference.
4. Categorize your findings
The first thing you need to do is categorize the changes and decide what's important and what can be noted and put off for some time. When you see something that may affect your business it is better to take immediate action while less urgent information can be addressed at a later time.
If you act regularly and create a specific set of actions for each website change update you will train yourself into immediately recognizing important competitor website changes. By taking a proactive approach to the insights you receive you place your business alongside the top percentile of high-performers. These are the companies that always steal the most market share, never miss a new trend and are never blindsided by innovation.
To sum up it is possible to receive a significant positive effect by implementing powerful automated competitors' website monitoring. Being able to collect timely visual data from your competitors allows outperforming their future strategy in most cases. You can make use of Competitors App tool to bring competitors' website changes insights into your team's day-to-day decision-making processes.
Whether you are looking to track website changes of your closest rivals or investigate the entire sector, monitoring the website changes provides a great overview of the landscape and delivers actionable business outcomes.
Sign in on Competitors App for a 15 days free trial period to start tracking your competitors' website changes. You'll save time and resources by gathering all competitors' data in a single place.