Social media competitive analysis is the constant monitoring and analyzing of your competition's moves on social media in order to produce better marketing strategies. If you want to know what's happening on your competitors' Social media channels, then you'd definitely need a social media monitoring tool to automatically do the job for you.
Tracking competitors' social media pages allow gaining valuable insights to help move your brand forward. It is a great way to discover what your competitors are doing on their social media channels, how they represent their brand and how they engage with their own audience. It also allows you to understand what's working and not working for them.
With the help of social media monitoring tools, you can easily identify influencers and brand advocates who truly move the engagement needle. On top of that, monitoring interactions and conversations with your competitors' customers can provide valuable instances of ways to include them in your marketing efforts.
What aspects should be covered?
Sentiment
Community size
Tone and Personality
Customer Service
Sponsorship
Affiliations
Reach
Content Strategy
Benefits of social media monitoring
evaluate your competitors' position in the social media market
identify the key influencers who are advocating your industry
measure the success and achievements of your competitors
find opportunity areas where your competitors are lagging
generate leads from unhappy customers
monitor what's going on in your industry
How to track social media pages
It's all about creating great customer experiences with social media. But for most organizations, social media is more than just a single channel to promote their products/services or to create brand awareness. There are some cases when companies/business are using their Twitter account as the official network or support while making use of Facebook as their customer engagement platform and blogs to provide useful knowledge and updates.
Competitors App monitors Facebook, Instagram, and Twitter as well as tracks updates to blog posts letting you get complete insights into competitors' social activity. When the monitored resource is first connected it will pull all the posts including the engagement counts – likes, tweets, shares, etc. Based on the set alert frequency user will be alerted on all the posts in monitored social media along with the engagement rates. This allows staying up-to-date with all competitors' activity and their viral campaigns.
Social Media Use Cases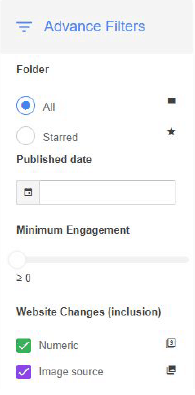 Stay organized with social campaigns
An essential benefit of competitors' social media monitoring is the ability to organize campaigns and to extract the exact information when needed
When messages related to an important campaign come in, you need to be able to respond or engage in a timely manner.
Start by setting up a minimum engagement rate and tracking criteria associated with a specific campaign.
For competitors who receive a large volume of incoming messages for people sharing content and everything in between the ability to organize content is a huge time saver. Not only that, but it also guarantees that important updates don't get overlooked.
Track visuals your competitors use
Use Competitors App to get insights into the visuals your competitors use to attract their audience. You may find that some competitors use different images for specific networks, while others have a consistent brand across all networks. Note whether they use people in their photos, or graphics instead of photos. Either way, you should find some great inspiration for your own business's visual content.
Tracking your competitors' activity on social media allows you to have an idea of their type of content and to spot specific patterns. It's important to notice if your competitors' posts are video-based or image-based and to understand which approach is better for your audience, having in front of you all your competitors' engagement details.
Monitor competitors' social activity
If you're wondering how active you should be on a specific social network, Competitors App tool can come in handy for this as you don't necessarily want to count the number of updates your competitors' post. You should also take a peek at the engagement your competitors receive on each social network. Analyze the number of posts and engagement to see where competitors post and receive the most (or least) audience response.
Check how often are your competitors' posting on different social media channels, what time and days. Always look for the connection posts-engagement because this detail could be an important "hint" for your future content strategies. If one of your competitors is very active on Facebook and the audience seems to engage with his posts, then you should create more content for this particular channel and be more active on Facebook.

Get insights on the type of content you should post
Get inspiration for the type of posts you should publish on each social network by analyzing competitors' top content specific to that platform. This analysis can help determine whether you should post photos or videos, when you should post them, and the type of captions you should include with the posts for best engagement opportunities.
Analyze the message transmitted and the sentiment behind every post, how the audience feels about your competitors' content and you can easily discover how to create the content they will love.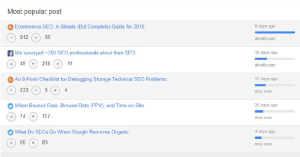 Track audience metrics
Tracking competitors' audience metrics will show you if your competitors' are attracting the right audience of not with their social media content. Monitor Total Followers on Facebook, Instagram, and Twitter, New Followers from one week to another, Followers Growth.

Tips on tracking the key insights from competitors' social media strategy
1. Which networks do competitors use?
When pursuing a social media strategy, you have to decide which social network or networks to use. This is a question that can best be answered by your competitors. To remove the element of "social media overwhelm," start with a network that is proven best for your industry. Once you have built a solid strategy there, move on to the next social network. By that point, you will be a natural at the first network and able to utilize that audience to build the next.
It's important to be present on the same social media channels as your competitors. Of course, it's essential to evidentiate your brand and to create a unique online presence, but as long as you share the same audience as your competitors, try to don't let them become the focus of attention. If your competitor is on Instagram, you'd better create an Instagram account too. If your competitor is active on Facebook, it will be better to put more effort into your Facebook presence too. 
2. How do your competitors position themselves?
Do you have trouble coming up with a great bio for your social profiles or elevator pitches for your business? Find out how your competitors position themselves on social media and their bios will give you an idea of how you can position yourself on each network in order to be attractive to your target audiences.
Get inspired, without copying your competitors'. Each brand has a different identity and a different brand image. Take notes of your competitors' image and try to see what improvement can you bring to your own brand image.
3. What trends do competitors talk about?
If you're not monitoring your competitor's latest social media and blog content, you may miss out on major industry news. Let Competitors App keep close tabs on Facebook, Instagram and Twitter accounts of your competitors as well as their blog posts for you.
Receive notifications every time a competitor posts a new update, so you're up to date with their moves in a single place, with very little time investment.
4. What do people say about competitors?
Knowing what people say about your competitors can give you a feel for the type of engagement you will receive through social media. You may be able to identify a few ways you can tailor your products and services to fill in areas your competitors' products and services miss. Overall, it should prepare you for the type of conversations you may run into for your business on social media and give you ideas for how to handle them.
Take notes if your competitors receive "bad" comments and see how they react to brand image crisis if there's the case. You should analyze your competitors' image in front of the audience to understand what can you do to better position your brand on the market.
5. What groups do competitors join?
Once you find groups to join, you can watch your competitor's activity in those groups. You will likely gain value from these groups, and make sure your business is equally represented when related comments and questions come up. Pay attention to their posts, way of interacting with the audience and notice their main Call to Action, if they change impressions, share blog posts, product/service placement, etc.
Monitoring competitors' social activity will help you to avoid starting your social campaigns from scratch. You can always rely on examples from your industry to get the inspiration you need to create a successful social media campaign for your business. Analyzing your competitors' social media strategies will help you to notice which are the gaps you need to fill to overcome the competition.
As you now understand the strong and weak areas of your competitors' products it's time to differentiate yourself and to improve your strategies based on your competitors' insights. Do not waste time on strategies that are not working. You have to observe, listen, learn and improve.
Claim your 15 free days trial period on Competitors App and start monitoring your competitors' Social Media channels to improve your strategies.