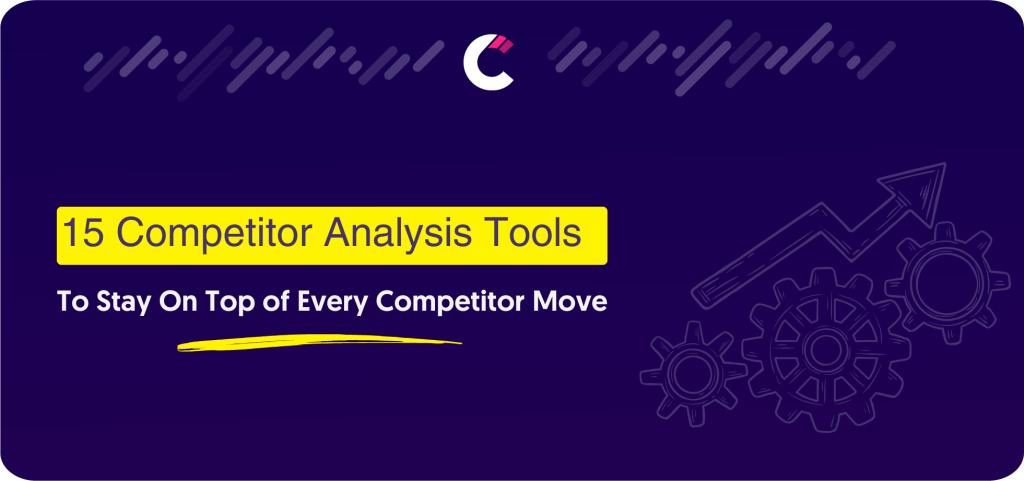 Understanding your competition is essential for success. Competitor analysis tools play a vital role in this process. In this blog, we'll explore the significance of these tools, the benefits they offer, and the key factors to consider when choosing one.
Why competitor analysis tools are a must-have
Now, let's shift our focus to the benefits of utilizing competitor analysis tools. These tools provide you with a wealth of advantages, giving you an edge in the race to outperform your rivals. Whether you're a small business owner looking to gain market share or a marketing professional striving for better campaign outcomes, these benefits are too significant to ignore.
Benefits of Competitor Analysis Tools
Identify Market Opportunities: Discover untapped markets, keyword gaps, and new trends that can give you a competitive edge. By tracking where your competitors are trying to target you are able to identify blue oceans and earn significant market share.
Anticipate New Trends: Stay ahead of the curve by predicting industry trends and consumer behavior shifts. By reading consumer reviews or social listening you will be able to understand what your or competitor customers want and build that ahead of them.
Benchmark Performance: Compare your performance against competitors and set benchmarks for growth. Here is an example of how the Competitors App helps you benchmark yourself against the competition with an easy image.
Track Changes: What if I told you that your competitors are doing more than 100 marketing moves per month? How valuable would it be to know the best of them? With competitive analysis tools, you are able to keep an eye on your competition's strategies and adapt to them in real-time.
Improve SEO: Uncover SEO strategies, keyword rankings, and backlink opportunities that boost your online visibility.
Enhance Marketing: Optimize your marketing efforts by studying what works for others. Imagine knowing how your competitors run ads, which channels they use, and what they are messaging is. How easy would it be for you to enter the market?
Win Competitive Deals: Did you know that you lose 20-50% of your customers to competition? Competitor tracking tools are helping you stay on top of customers and be ready to respond when
What Should You Look for in Competitor Analysis Tools?
The ideal competitor analysis tool should offer:
Wide Range of Data: Access to a wide array of data sources, from SEO performance to social media analytics.
User-Friendly Interface: An intuitive dashboard that simplifies the process of collecting insights. There are many tools out there that
Real-time Monitoring: The ability to track competitors' changes as they happen.
Competitor Benchmarking: This allows you to understand what your competitors are doing and how you benchmark against them. For example, a social media manager would like to know how frequently the competitors post vs how frequently he posts. Similarly, the engagement rates they get and the followers.
What type of tools can be used for competitor analysis?
When diving into competitor analysis, you'll encounter an arsenal of specialized tools, each tailored to a distinct facet of your research. Here's a closer look at how each category of tools can offer insights and elevate your understanding of your competitors:
| | |
| --- | --- |
| SEO Competitive Analysis Tools | These tools are your portal to dissecting your rivals' online presence. By analyzing their SEO strategies, keywords, and backlinks, you can discover their strengths and weaknesses in the digital landscape. This information empowers you to refine your own SEO strategy, enhance visibility, and optimize content to outrank the competition. |
| Social Media Competitive Analysis Tools | In the age of social media dominance, understanding how your competitors engage with their audience is crucial. These tools provide in-depth insights into their social media performance, content strategy, and audience demographics. Armed with this knowledge, you can fine-tune your social media approach, increase engagement, and gain a competitive edge in the digital space. |
| PPC Competitive Analysis Tools | Pay-per-click advertising is a dynamic battleground, and these tools equip you with the means to decode your competitors' strategies. You can uncover their ad campaigns, keyword selections, and messaging. This information helps you make data-driven decisions to optimize your PPC campaigns, reduce ad spend, and maximize ROI. |
| All-in-One Competitive Analysis Tools | For a comprehensive approach, these tools cover multiple aspects of competitor analysis. They provide a holistic view of your rivals' strategies, combining SEO, social media, PPC, website changes, and email insights into one platform, streamlining your competitive research. You can review the effectiveness of these tools in depth. |
| Website Traffic Competitive Analysis Tools | These tools shed light on the web traffic patterns of your competitors, revealing their sources of traffic, audience demographics, and popular content. By understanding their web traffic, you can refine your content and SEO strategies to drive more visitors to your site. |
| Sales Battlecards Tools | When you need to outshine your competitors in the sales arena, these tools offer the upper hand. They provide valuable insights into your rivals' sales tactics, enabling you to create battlecards that empower your sales team with key competitive information. |
| Competitor Technology Detection Tools | In a tech-savvy landscape, understanding the tools and technologies your competitors use is pivotal. These tools unveil the software, platforms, and technologies adopted by your rivals, allowing you to make informed technology choices to gain a competitive edge. |
| Website Changes Detection Tools | To stay current, understanding your competitors' website modifications or new pages is essential to understand how they adapt to the market or what new products or features they launch. Website change tools monitor these adjustments and alert you in real time. |
| Email Monitoring Tools | Your competitors' email marketing strategies are no longer a mystery with these tools. They track email campaigns, offering insights into content, delivery, and audience engagement. Armed with this information, you can fine-tune your own email marketing efforts for superior results. |
| Brand Mention Tools | This category of tools extends your reach into the realm of social media by tracking not only your competitors' posts and engagement but also the conversations and sentiments surrounding their brand. Social listening tools offer insights into public perceptions and emerging trends. At the same time, many social listening tools allow you to track your competitor top PR News and Brand Mentions. |
This comprehensive analysis equips you to adapt your strategies and surpass your competitors, making each of these tools a valuable asset in your competitive toolkit.
The 15 Best Competitor Analysis Tools to Use in 2023 (per category)
Now, let's dive into the heart of the matter. We've handpicked the top competitor analysis tools, categorizing them to suit your specific needs. Whether you're looking to up your SEO game, master social media, or keep a watchful eye on your competition, we've got you covered.
1. Best Competitor Analysis Tool for All-in-one Competitor Monitoring: Competitors App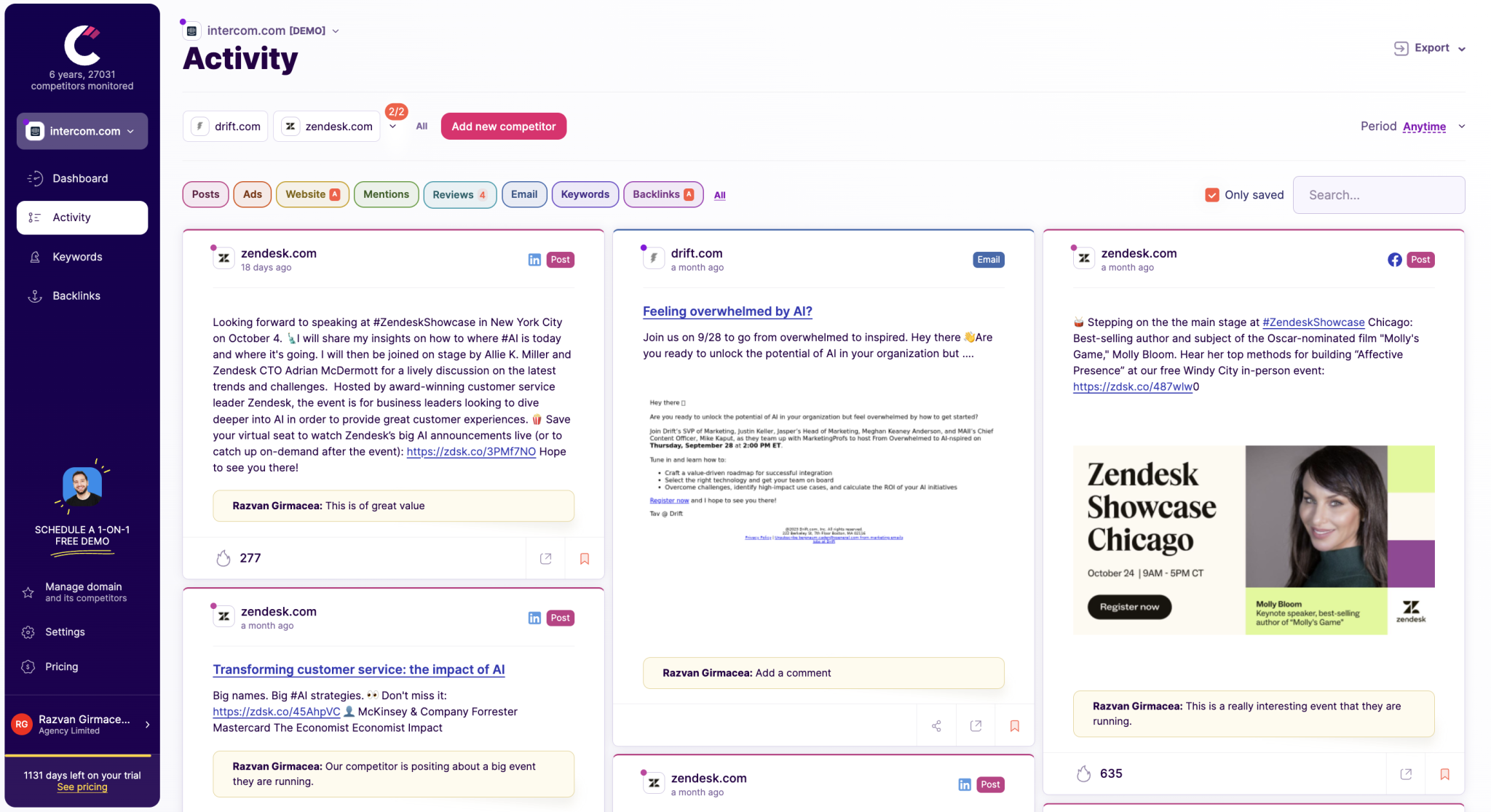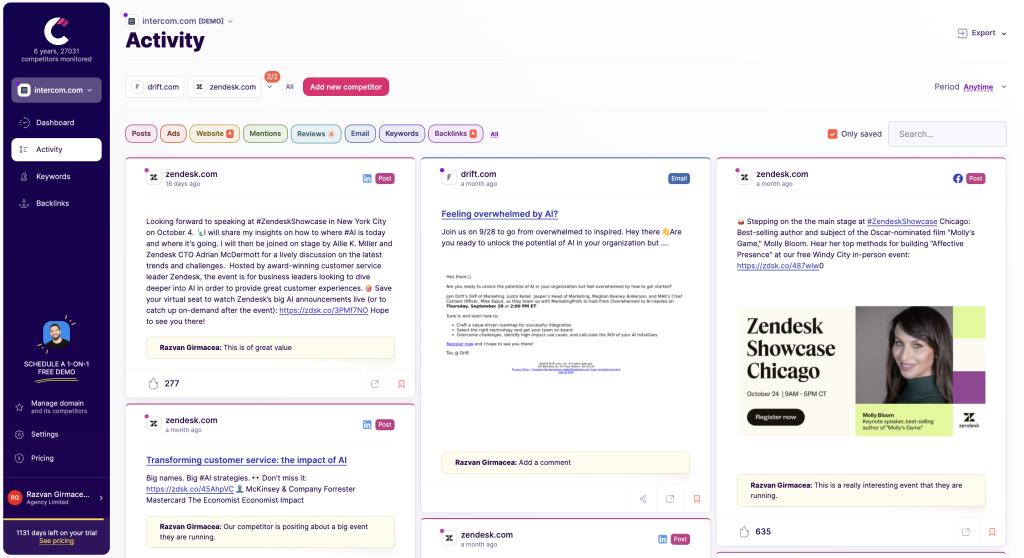 Description: Competitors App is an all-in-one competitor monitoring tool. It enables businesses to track competitors across various channels, including SEO, social media, PPC, website changes, and email campaigns.
Notable Features:

Comprehensive SEO analysis for backlinks and keywords
Social media tracking and analysis.
LinkedIn, Facebook, Instagram, and Google Ads insights and monitoring.
Real-time website changes monitoring.
Reviews Tracking

Email campaign tracking.
Social Listening and PR News Monitoring

Pricing: Starts from $19.99 per competitor
2. Best Competitor Analysis tool for SEO: SEMRush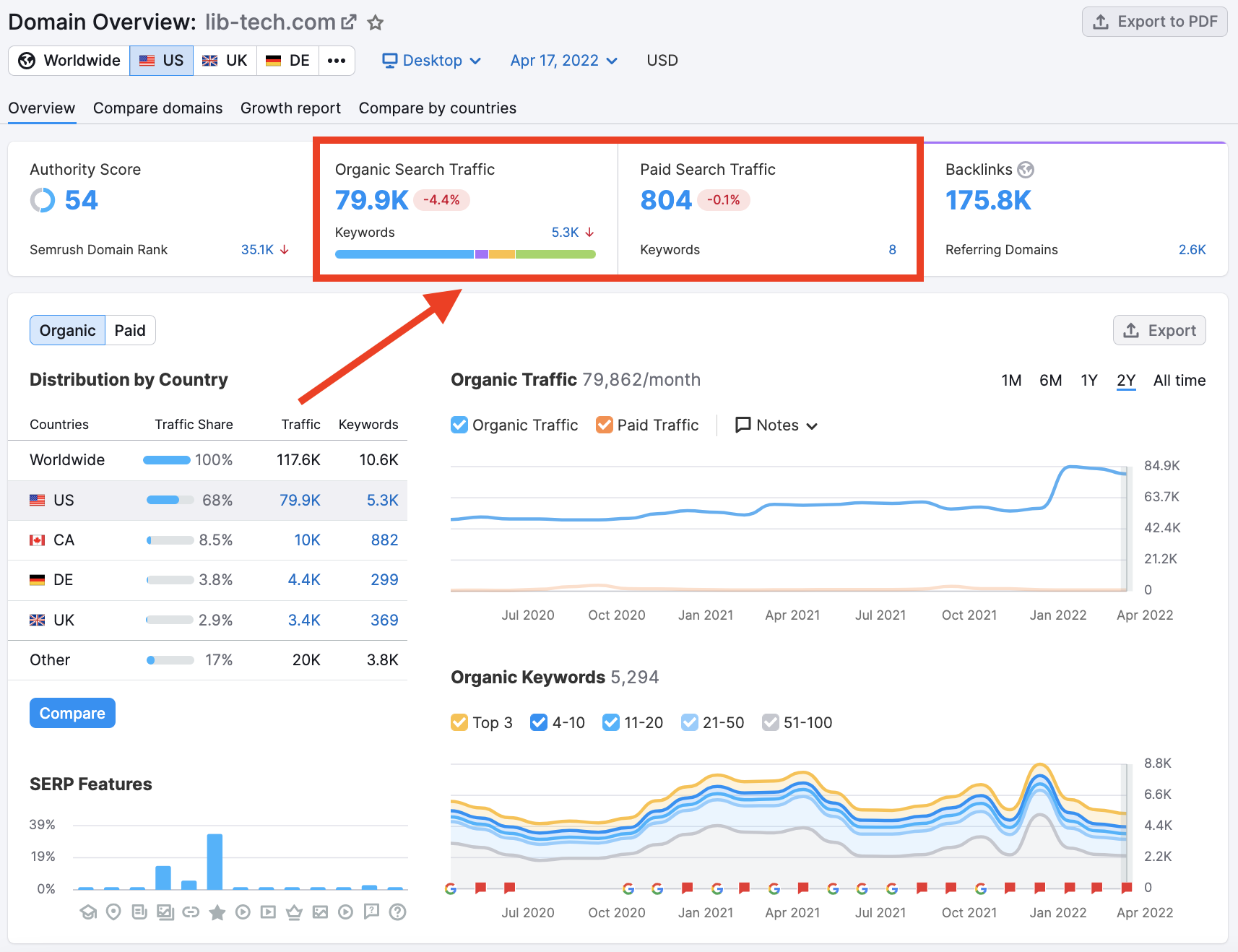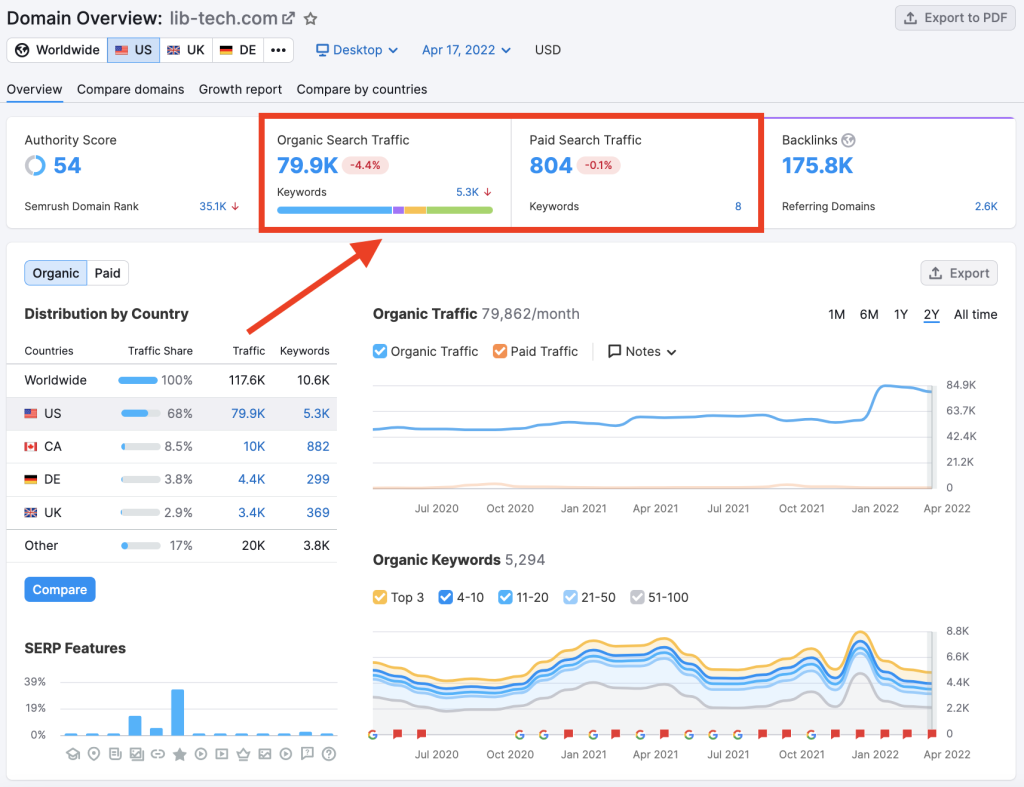 Description: SEMRush is a leading SEO analysis tool. It focuses on optimizing websites for search engines and provides valuable insights into keywords, backlinks, and domain authority.
Notable Features:

Keyword research and tracking.
Backlink analysis.
Domain authority assessment.
Comprehensive SEO audits.
Competitor domain analysis.

Pricing: Starts from $129.95 per user
3. Best Competitor Analysis Tool for Social Media: Sprout Social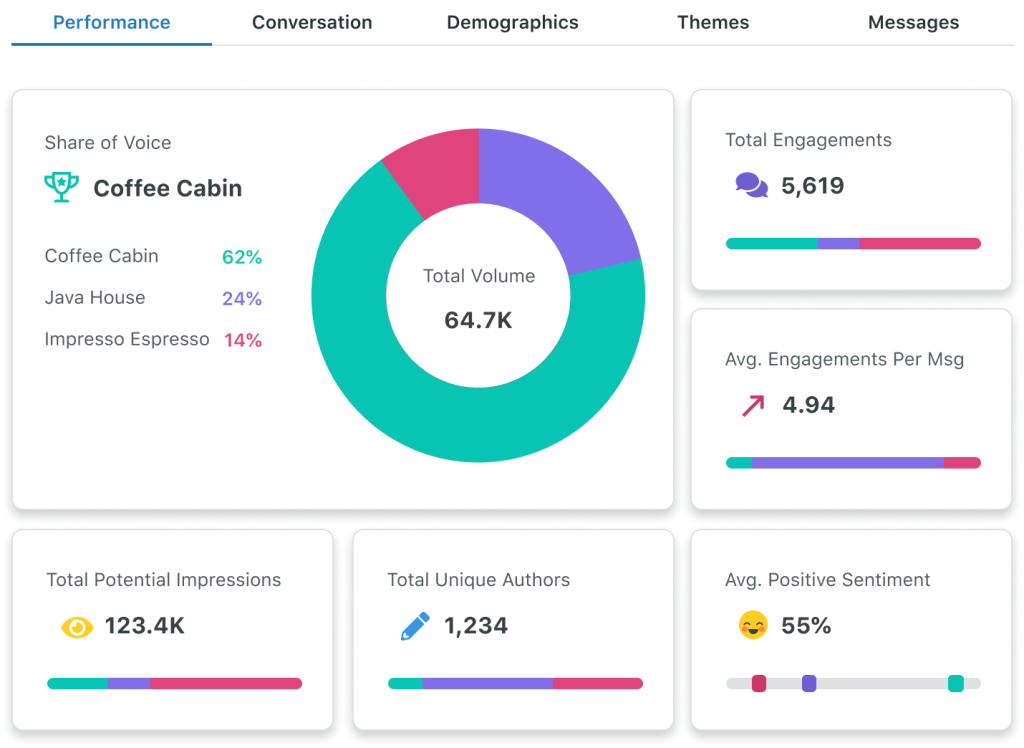 Description: Sprout Social specializes in social media competitive analysis. It helps businesses enhance their social media presence by tracking competitors' performance and content strategies.
Notable Features:

Social media performance tracking.
Content strategy assessment.
Audience engagement insights.
Social listening capabilities.
Competitor post monitoring.

Pricing: Starts from $249/month and $199 for additional users
4. Best Online Competitor Analysis Tool for PPC: Spyfu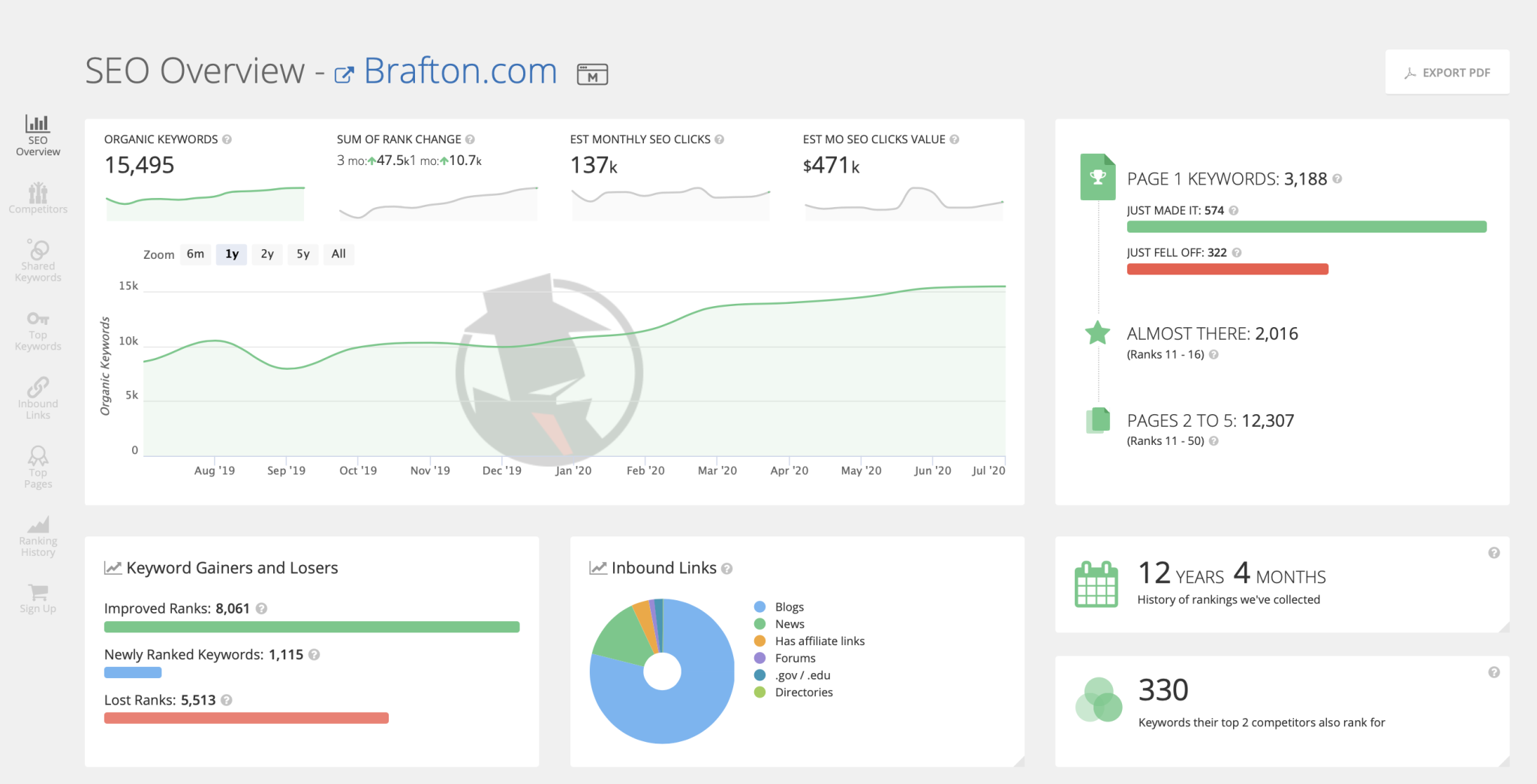 Description: Spyfu is a top choice for PPC analysis. It uncovers competitors' ad campaigns, keywords, and budget allocation, allowing businesses to maximize their pay-per-click ROI.
Notable Features:

Ad campaign analysis.
Keyword research.

Ad copy examination.
Competitor keyword tracking

Pricing: Starts from $39/month
5. Best Competitor Analysis Tool for Email Tracking: Mailcharts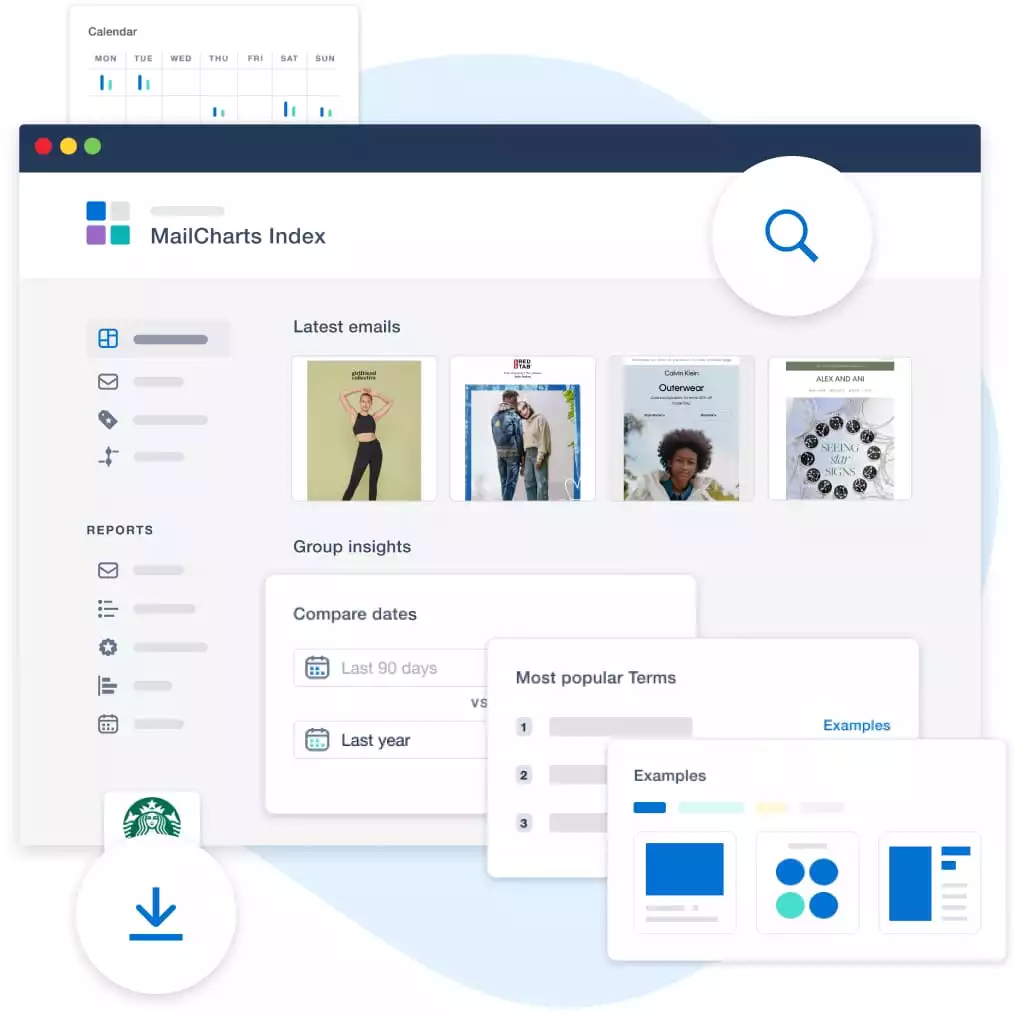 Description: Mailcharts excels in email marketing competitive analysis. It enables businesses to track competitors' email campaigns, analyze content strategies, and improve audience engagement.
Notable Features:

Email campaign tracking.
Content analysis.
Delivery strategies insights.
Audience engagement data.
Competitor email benchmarking.

Pricing: Starts from $149/month
6. Best Competitor Analysis Tool Social Listening: BrandMentions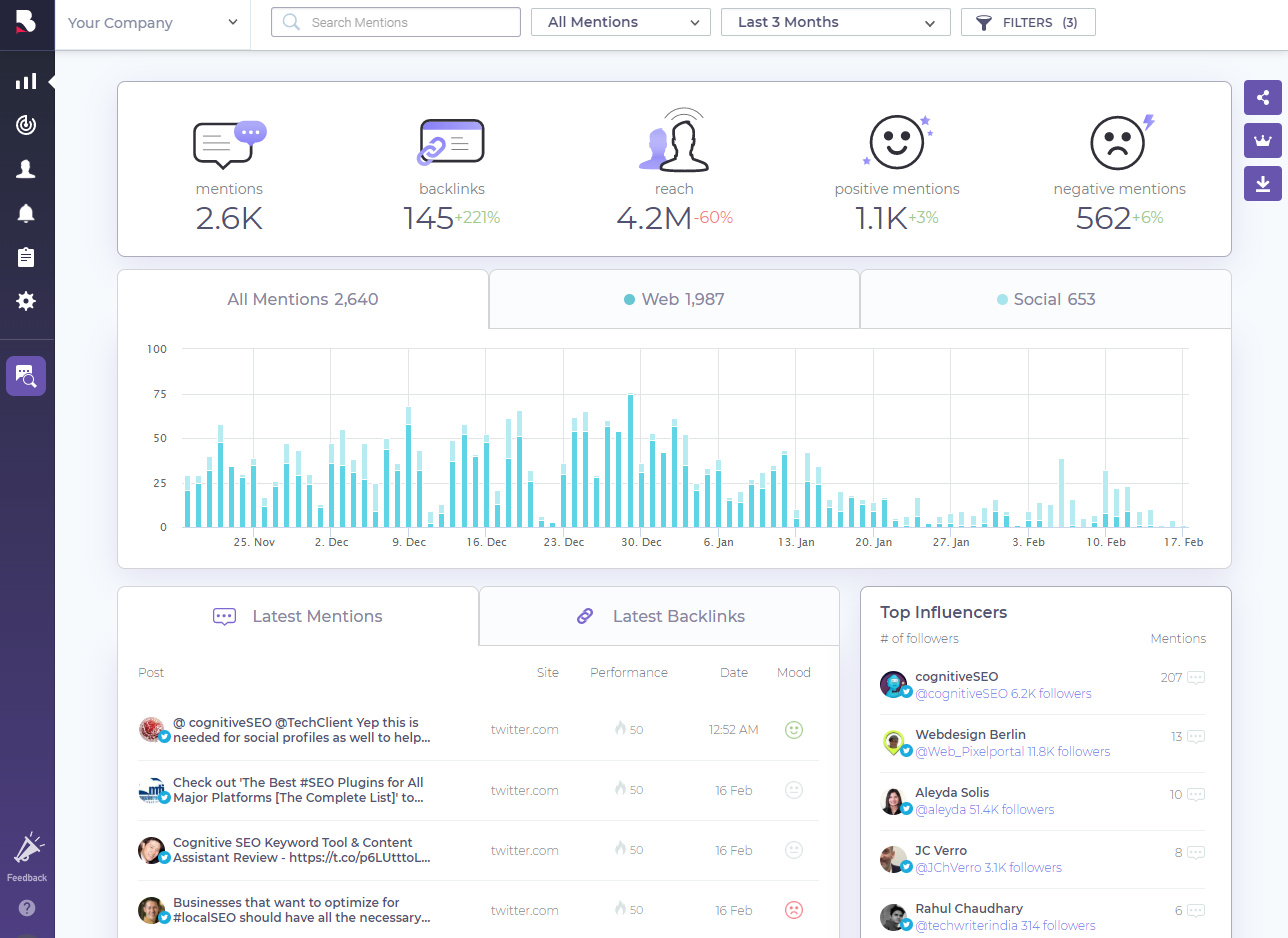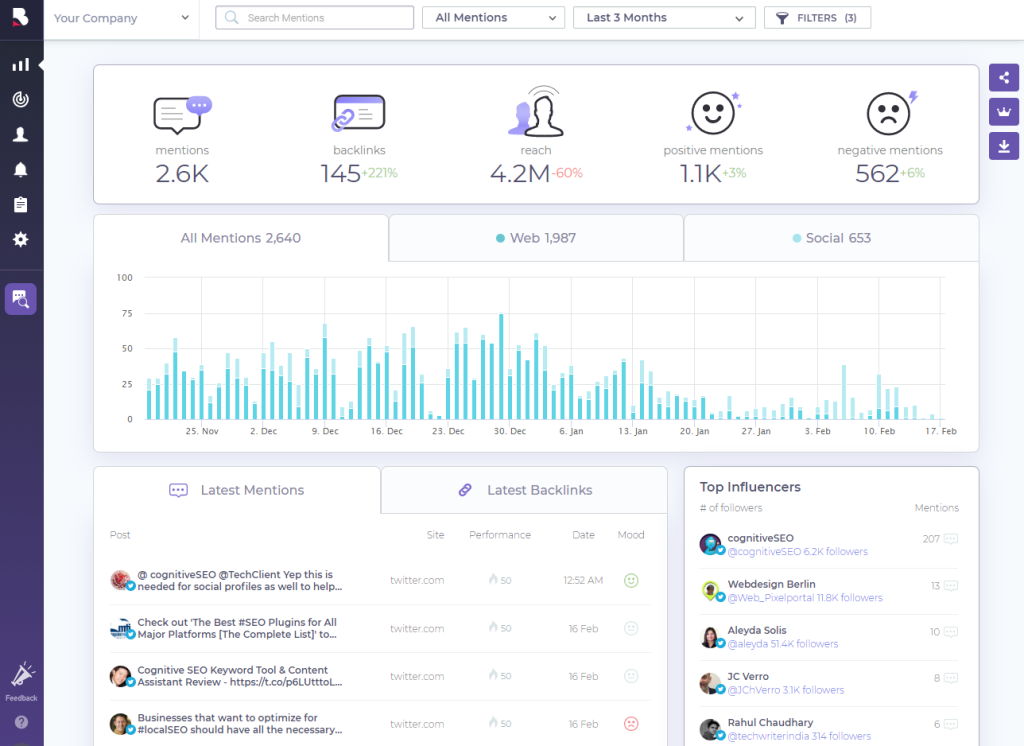 Description: BrandMentions focuses on social listening, helping businesses monitor competitor posts, track public sentiments, and analyze brand conversations online.
Notable Features:

Social listening capabilities.
Competitor post monitoring.
Sentiment analysis.
Brand conversation tracking.
Real-time online reputation management.

Pricing: $79/month for 15 competitive keywords
7. Best Competitive Analysis Tool for Battlecards: Crayon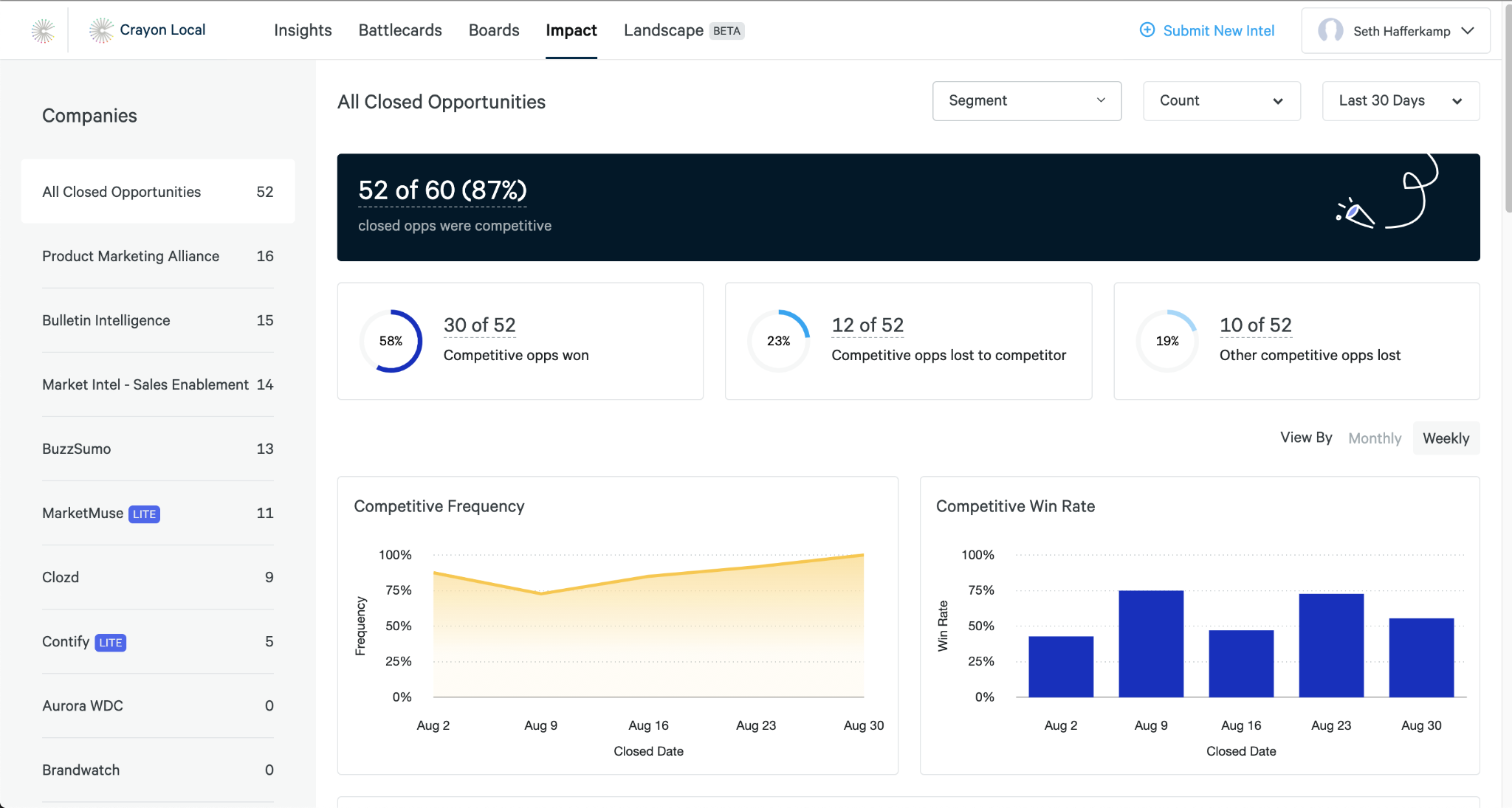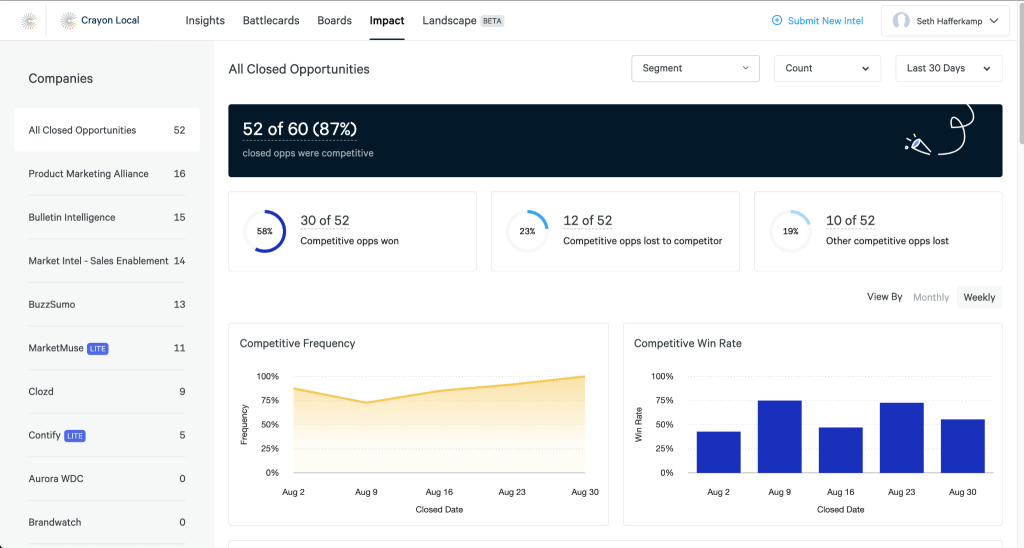 Description: Crayon offers competitive intelligence and battlecards for understanding competitor strengths and weaknesses.
Notable Features:

Competitive intelligence
Battlecards creation
Competitor strengths and weaknesses analysis

Pricing: Enterprise over $15k/year
8. Best Online Competitor Analysis Tool for Website Traffic: Similar Web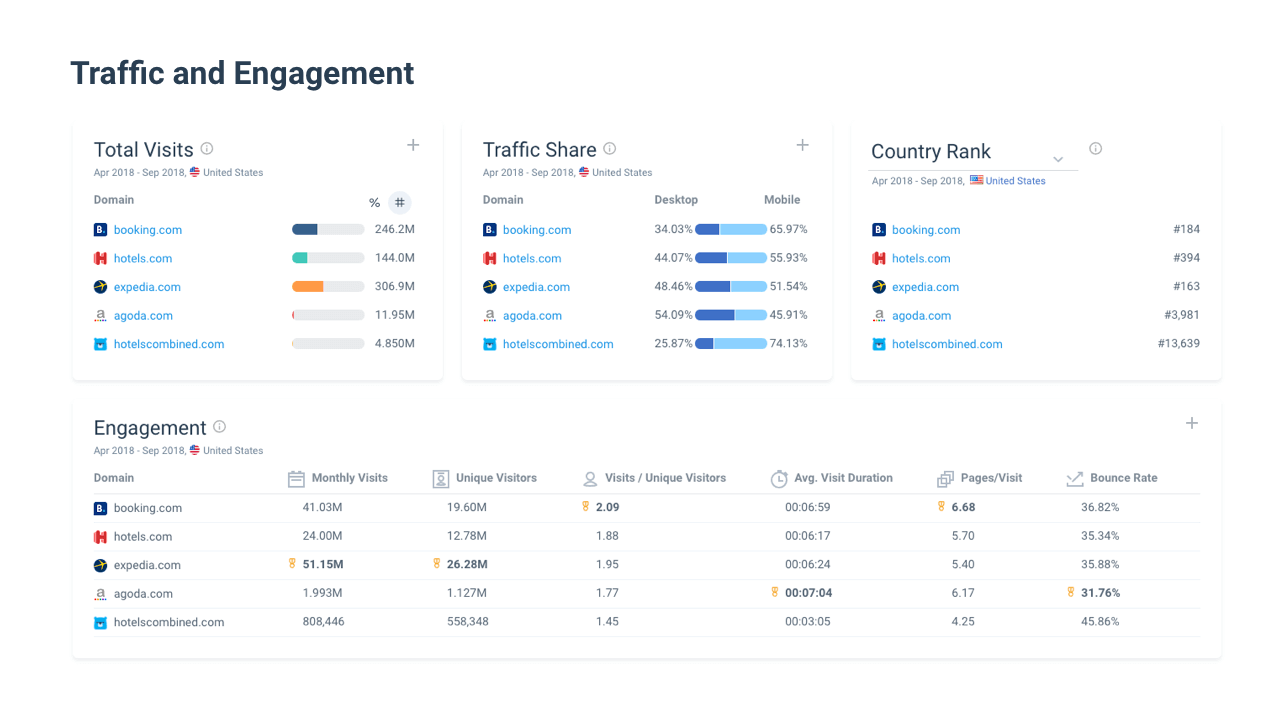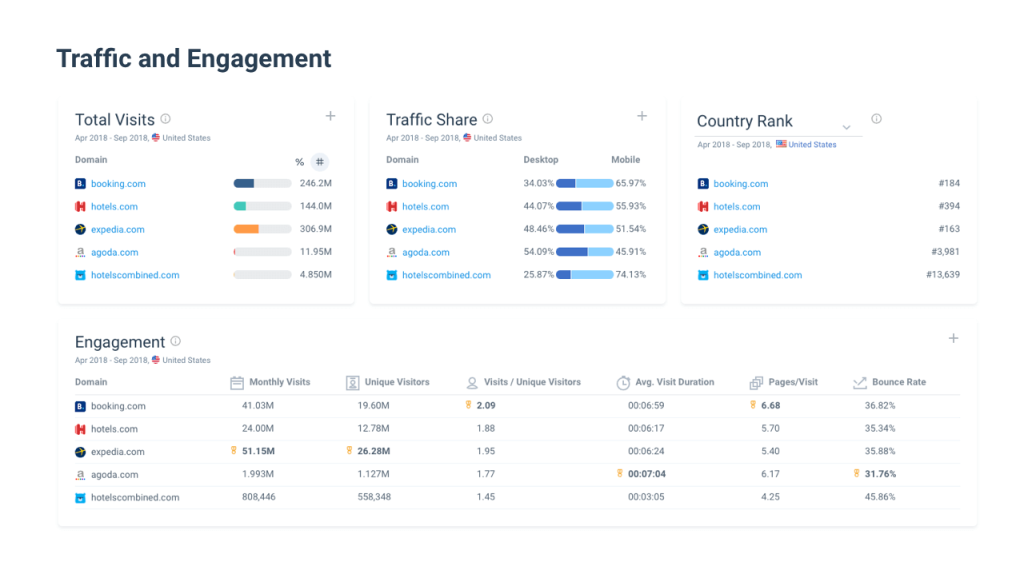 Description: Similar Web focuses on website traffic analysis, revealing traffic sources, audience demographics, and popular content.
Notable Features:

Website traffic analysis
Traffic source insights
Audience demographics
Popular content tracking

Pricing: $125/month
9. Best Competitive Analysis Tool for Website Updates: Visual Ping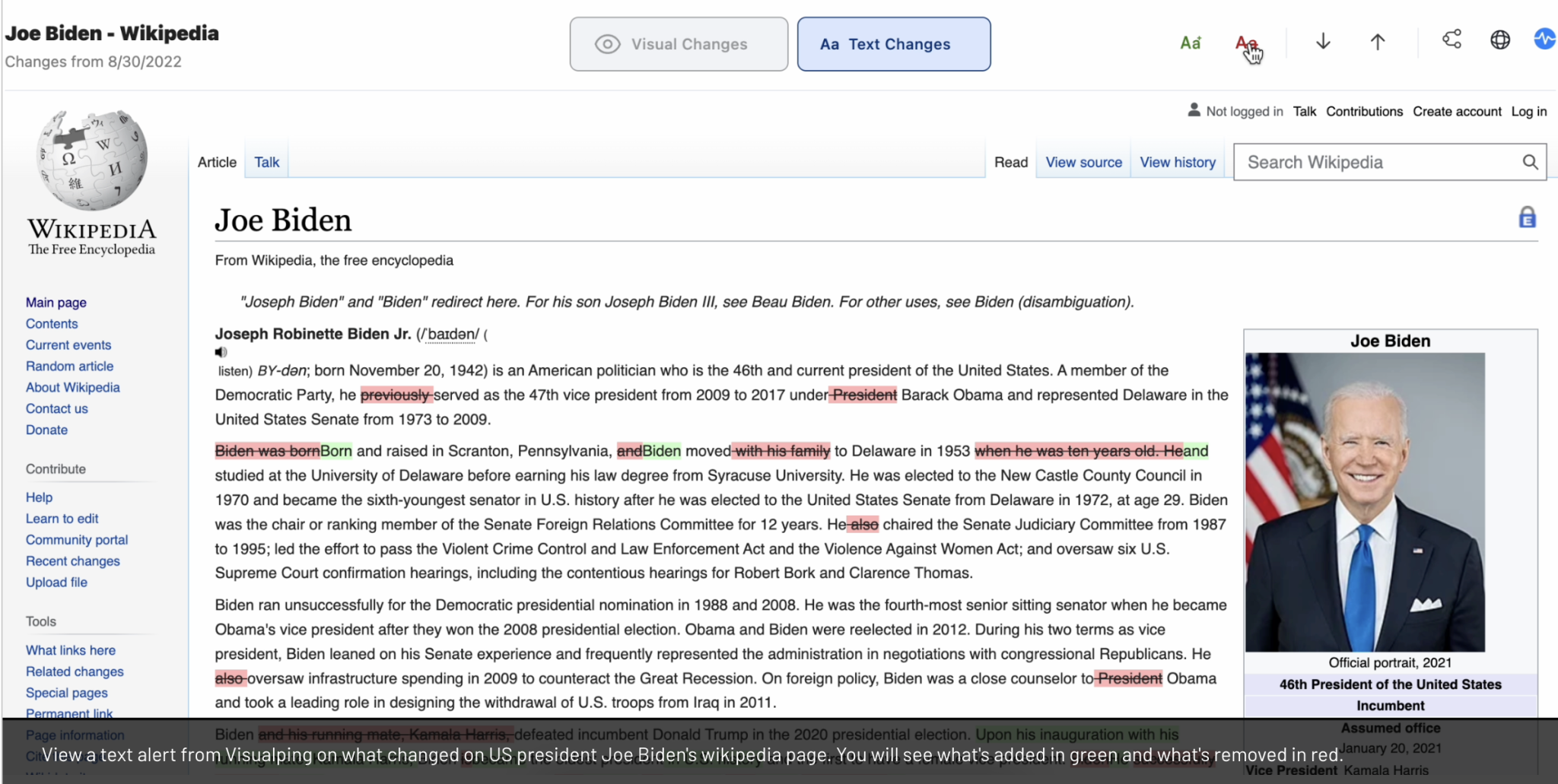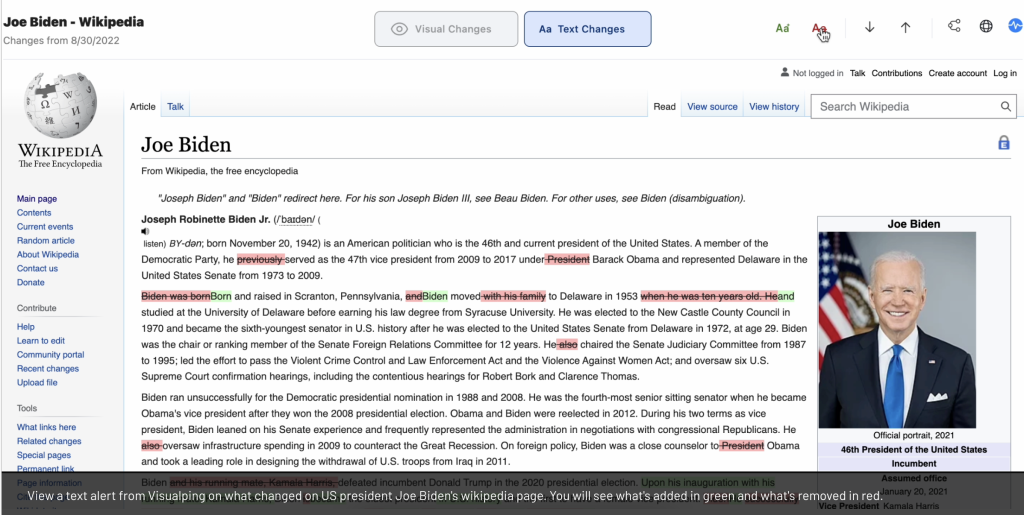 Description: Visual Ping monitors website updates in real time, helping businesses stay current with industry trends.
Notable Features:

Real-time website change alerts
Industry trend monitoring
Competitor website tracking

Pricing: 10$/mo for 25 pages
10. Best Competitive Analysis Tool for Financial Data: Owler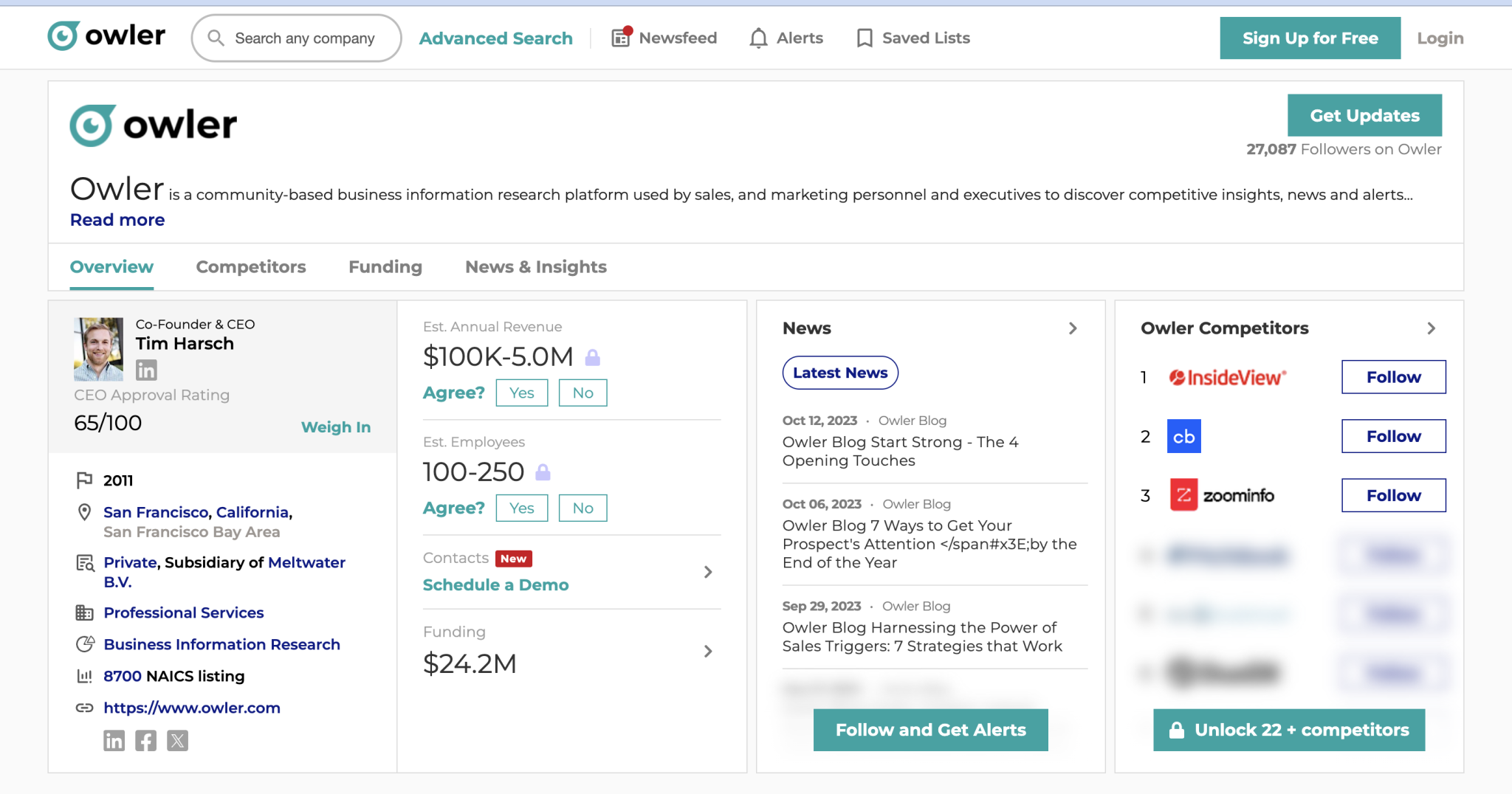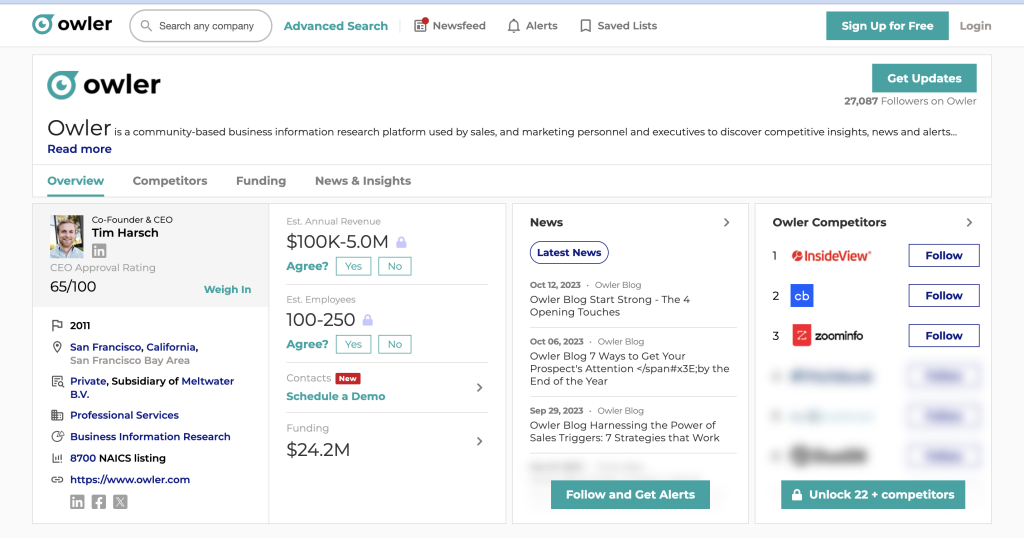 Description: Owler provides financial data insights, including revenue tracking, funding updates, and competitive financial benchmarking.
Notable Features:

Financial data insights
Revenue tracking
Funding updates
Competitive financial benchmarking
11. Free Competitor Analysis Tool: Google Trends & Google Alerts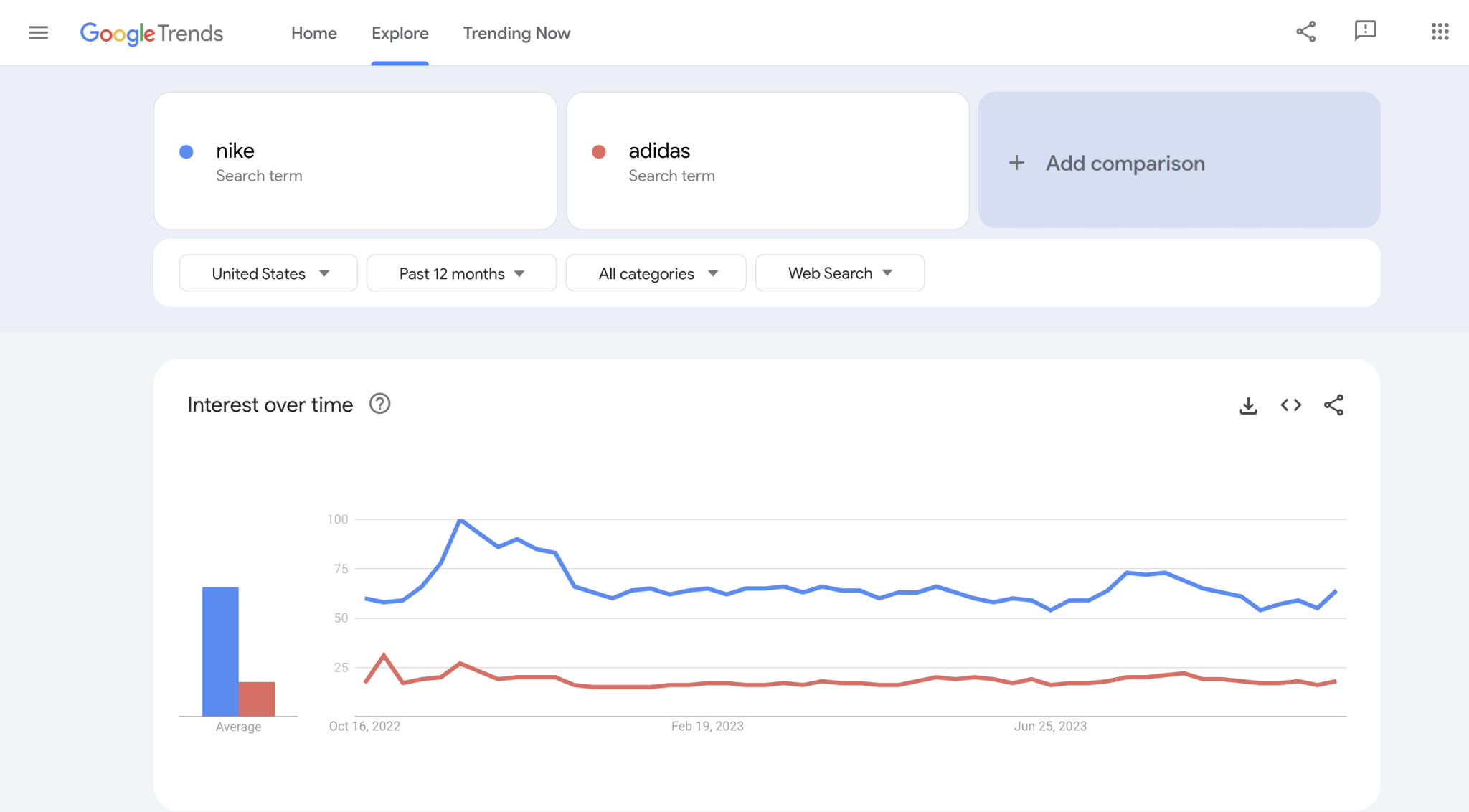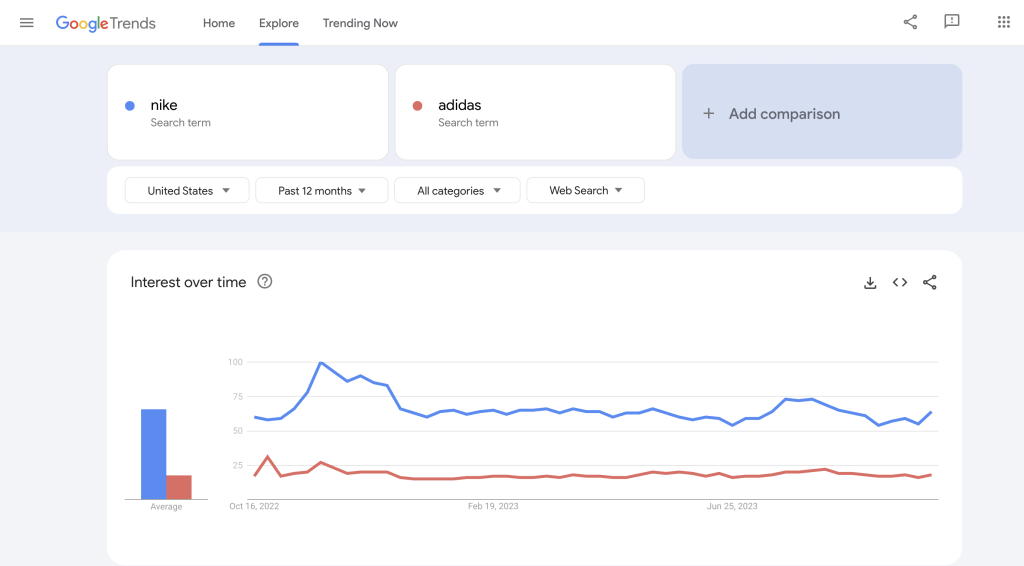 Description: Google Trends offers keyword trend analysis, and Google Alerts provides competitor mention alerts and industry trend monitoring.
Notable Features:

Keyword trend analysis
Competitor mention alerts
Industry trend monitoring (Note: These are free tools)

Pricing: Free
12. Competitor Analysis Tool for Tool Detection: BuiltWith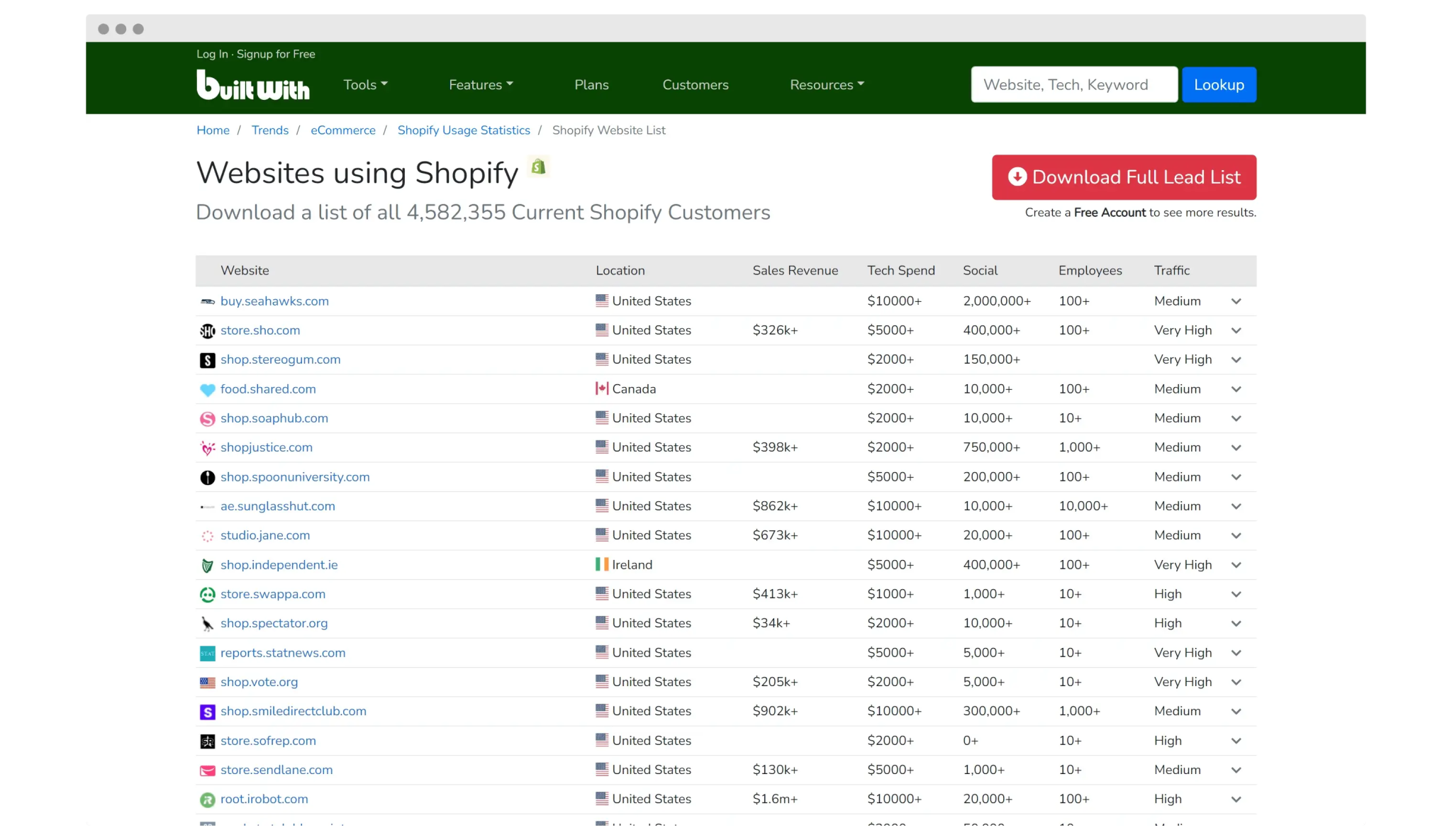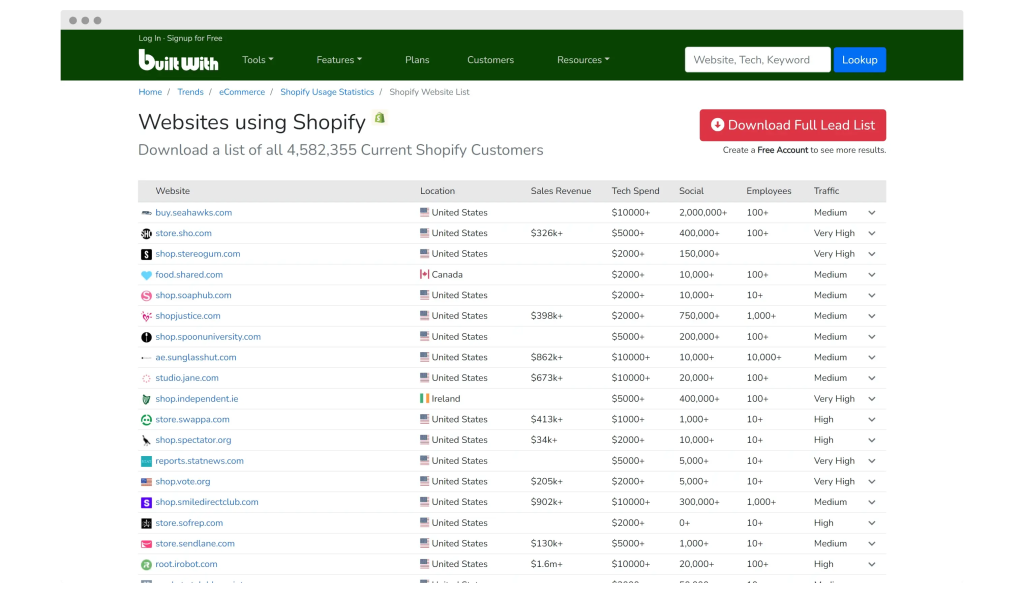 Description: BuiltWith detects competitor technology stacks, aiding in tech stack analysis, allowing you to understand what tools your competitors are using so that you add them to your tech arsenal or find superior solutions.
Notable Features:

Technology stack detection
Competitor tech stack analysis

Pricing: $295 per search
13. Klue: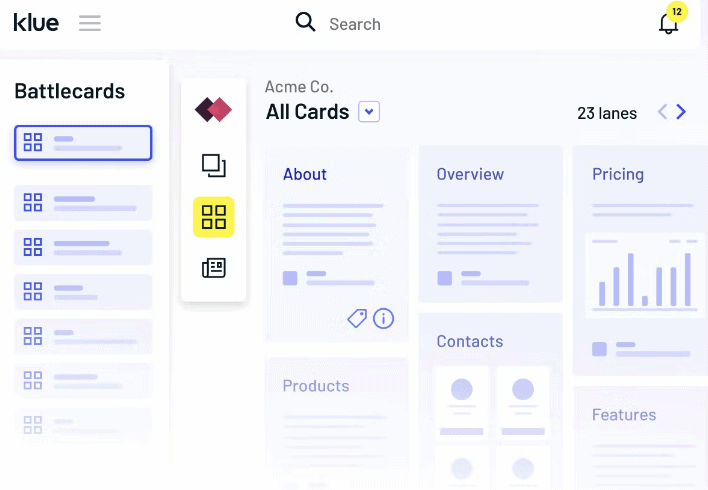 Description: Klue is a competitive intelligence platform that focuses on tracking and analyzing competitors' product and market strategies.
Notable Features:

Competitive intelligence alerts

Pricing: Enterprise over $15k
14. Kompyte: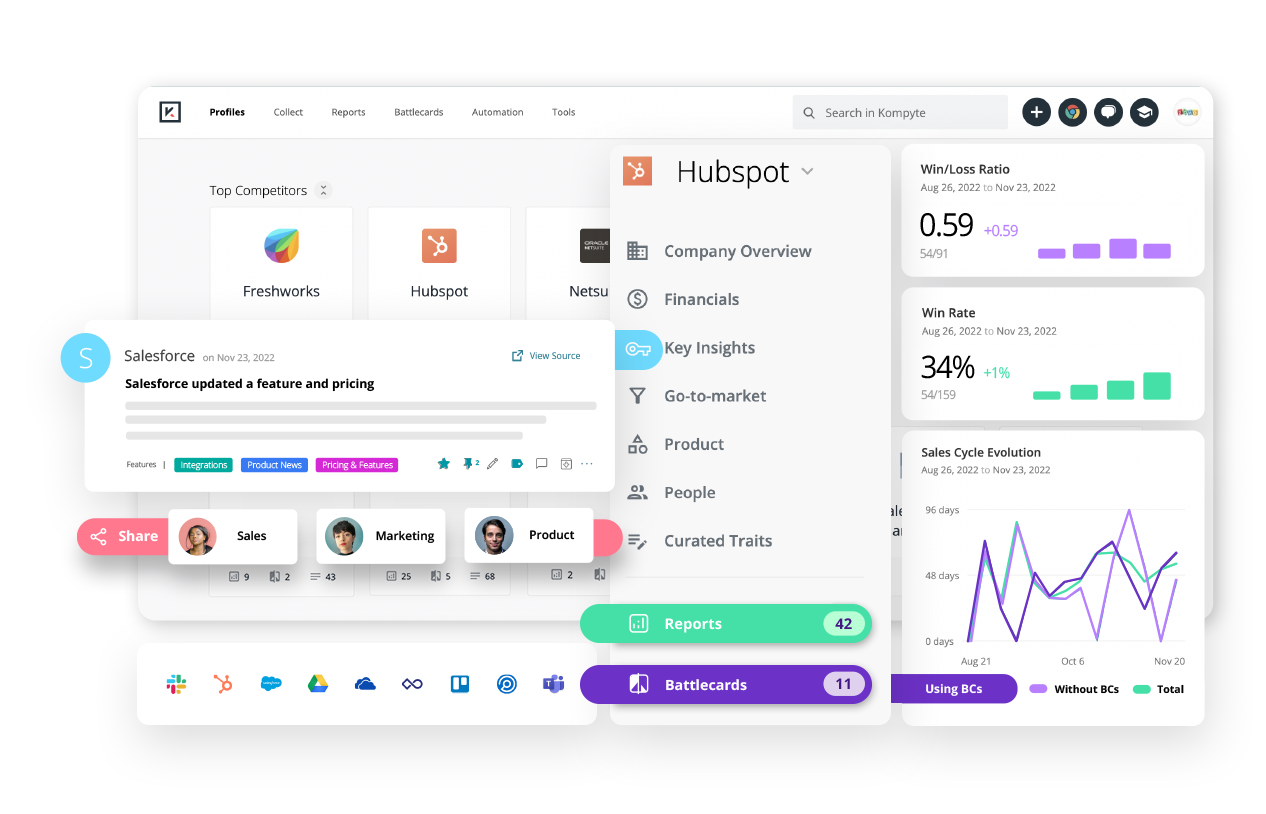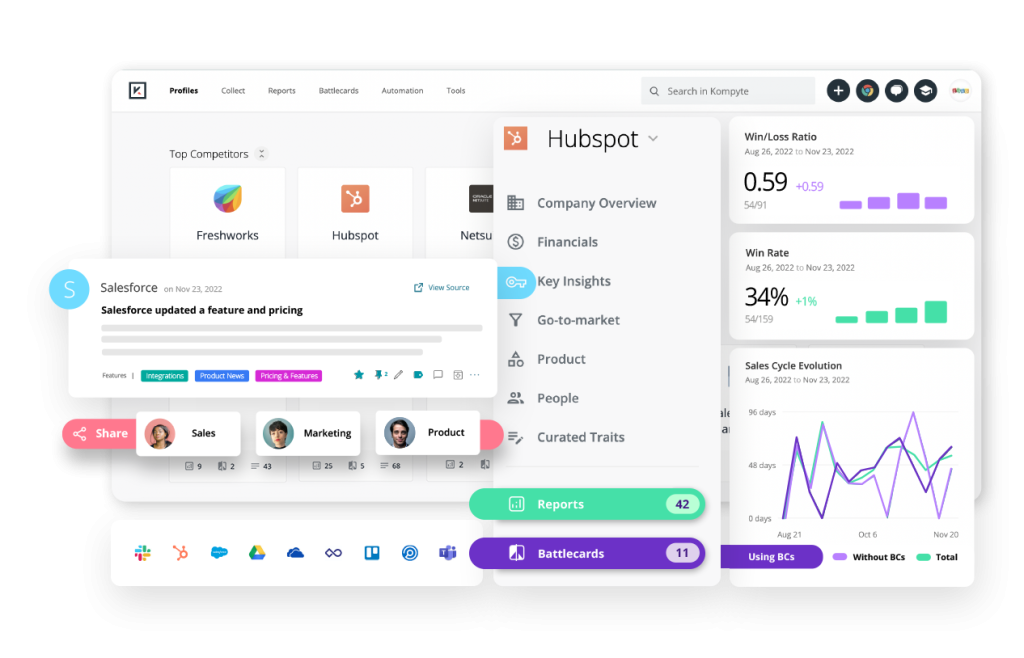 Description: Kompyte offers competitive intelligence and tracking for digital marketing campaigns, including content, ads, and SEO strategies.
Notable Features:

Digital marketing campaign tracking
Content analysis
Ad campaign monitoring
SEO strategy insights

Pricing: Enterprise over $15k
15. Ahrefs: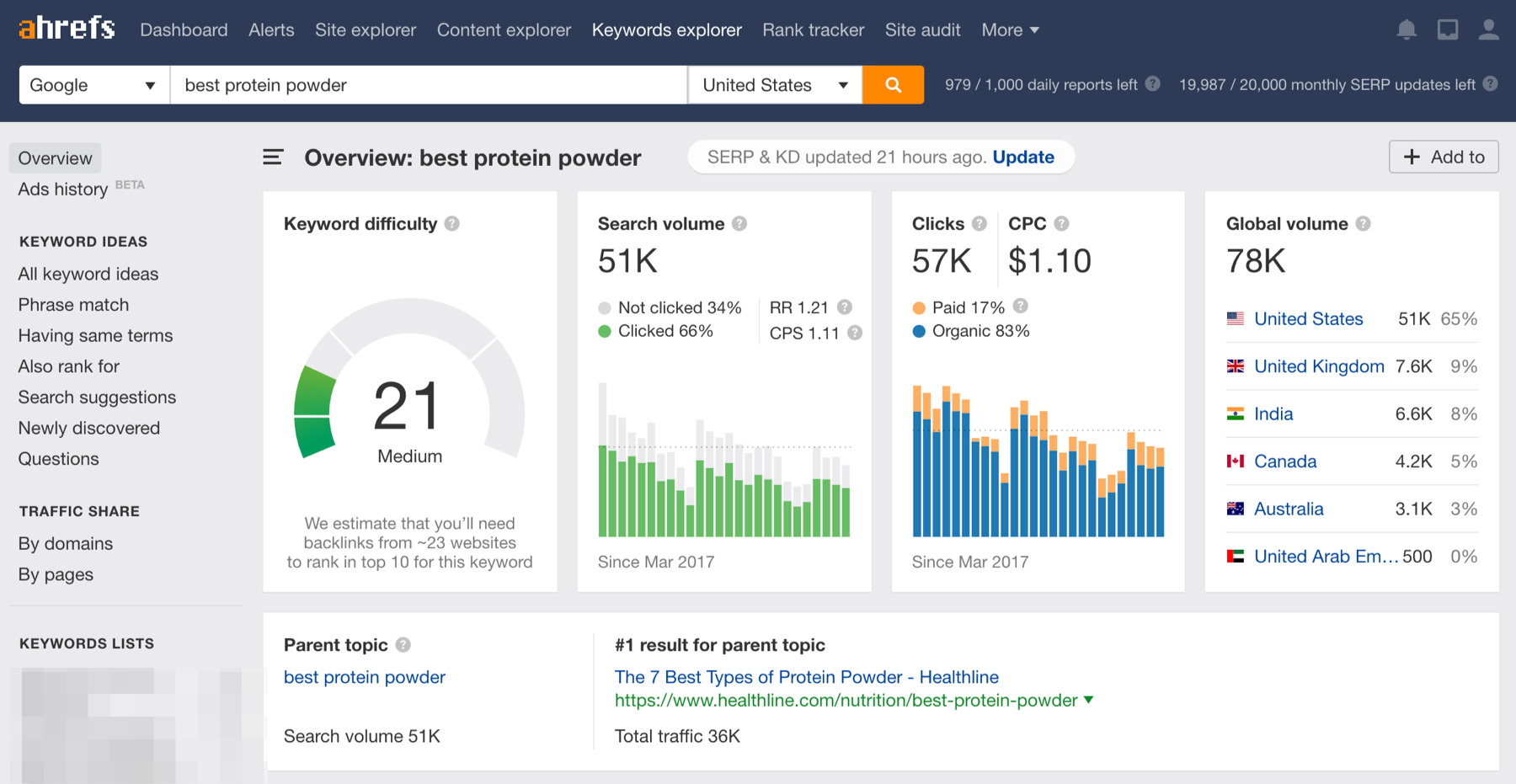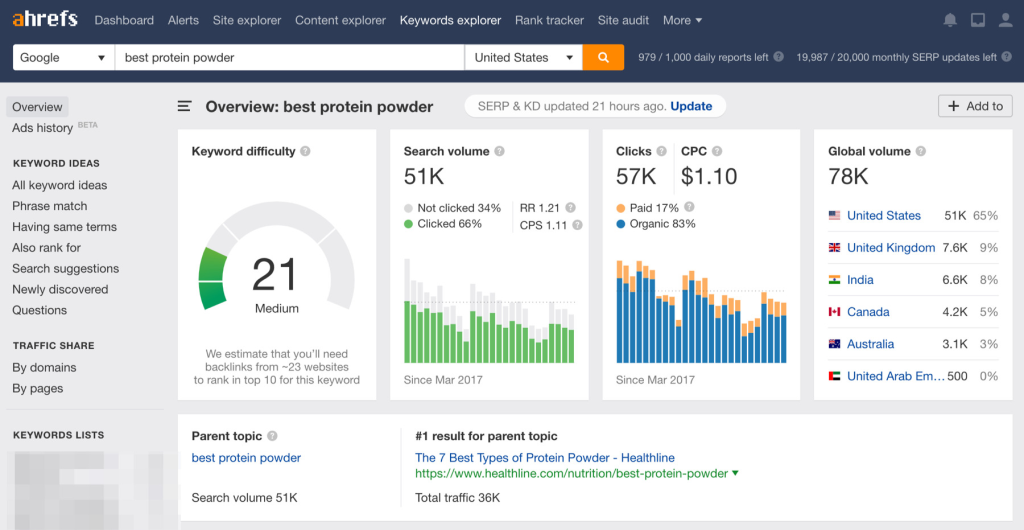 Description: Ahrefs is a comprehensive SEO analysis tool known for backlink analysis, keyword research, and competitive SEO insights.
Notable Features:

Extensive backlink analysis
Keyword research and tracking
Site audit and SEO optimization
Competitor SEO analysis
How do you do a competitor analysis?
Now that you're familiar with the variety of tools at your disposal, you might wonder how to effectively conduct a competitor analysis. The process involves a series of steps, from defining your competitors to utilizing these tools for in-depth insights. For a step-by-step guide on performing a competitor analysis, you can explore this comprehensive resource.
How to track your competitors for free?
Tracking your competitors can be a resource-intensive task, particularly when you consider monitoring various channels manually. While subscribing to your competitors' newsletters or following their social media updates is one way to gain insights, it can be time-consuming and may not provide comprehensive data. To streamline this process and make it more effective, consider leveraging advanced tools like Competitors App, which offers a more efficient way to monitor your competitors and benchmark yourself against them. Take advantage of our free trial to experience firsthand how we can simplify and enhance your competitor tracking efforts.
Which other types of online competitive tools exist out there?
In addition to the previously mentioned competitive analysis tools, consider these options:
Battlecards: Offering a strategic edge in sales by providing condensed yet comprehensive insights for outshining your competitors.
Retail Price Tracking Tools: Ideal for e-commerce businesses to monitor and stay competitive in pricing.
Market Research Platforms: Deliver deeper insights into market trends and consumer behavior, helping you make informed decisions.
What tool would you choose to do competitive analysis?
With so many competitive analysis tools out there, the decision really comes down to what fits your needs and preferences. We'd be a bit biased (just a smidge!) if we didn't highlight Competitors App. We strongly believe that our tool has no competition when it comes to competitor analysis. With a comprehensive list of channels from Competitor Newsletter and Ads to Social Media, SEO, and PR News we track everything you need to uncover your competitors' best strategies.
But hey, don't just take our word for it. 😊
The best way to figure out which tool works for you is to give them a spin yourself. Take advantage of free trials, explore what they offer, and see which one clicks with your goals and requirements.
Why is competitor tracking and analysis critical for brands?
Competitor tracking and analysis are essential for brands because they provide valuable insights into the market landscape. Understanding your competitors' strategies, strengths, and weaknesses helps you make informed decisions, stay competitive, and identify opportunities for growth. It allows you to adapt your own strategies, improve product offerings, and enhance your market positioning.

How can data analytics tools help businesses?
Data analytics tools empower businesses by turning raw data into actionable insights. These tools can help identify trends, customer preferences, and market opportunities. They enable data-driven decision-making, enhance operational efficiency, and improve overall performance. In the context of competitive analysis, data analytics tools provide the necessary data to assess and refine your competitive strategies.

What are the best tools for competitive analysis?
The best tools for competitive analysis can vary depending on your specific needs and industry. Some popular options include SEMrush, Ahrefs, Moz, SpyFu, and, of course, Competitors App. These tools offer a range of features for tracking competitors' SEO, social media, PPC, and more. To determine the best fit, consider your objectives, budget, and the depth of insights you require.
What is the best free competitive analysis tool?
For those looking for free competitive analysis tools, Google Trends and Google Alerts are useful options. Google Trends provides insights into keyword trends, while Google Alerts can notify you of mentions and updates related to your competitors. Keep in mind that while these tools are free, they may have limitations compared to paid options. At the same time, you can sign up for free trials in tools like Competitor App to get an overview of potential insights and then decide if you want to keep using them.

How to use competitive analysis tools?
Using competitive analysis tools involves several steps. First, define your competitors and set clear objectives for your analysis. Then, choose the appropriate tools that align with your goals, whether it's SEO, social media, PPC, or a holistic approach. Collect data on your competitors' activities and use the insights to refine your own strategies, improve product offerings, and enhance your market presence.