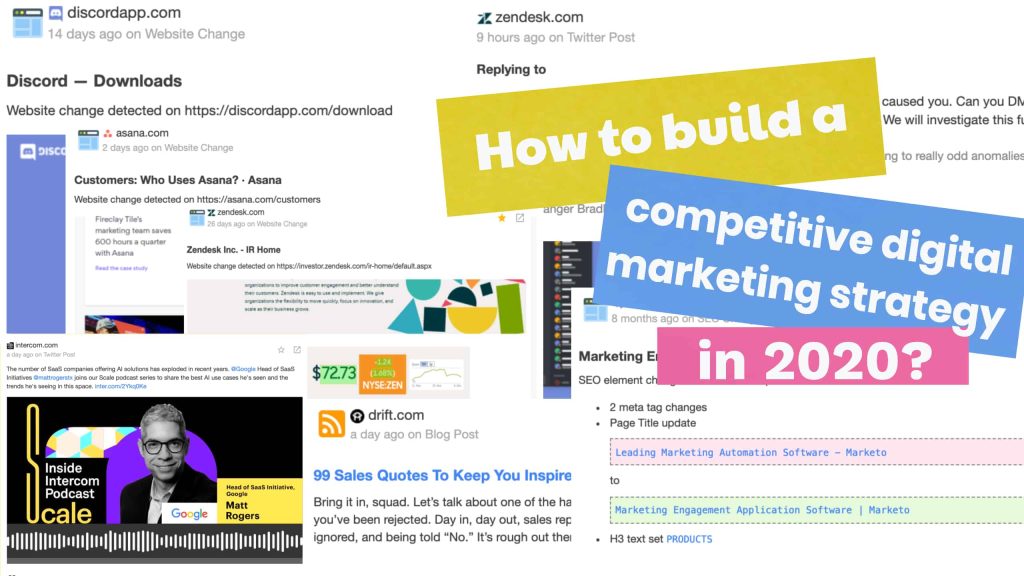 More than 290,000 published statuses and more than 136,000 photos are uploaded on Facebook every 60 seconds. More than 500 million people post on Instagram Stories every day, over 350,000 tweets are tweeted every minute, and more than 40,000 people are searching on Google each second.
Without any doubt, a tremendous amount of content is created daily and delivered via Social Media, Blogs, and other online channels. Apart from that, the competition is becoming intense to get visibility and to rank high on search engines.
Why is Digital Marketing More Important Than Ever?
With so much content marketing material published online every day, it's necessary to start developing plans on how to craft the best digital marketing strategies to highlight your business and overcome competition. In the end, digital marketing plays a crucial role, no matter the industry or the size of the company – it's the way to build and grow a business, so mapping an effective Internet marketing strategy should be a priority since the beginning of each business journey.
Of course, creating a strong digital marketing strategy is a multiple steps process that requires time and resources. The process should be strongly correlated with your business' core and identity so that your digital marketing goals could be achieved.
To keep up with digital and industry trends, companies need to figure out which digital strategies are best for their business and still relevant to consumers in 2020. Nowadays, more than ever, businesses and, in particular, digital marketers have to adjust to new ways of "doing things online" even from one year to another. Moreover, in today's digital world, it's not anymore about merely being present on different online channels – but on building qualitative content and creating a unique identity. That's the reason why businesses have to stay connected to the digital transformation that the online world is experimenting in recent years and figure out which are the directions to follow to develop their brands.
The digital marketing scene is the roughest ocean, and to learn to sail through, you need to make sure that you're using the right and relevant digital marketing tactics that will guide you in the right direction. Shortly, it's essential to have a proper digital marketing plan and to focus on what's relevant for your industry and business. Otherwise, you'll get lost in trying different digital marketing strategies technics that don't apply to your business – while wasting resources without any result. 
So, nowadays, if you'd like to make the most of your digital marketing efforts, then one of your focuses should be on the fact that the online world is extremely competitive and business from all industries are more aware than ever that digital marketing is a path that directs towards success if it's done right. 
Here are top 8 powerful digital marketing strategies that businesses can follow to achieve their digital marketing goals. The following steps help marketers to create a solid digital footprint by underling the digital marketing trends for 2020.
Let's dive deeper into details and see exactly what to do when it comes to creating a competitive digital marketing strategy. 
Top digital marketing strategies for 2020
RESEARCH AND EVALUATE YOUR COMPETITORS
Identify and evaluate the competition


Researching your competition will provide you valuable insights into what your next steps should be. Analyzing competitors' online presence will help you to underline their weaknesses, but also their strengths. Also, it will help you to focus on your opportunities on the market, based on their results – you can always learn from your competitors fails, success and you can identify what to do to improve your strategies.

Identify your top three direct competitors (direct competitors provide similar product/service as you do; share the same audience as you) and start monitoring their activity to better understand your position on the market.

Figuring out what marketing strategies are your competitors applying online will help you to differentiate your business strategies and to create a unique approach. Gathering information about all your competitors' online actions can be a hard task. Still, fortunately, you can use monitoring tools that do the job for you, saving you time and resources.

Start tracking your competitors' online activities and uncover their content strategies – identify which Social Media channels they are using more often; how frequently are your competitors publishing content, which type of material (images/video); what newsletters are they sending; what are they writing on their blogs and more. Also, you can have a closer look at how they are engaging with the audience and which are the results – the number of followers/subscribers and engagement details per post.

Gathering all this data can help you to identify your gaps and figuring out what you should focus on from now on. Monitoring your competitors Social Media activity, analyzing their content strategies and Email Marketing strategies gives you valuable details so you won't start crafting your strategy from scratch. Keep an eye on your competitors' examples and learn from their mistakes or apply their version of success but in your way.

Find competitors keywords

When analyzing competitors' content, particularly on their blogs, look for the keywords they use and see how they rank for each keyword or use an online tool to get an overview of your competitors' keywords. 

Uncovering your competitors' SEO strategies will help you to see what keywords they are using for their campaigns, for what keywords/phrases are they ranking well, and you don't, as well as the keywords your direct competitors are targeting but failed to rank for.

Finding your competitors' keywords allow you to plan or improve better SEO strategies for your business and gain a competitive edge in the search results.
OUTPERFORM YOUR COMPETITORS
Know your brand and goals

Learning from your competitors is, without doubts, a step in developing or improving your business digital marketing strategies. Analyzing your current situation and putting clear on a paper, all your weaknesses and strengths are not just steps, but the foundation of your digital success.

After gathering competitors' insights on their digital marketing activity, as Social Media content strategies; Email Marketing strategies; SEO strategies; Website strategies focus on your marketing efforts and analyze your digital path to understand what you've been missing out; what your competitors are doing better than you currently do; what you can improve or further develop. Have a realistic perspective and try to understand why customers/users could go for your competitors' products or even why they are choosing your product.

Also, underline your top priorities and the kind of goals you want to achieve, so you'll know exactly which digital marketing tactics to apply and execute.

Choose the right digital marketing channels

After analyzing your competitors' digital marketing channels, you might have an idea about which channels could be suitable for your business, too. Keep in mind that what works for others may not work 100% for you, but it's worth giving a try.

If, for example, your top one direct competitor is very active on Facebook, post frequently, and each post has a good organic reach, then you should focus more on this channel and try to apply his example.

Don't get stuck with digital trends – your business doesn't have to be on Pinterest or Instagram if it's not relevant for your case. Focus on relevant channels, especially on those where your targeted audience is.

Focus on content

After figuring out which digital marketing channels are a good fit for your business, and analyzing your competitors' content marketing strategies, it's time to focus on creating new and quality content frequently for the chosen channels.

Also, after you've researched your competitors, you might already have an idea which is the type of content that you're targeted audience is usually engaging with, which kind of articles are your competitors posting on their blogs and which are the keywords that generate traffic for your competitors. Those keywords will help you to attract more clicks to your domain, to build brand awareness, and to …

Boost your SEO

Search engine optimization is continually changing, so it's a continual challenge to rank higher in Google. Evaluate what keywords are your competitors using and compare their list with your keyword's list to see if you're missing out on something that you might use. Also, frequently adding new articles on your blog, updating your homepage or landing page, or getting backlinks to your website will help you yo rank a higher position on Google.

However, keep in mind that your focus should also be on optimizing your blog and website, delivering high-quality content to boost conversion, and gain a competitive advantage, not just ranking a high position on Google's search results.

Make it personal

How many general newsletters are you receiving each day? How many Facebook posts catch your attention during the time you scroll on your feed? In today's digital world, business is not seen anymore as a rigid environment – so craft a unique and personal way of communication with your targeted audience, which can help you to build authenticity and brand trust. Send a personalized video to welcome your new users; personalize each newsletter with users' details – have a friendly way of connecting with your audience, and don't ignore the power of personal engagement or storytelling.
In conclusion, in 2020, digital marketing is not just about "being online," but about giving your business a personality and providing value while keeping an eye on the competition and staying relevant on the market.