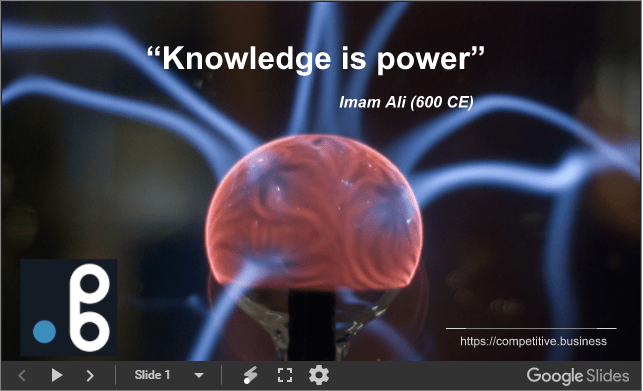 I almost always try to go to events that I think can help Competitive Business. I invest some time, but the focus, the feedback, and sometimes the buzz around my startup always helps.
I've been selected to pitch at Rockstart Answers organized by Rubik Hub in my town.
Pitch preparation
The team at Rubik Hub did a great job preparing all of the selected startups for the pitch event. We had a few training sessions with a lot of feedback on how to present.
It's not my first pitch experience, not at all. I've pitched at several startup events with my last project; I know how valuable pitching events are: you are in the spotlight; it's all about your startup.
At 4:00 am, I had to prepare the video training pitch (in my pajamas).
Final pitch video of Competitive Business
Sadly, they have filmed only the end and the Q&A.
… and the pitch deck.
The actual pitch text
Image you are the CEO of a startup.

Your job, as the CEO, is to make strategic decisions. You are more likely to make the right decision if you are well informed, correct?

———

So, for 6 years, on my previous startup, I've been manually watching over competitors to check out their strategy on social media or ads, their pricing, their copywriting changes, lead nurturing and it paid off: I had the right product, the right price, the right strategy so I made a profitable startup.

Let me tell you why knowing your competitors can be good for your business:
It will help you position yourself and differentiate from the competitors in the user mind (most of the users will ask why should I choose you and not your competitor).
price changes of your competitors can affect your revenue (think of some seasonal offers or maybe a discount if the user did not convert after the trial ending)
investors ask in a pitch deck to have competitors slide and say why are you better? How easy it would be for your competitor to do what you do.
know where your competitors promote themselves, find out influencers, affiliates, webinars and so on

Keep in mind while you develop your business, the competitors are doing this as well. Don't fall behind.

—-

Competitive.Business will deliver by email on a weekly basis your competitors' online activity. It will only take a few minutes of your time to review any key insights and help you make strategic decisions with your team.

This is how it currently looks, simple interface with powerful filters so you can immediately see only what you are interested in.

Now think that if you would manually visit competitors from time to time, you would have to remember what you have seen last time and if they changed anything. You may visit them for nothing or even miss some of their moves.

Competitive.Business alerts you only when something new happens. All the key information will be delivered to your email and you may visit the website for more information.

—

We are currently in private beta.

2 weeks ago I invited 50 startup founders. We've done a lot of bug fixing and received good feedback.

I plan to launch publicly in December.

—-

My question to validate and improve the product is: What public information about your competitors would you pay for? or would you be interested in?
Feedback on my pitch
At the end of the event, I've received 43 written feedback from the audience.
While in 3 minutes, there isn't enough time for anyone to fully understand the business, when a lot of people write the same thing, it's something you should focus on and see if you can do something with it.
To address some feedback that kept repeating:
You should monitor price changes on e-commerce websites.
I don't want to monitor price changes, there are a lot of startups and well-established businesses that do that very well (not that there isn't enough space to make another one), but I targeted people with a different need, those who want to have an idea of their competitors strategy, what works well for them and what doesn't.
Budget spent on ads; keywords that help my competitors convert
Very happy to see interested people in ads & keywords. The feature should be available on Competitive Business in a month or two.
I am interested in user acquisition/sales strategy
We are already monitoring competitors account emails/newsletters, social media and soon ads
Do you have a pitch prepared for your startup? Have you ever pitched at a startup event? How was it?