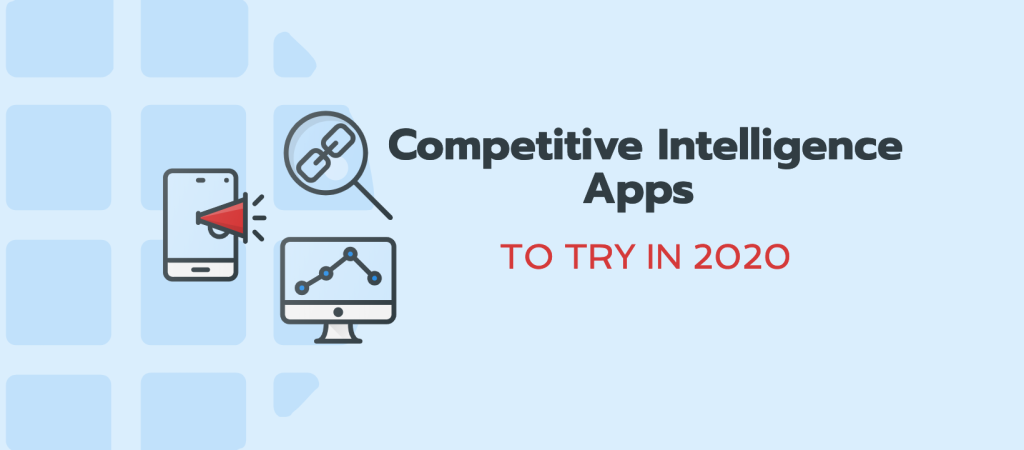 [playht_player width="100%" height="175″ voice="Noah"]
Building and maintaining a competitive advantage is a challenge, especially in today's fast-moving business world and in such a highly competitive landscape. To succeed in the digital market, you have to bring value, stay relevant, and have 360 degrees-vision around you to capture every move that can influence the trajectory of your business. That means you have to keep an eye on your competitors' actions and to know what they are up to.
You also need to figure out how to be one step ahead of them and what are the steps to be done to overcome them – so you might want to use competitive intelligence apps to get to know what your competitors do online without wasting precious hours of manual research behind their website or Social Media channels.
Why use competitive intelligence apps
Competitive intelligence apps help you to screenshot your competition's actions on different channels, as website, Social Media, Ads., and give you an idea of their digital marketing strategies. By tracking your competitors' moves, you'll get to know important details as to how they execute SEO, what they post on Social Media, how often and on which particular channels, when they launch Ads, what's their email marketing strategy and much more.  By analyzing all competitors' data, you'll figure out how to build a strong competitive advantage for your business. In short, you'll learn how to maintain your service/product on the top of the heap.
In case you're still wondering if you should or not use competitive intelligence apps to get to know what are your competitors doing online, here are the :
Top 3 reasons why you NEED to use competitive intelligence apps:
Competitive intelligence apps help businesses to capture – analyze – take action in different fields and departments, including marketing, sales, content, product development. Marketing can gather valuable data about their competitors' marketing strategy, including Social Media strategy, Email Marketing strategy, Advertising tactics, and more. Sales can use competitive intelligence monitoring apps to track competitors' website changes, as price changes, use cases, and more. Also, competitive intelligence apps are useful for product teams because they can provide information on product features, add-ons, etc.


---

Competitive intelligence apps help you to anticipate competitors' actions in the future. Collecting and analyzing your competitors' strategies consistently during a period allows you to understand their strategy and tactics better and makes you aware of their future steps. For example, using competitor monitoring apps allows you to track competitors' emails and newsletters so that you can learn about their future launches, new features releases, and more.


---

Competitive intelligence apps help you to uncover new opportunities for your business – strategies, and tactics that you didn't even think of yet. By using competitor monitoring apps, you can identify new keywords for your PPC campaigns, and you can improve your content strategy based on their example, case-studies, etc. In short, you can see what your competitors are doing better, so you can get inspired by their success.
---
Without a doubt, competitive intelligence tools will help you conduct advanced market research – so it's essential to find the ones that are useful for your business so you can start gathering valuable insights into competition's strategies. Using competitor monitoring apps helps you to identify and analyze the competitive landscape of your industry, so you understand better the specifications of the market and your business' position. Capturing those valuable insights is essential for your company's growth. 
With so many competitive intelligence apps on the market, let's see a top of Competitive Intelligence App to try in 2020. These competitors monitoring apps that help you to track competitors' actions automatically and to build a strong competitive advantage in 2020.
In conclusion, these competitive intelligence apps will get you started collecting competitors valuable information on their online moves on their website, Social Media, and more. Each of these tools will help you to make an idea of your current position on the market, compared to your competitors' position. At the same time, using a competitive monitoring tool helps you to identify opportunities to grow and to plan your next steps.
Please keep in mind that collecting competitors' information is not enough to overcome them. After gathering all competitive data, you need to analyze and share that information within your team so you can make better-informed decisions for each of your business sectors.