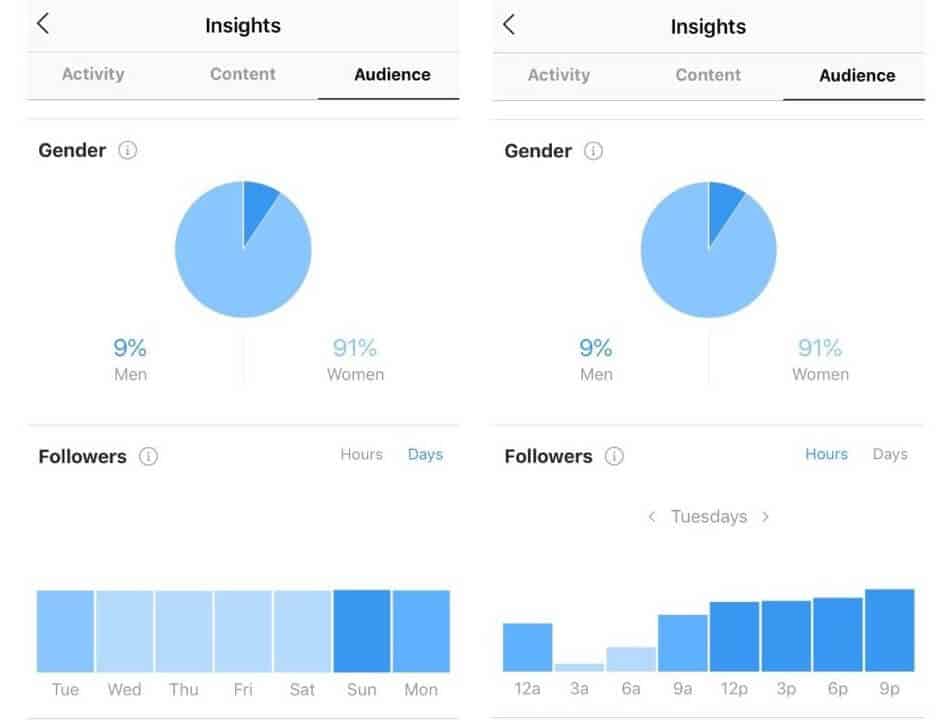 It seems like every little thing has something to do with the numbers, don't you think?
The answer is probably somewhere in between.
When it comes to the quality products or services, the new people who visit your Instagram profile certainly bring a more significant number of followers. However, it is also important who forms this certain group of followers.
Today you can buy a profile with a large number of followers and post your content, but would that be of benefit for you? There is an excellent chance that that would never happen.
The audience that follows you must be interested in precisely what you have to offer. If you buy a profile that previously dealt with the sale of sports shoes just because it had a lot of followers and your aim is to be engaged as a life coach, revenue will undoubtedly fail to exist because that is not your target audience.
Fake followers and bots are also not a good idea because they will neither be interested in what you have to offer, nor will they increase engagement on your posts.
Therefore, in the continuation of this article, we present you with 8 Instagram growth hacks that will help you get to your right audience and a lot more sales.
1. Tell a brand story
You could start with a brand story. If you think that the stories aren't of the utmost importance when it comes to business, you should think twice.
There is a vast number of brands in the world, and, to be successful, you have to stand out. But how?
Your story is something that makes you unique. Maybe you already have a brand story, and you aren't aware of it.
Why did you start with that business in the first place? Is it about creativity, about helping others, or about something that you always wanted to have, but it didn't exist, so you decided to make it yourself?
If you do everything just because of money, people will see through that, and that is not an excellent way to become famous.
To make it clearer, here are some examples of what we were trying to explain:
sweetgreen

– connecting people to real food since 2007.
Sweetgreen is a concept whose mission is to "bring people back" to the healthy food, but at the same time to educate them about food and its preparation, and how they should protect the land because the land is the source of it.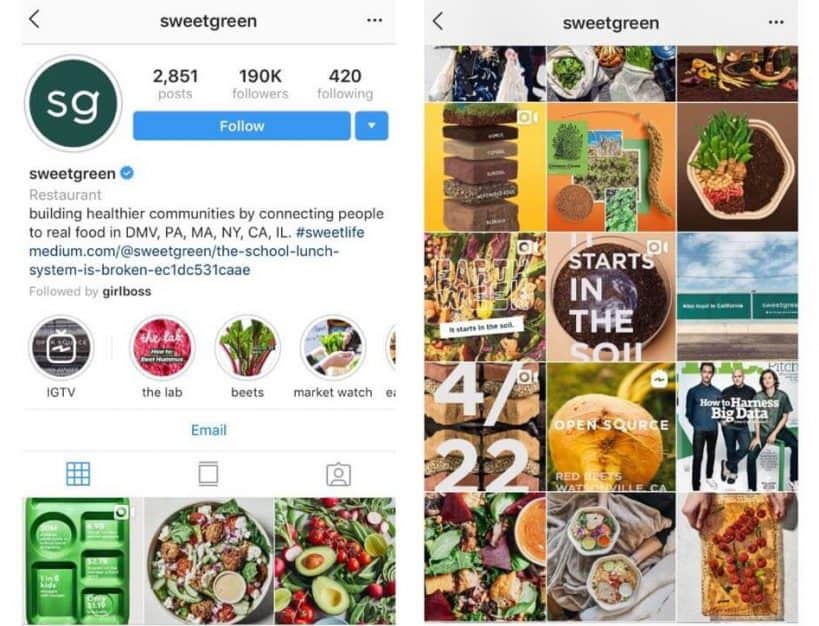 They also organize campaigns that they inform their followers about on social networks. One of the bigger ideas is to provide children in schools with a healthier meal and to make progress in doing so.
Also, they are continually coming up with exciting and useful things like "plane salad" that people can order to avoid unhealthy food often served on planes during the trips.                                                                                                                                                   
Behind the beautiful and colorful images on the feed, there is a story we can see in the bio section and through the story option and IGTV.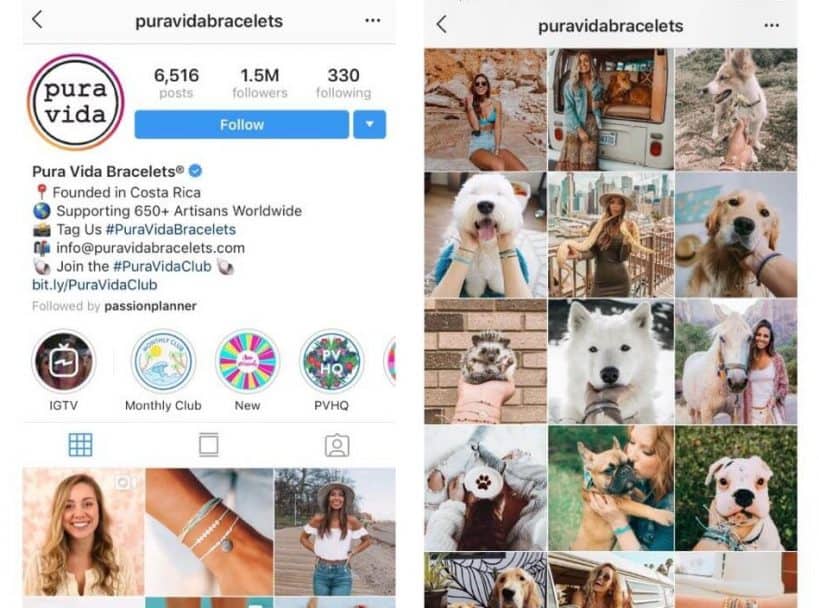 The Puravida brand was created by the founders Griffin and Paul, during a visit to Costa Rica, where they met two artisans who had bright color bracelets on their hands, the same bracelets as the ones we can see in the pictures. Artisans said, during their story, that they were living in poverty, and then the future founders of the brand came up with the one idea.
They asked them to make 400 bracelets, which they afterward took to the shop where they sold them all at high speed. Griffin and Paul had invested in this idea, and now over 650 artisans around the world earn a living from creating these bracelets.
These are the two very successful examples of how a brand story influences people to connect with their brands and with them.
Tell people your story, but do not forget that storytelling should be present always.
Storytelling is something that converts. The storytelling base that you will use in the captions below the images, in stories, and so on, should consist of the answers on the following questions:
– What can you offer to your followers?
– Why exactly should your product be their choice?
– What is your mission?
It's important to put your customers first, and not your product. Keep this in mind.
Another essential item is the look of your feed because it is your catalog, a presentation of your brand.
And because of that, you need to pay attention to the following:
the pictures should be clear

choose the color of your feed's theme: that includes the complementary colors or filter through which you will drag each photo

decide which type of content will you post on your profile, depending on your brand

make a posting plan
If you follow these rules, your feed will be organized and pleasant to look at.
2. Find people who are following similar pages and follow them
Following people that already follow some brands that are similar to yours is one of the simplest Instagram growth hacks.
Yes, it takes time, but it can be beneficial for making your account more and more popular.
What is it that you can do?
First, do some research.
For example, if you want to start selling books, you should type keywords that are crucial for your business, such as books, books, bookstore, book lovers, and similar into a search bar on Instagram application.
Also, you can research other bookstores that you already heard of.
When you find those similar pages, you should start following people that are already following these profiles.
Do not stop at tracking, but also like their pictures and leave comments. Make sure your comments are interesting, not just containing emoji or sentences that sound like spam-like "Nice pic" or "Cool feed, go check our." Put some effort.
If you are wondering whether it makes sense to spend so much time on following, liking, and commenting, believe it when I say it, it pays off.
A small experiment was conducted where a total of 300 people were recruited. The first 100 were given only one follow, the other 100 a follow and alike on one of their pictures, and the remaining 100 were followed, one of their photographs liked, and the comment was left.
The statistics were as follows:
Only follow

: 14% got followed back

Follow + Like

: 22% got followed back

Follow + Like + Comment

: 34% got followed back
These statistics do not always have to be identical, of course, but it's obvious that this principle works.
Of course, before you start with this tactic, your profile should be arranged, and it needs to contain:
a profile image (the best option is the logo of the brand)

all the most important information has to be typed in the bio section

there need to be at least one of the contact buttons (call, email or directions)

a minimum of 9 photos so that when people visit your site, the profile looks full
No one will bother to follow a profile that is half-empty and looks dysfunctional.
Another option is to use your apps to find your followers through them.
They work like this: apps automatically follow people who share similar interests as your target audience.
One such app is Instazood. It's an Instagram bot that automatically likes, follows, leaves comments, watches the Instagram stories, unfollows, and manages posts … And it does all of that instead of you.
It's important to emphasize that you should never use tools that attract fake followers and bot profiles because they will not become your users.
This app follows the right people who want to connect with you because they are interested in what you have to offer.
Also, Instazood ensures that you do not cross the limits set by Instagram, and it offers different speed settings for advanced users.
Riotly platform works similarly. It identifies what kind of target group your target group is and then analyzes it and interacts with it, which increases the number of followers on your profile.
3. Find relevant hashtags and post things at the right time
Hashtags are often ignored or, more often, not used in the right way. However, it's completely wrong to ignore such an important Instagram growth hack.
Hashtags are tags that Instagram has introduced to make it easier to find things that interest us in one place. For example, if you type #coffeshoop, you will see the pictures that are related to this topic.
You can find the relevant hashtags for your business by exploring competitive profiles, looking at their pictures, and seeing which hashtags that are used in descriptions or comments are best quoted, that is, which ones are the most popular.
When you're done with the hashtags' search, put them in the search bar on Instagram and see how many more tags are associated with them to create a small hashtag database that you can use later for your posts.
You can have a maximum of 30 hashtags in one post, but this might be too much. Find out what is the number of hashtags your popular competitors use and check if the same number suits your needs best.
Neil Patel advises that from 5 to 10 hashtags per post is a good option.
As for the right time to post on Instagram, Later conducted a survey including 12 million posts, and the result showed that the best time to post is between 9:00 am and 11:00 AM EST.
In the following table, you can see the top 3 periods for posting the content within each day (represented in EST):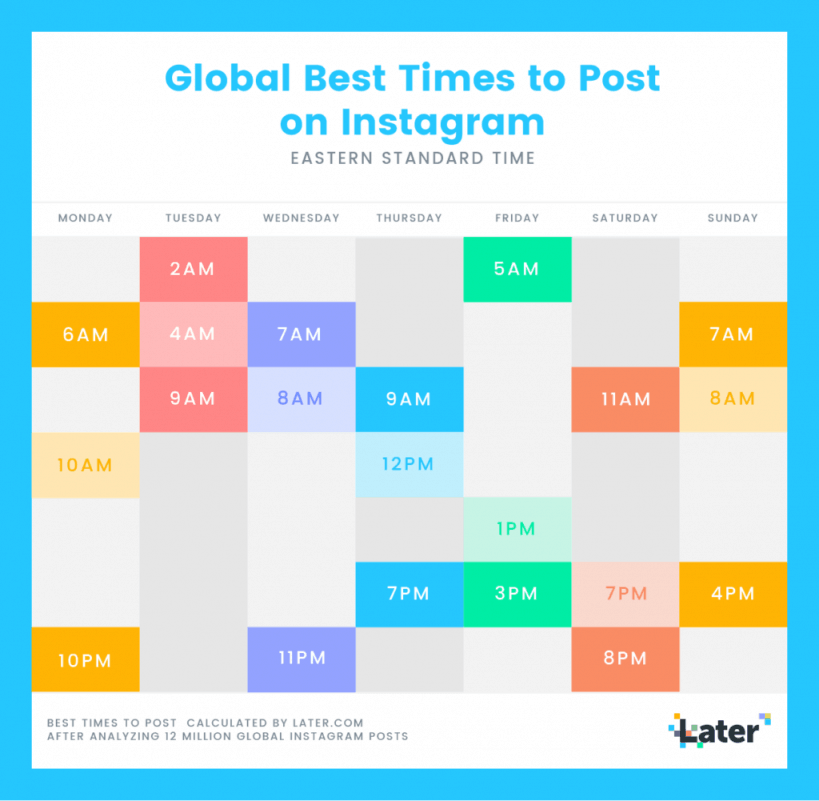 Although it is undoubtedly advisable to try out how this release date will turn out for you, it does not necessarily mean that the same rule will apply to every business.
The most important thing is to post when most of your followers are online.
To find out that you can try and upload posts at different times, but you need to analyze the results simultaneously by looking at your engagement (the number of likes + comments + shares) at the time when you post.
Another way is to take advantage of what Instagram itself offers within your business profile – Instagram Insights.
When you enter Insights, click on the Audience segment.
There you can see the different statistics:
the total number of followers

top locations

age range

gender

followers
In the followers' section, you can see when your followers are most active during each day of a week or each hour of a day:
Explore these statistics and find out what is the best time for your posts. When you see at what time you get the most feedback (when is the most significant engagement), continue to post in that publication period.
This will also contribute to the fact that your followers know when are you posting, and if they fail to see the post, there is a possibility that they will go to your profile to keep pace, which also increases your reach.
4. Create and promote branded hashtags
Brainstorm the ideas with your team and see which are the best options for your branded hashtag. It would be best if this hashtag is connected to your brand or slogan that you are using.
If you intend to intrigue your audience for the sake of the marketing move, you can also use a hashtag that will not be associated with your brand at first. Still, in the end, you will make a reveal and discover who hides behind it.
Explore all the variants of the option you decide for and check in the search bar if someone hasn't already used what you want to connect to your brand.
You can use Branded hashtags for promotions, prize games, events, and so on.
For example, The Coca Cola Company made a #ShareACoke campaign to encourage consumers to buy personalized Coca Cola bottles as gifts to each other.
Then, L'Oreal made a campaign under the hashtag #WorthSaying, which is aimed to encourage women to find out what's important to them and what is "worth saying." The campaign included celebrities like Jennifer Lopez so it was a great success and the hashtag became viral.
Also, L'Oreal has promised that for every mention of this hashtag on the social networks, they will donate $ 0.25 to charity.
Using branded hashtags when it comes to prize-winning games is one of the great Instagram growth hacks!
The Container Store organized a prize game where winners could win $ 500 vouchers. The participants had the task to publish pictures of them using their storage and organization products on social networks in a creative manner with the hashtag #containyourselfcontest.
They got 200 pictures in a short time, and they got over 10000 additional impressions on their content gallery.
5. Optimize your Instagram content and profile for Google Search
Social media has a great impact on SEO. Although it may seem that there isn't any strong connection between Instagram and Search Engine Optimization, it nevertheless exists.
You will be convinced in a few seconds.
Neil Patel presents you with several ways how to optimize your Instagram account for Google Search:
When you take a photo, the coordinates of the location you are in at that moment are automatically linked to the photo. Instagram will publish the location of the photo only if you choose it, and it will appear above the picture.
This is of paramount importance if your business has its physical location because people can find out where you are, and they can also check themselves in, and you will get UGC (User Generated Content).
Your profile should have a profile photo, profile name, username, bio with the most important information, and links to your other web assets.
Don't forget to use adequate keywords in your bio and the content that you are posting.
Link building includes using links of other sites on your site.
When it comes to Instagram, it means that you use them on your profile and in your posts.
The links you use should be connected to your content for your profile to be well optimized. Do not use random links simply because they are linked to popular sites.
If you want to make your content more visible, you must encourage content sharing to the other channels such as sites or other social networks so you could reach more people and make more traffic.
If people share your content, Google will recognize this as something important, and it will give it an edge.
6. Use shoppable Instagram posts
Shoppable Instagram posts are the convenience Instagram has provided for the business profiles.
When you upload images to your Facebook catalog, they will be linked to your Instagram account, and you will be able to create shoppable posts.
People eagerly follow the brands they like because they feel closer to them, they can contact them directly via the DM, and they can keep pace with all the news and campaigns. Given that more and more people opt for online shopping each day, the introduction of this option is an excellent move towards developing brands.
The followers now can click on the picture and find out the price of the product instead of sending a message and waiting for an answer. Therefore, their interest is not lost while waiting to get the necessary information.
This shoppable feature also has metrics attached so you can track the data collected by your followers. With this option, which is also located in Instagram Insights under the Post impressions, you can see likes, reach, outbound clicks, etc.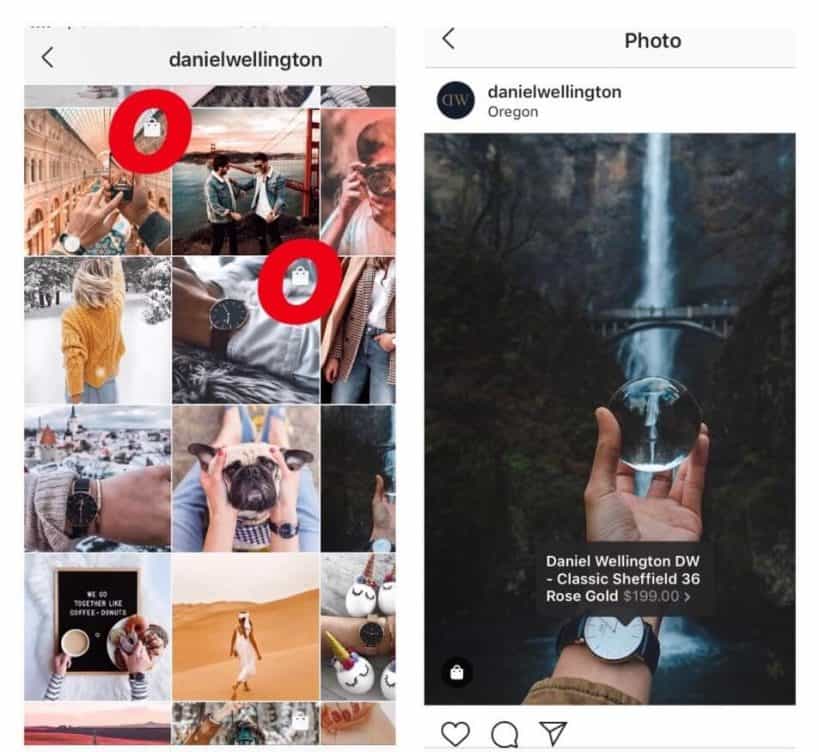 7. Cooperate with micro-influencers
It is already known that the influencers can be categorized into micro-influencers and macro-influencers.
We are now going to pay special attention to micro-influencers – people who have fewer followers, but again have a specific impact on their audience who trusts in their recommendations.
Scrunch defines micro-influencers as people who have between 2000 and 50000 followers.
Cooperation with micro-influencers is one of the best Instagram growth hacks!
As they have fewer followers, their connection with the audience is stronger because they can respond to comments and messages more efficiently than a macro-influencer whose inbox is stuffed with hundreds of messages, not to mention the notifications for comments which are never to be seen probably.
Also, it is highly probable that a large number of brands has not yet engaged the micro-influencers. Therefore it will not seem as if they would accept various offers for cooperation solely to get money.
Many influencers get critics from their followers because their audience feels like their recommendation is no longer so vital if they accept a lot of co-operation, and the money is the only thing driving them.
Of course, if you want to reach an even larger audience, you can hire more micro-influencers to spread the news about your business.
Keep it in mind that you always choose influencers that have some similarities with your brand. It wouldn't be so logical to call a fitness trainer to advertise carbonated drinks and sweets, right?
How exactly is the number of your followers growing if you hire influencers?
When you make a contract with a micro-influencer, he becomes the ambassador of your brand. Therefore, it is essential to select who will you engage carefully. If you are not sure how to make this choice, it's better to consult a social media manager, hire a digital agency, or expand your knowledge of social media trends..
After the agreed cooperation, the micro-influencer represents your brand to his followers who are there because they trust in his opinion and are interested in what he has to say. That already gives added value to your brand.
If they become interested, his followers go to your profile and start researching. 
Giving the fact that they have heard about you from someone that they gave their trust and attention to, it is much easier to convert them into your customers. It is up to you then to maintain quality content, answer their questions and messages, and not allow them to wait.
The sale won't be missed out!