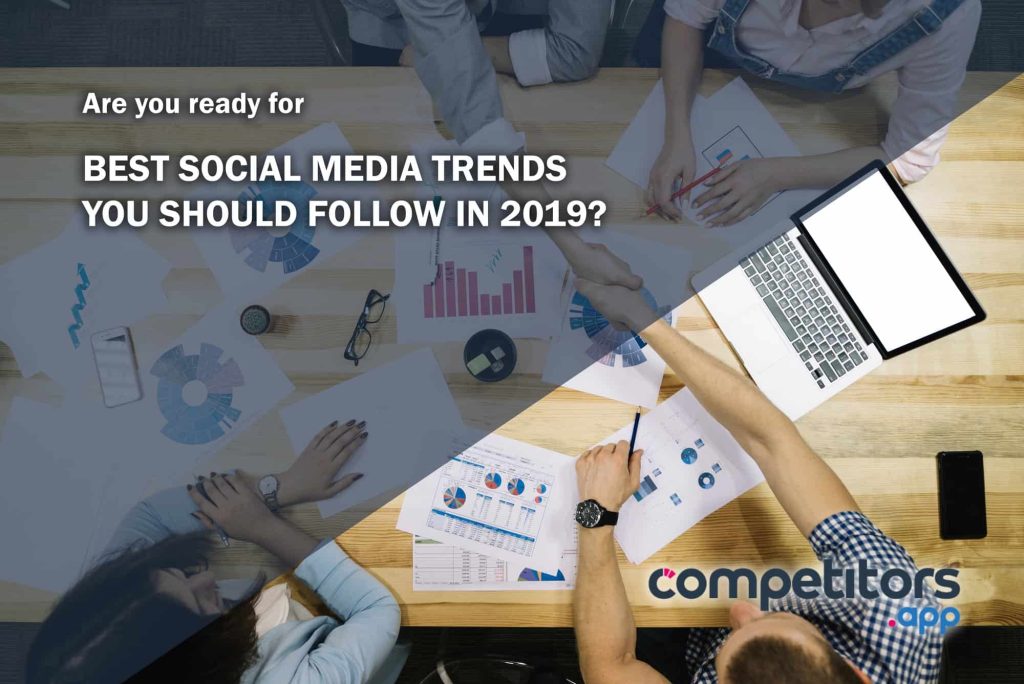 Another year is behind us. This year was very turbulent, and we have seen a lot of new trends coming and popping up in Social Media Marketing.
If you want your business to succeed in 2019, there are several new marketing trends you should follow.
In today's world, where everyone has a voice, it's time to be different. We must differentiate our companies from our competitors.
So, let's dive into the best and most important Social Media Marketing trends you should follow in 2019!
Video Marketing is a must – for every brand.
In 2018, we could see a lot of new brands using videos as their way of communicating with their customers.
Videos are becoming more and more popular over the years. They have much more engagement and a more significant reach.
So, what is the biggest reason why Video Marketing is soo dominating?
With video marketing, you can easily catch your customers' attention and unleash their emotions. Everyone knows that people are buying based on their experiences, thoughts, and feelings.
An excellent example of a company that is using video marketing to engage with its users is Tasty. Almost all of their videos are going viral and have a ton of engagement and views.
Tell your brand story.
People are associating themselves with stories. Stories are bringing us closer to each other.
If you carefully tell your potential customers what your problems were, and why you have created your product, they will associate themselves with your problem, and they will undoubtedly want your solution.
Everyone heard about Coca-Cola. Coca-Cola is an excellent example of a company who are telling stories to build connections and relationships with their customers.
Monitoring Competitors Social Media and creating suitable competitive advantages are the next big things.
What's the best place to find out some unique approaches to connect with your target audience? What's the best source to learn more about your potential customers?
Of course – your competitors' social media!
Monitoring your competitors' social media:
– Presence
– Publishing
– Content
– Communication with Customers
– Ads
– Reputation
It is a must if you want to beat your competition and stand out on Facebook and Instagram.
Try to see your competitors' content distribution strategies: What's their process of preparing, creating, and distributing content?
On what topics are they creating content?
Are they using stock or custom photos?
There are a lot of useful things you can learn about your target audience from your competitors.
The knowledge and resources you gather will help you to create better competitive advantages, more engaging, and exciting content and to beat your competition.
Micro influencer Marketing
Influencers had an unexpected boom in the past few years. But right now, a lot of used influencer marketing methods are dying.
People started to recognize paid and sponsored posts. They usually do not trust anymore to the influencers who have millions and millions of followers.
The new way of influencer marketing is mostly based on micro-influencers.
They are people who have no more than 5.000 – 50.000 followers on Instagram (usually). They are influencers in some particular and very narrow niches, like marketing, vegans, entrepreneurship, photography, beauty, gaming, etc.
The reason why we are moving towards micro-influencers is that the people are tending to trust them more.
Of course, when we're talking about influencer marketing in general – you know that it shouldn't be too obvious that your post is sponsored. Right? 🙂
Constantly building communications with your customers will help you to improve your brand trust factor.
In the end, it's impossible to build a significant social media presence and to stand out from your competitors, if you do not bring interaction on the table. Right?
Try to connect with your customers. Make them feel like there is no company or a brand behind the account, but a person. Real person. A person with feelings and emotions.
Communicate with your customers. Reach to them and ask them: "Hi there, what do you think about our new feature?" or "Is there something we could do better?"
You can always publish user-generated content. Feature your loyal customers on your pages. Reshare their stories or mentions.
Say them: "THANK YOU!". Make them feel special.
Real and honest relationships between brands and customers will never disappear, and that's the trend that will always be present.