With numerous products and ever-fluctuating market conditions, harnessing the best price monitoring software becomes critical to business success. Whether you're battling razor-thin margins in e-commerce or looking to capture the pulse of consumer behavior, the right software can turn the tide in your favor. In this article, we delve into the ten best price monitoring tools that are reshaping the landscape of competitive pricing. We'll explore how each platform can sharpen your pricing acumen, the innovative features they bring to the table, and how they stack up in helping businesses capitalize on market opportunities. From established industry giants to promising new entrants, get ready to discover which tools can help your business not only compete but also thrive by making the most informed pricing decisions.
Best Price Monitoring Software Comparison Table
| | | | | |
| --- | --- | --- | --- | --- |
| Tool | Advantages | Disadvantages | Best For | Pricing |
| Competitors.app | Comprehensive monitoring, intuitive UI | May be too broad for simple price tracking needs | Overall competitive analysis | $19/99/competitor |
| ZenRows | Easy API for scraping, generous free tier | Limited free credits then paid | Data extraction and scraping | 1,000 free API credits, plans from $49/mo |
| Competera | Comprehensive optimization for retailers | Pricing isn't transparent | Retail price optimization | Free trial, custom pricing |
| Price2Spy | Large-scale tracking, various integrations | Additional cost for more advanced features | E-commerce competitive analysis | 30-day free trial, plans from $26.95/mo |
| Skuuudle | Global market monitoring, customizable reports | Pricing can be complex | Global market trend monitoring | Free trial, custom pricing |
| Prisync | Comprehensive monitoring with history charts | Might be expensive for smaller scale operations | E-commerce businesses | 14-day free trial, plans from $99/mo |
| Repricer | Real-time pricing adjustments, multi-platform | Can get expensive depending on scale and features | Real-time price adjustment in e-commerce | 14-day free trial, plans from $85/mo |
| Omnia Dynamic Pricing | Full automation and strategy implementation | Can be complex to set up without proper guidance | Automating e-commerce pricing strategies | Free trial, custom pricing |
| BQool Repricing Central | Specific Amazon focus, user-friendly | Mainly suitable for Amazon sellers | Amazon sellers | 14-day free trial, plans from $25/mo |
| PriceShape | Real-time data and analytics, price recommendations | High starting price, more suited for larger businesses | Data-driven price recommendations | Free trial, plans from $250/mo |
| Zilliant | B2B-focused with advanced analytics | Not disclosed, likely high for small businesses | B2B price analysis and management | Custom pricing |
| Keepa | In-depth Amazon tracking, international data | Limited to Amazon | Amazon sellers monitoring globally | Custom pricing |
| CamelCamelCamel | Free, detailed Amazon price history | Limited to Amazon | Amazon price tracking | Free |
The Best Competitor Price Tracking Tools
In the competitive business environment, the right price tracking software can be a game-changer. Here's an overview of some top-tier tools designed to keep you ahead of the competition:
Competitors.app – Best Tool for Overall Competitor Price Monitoring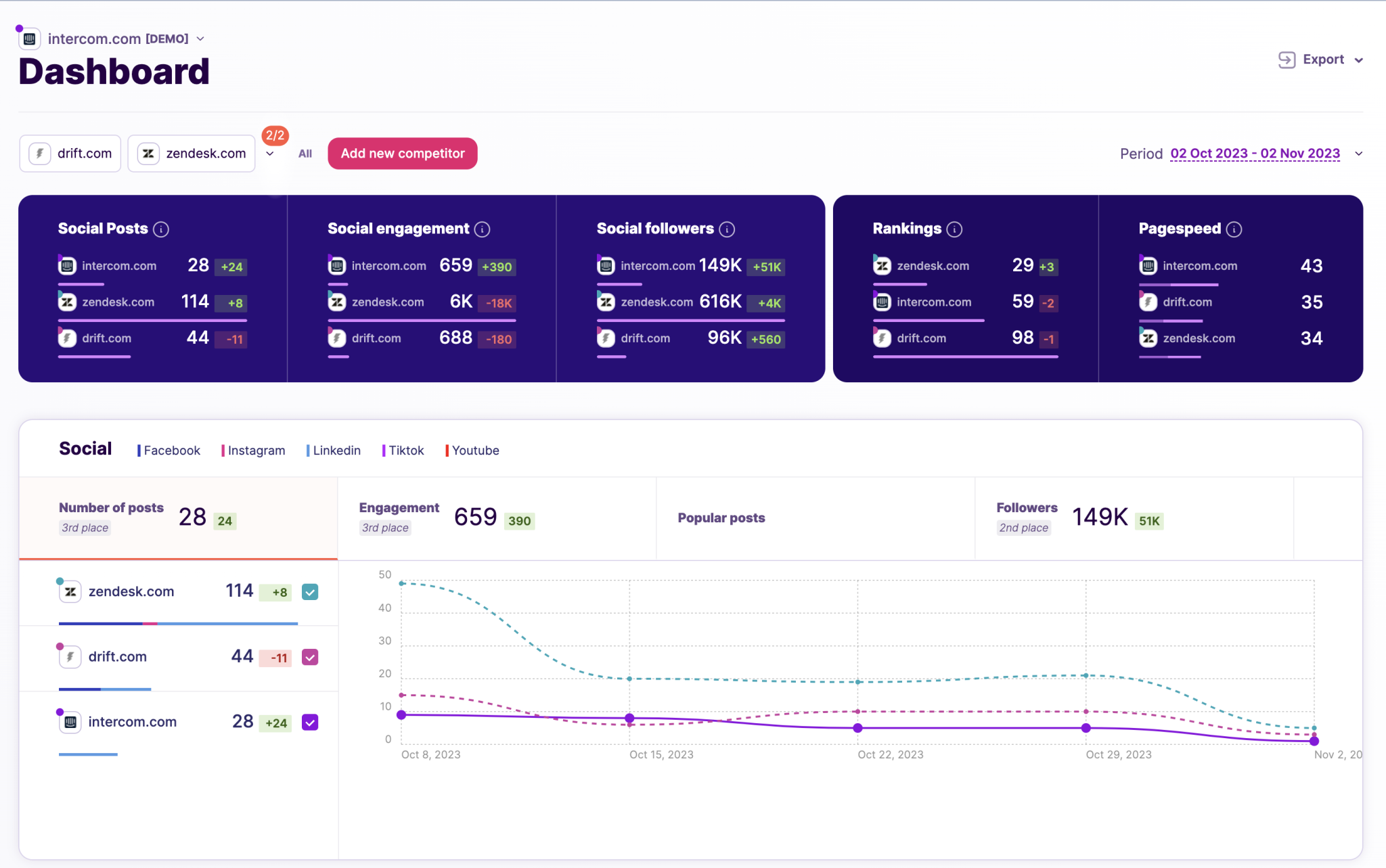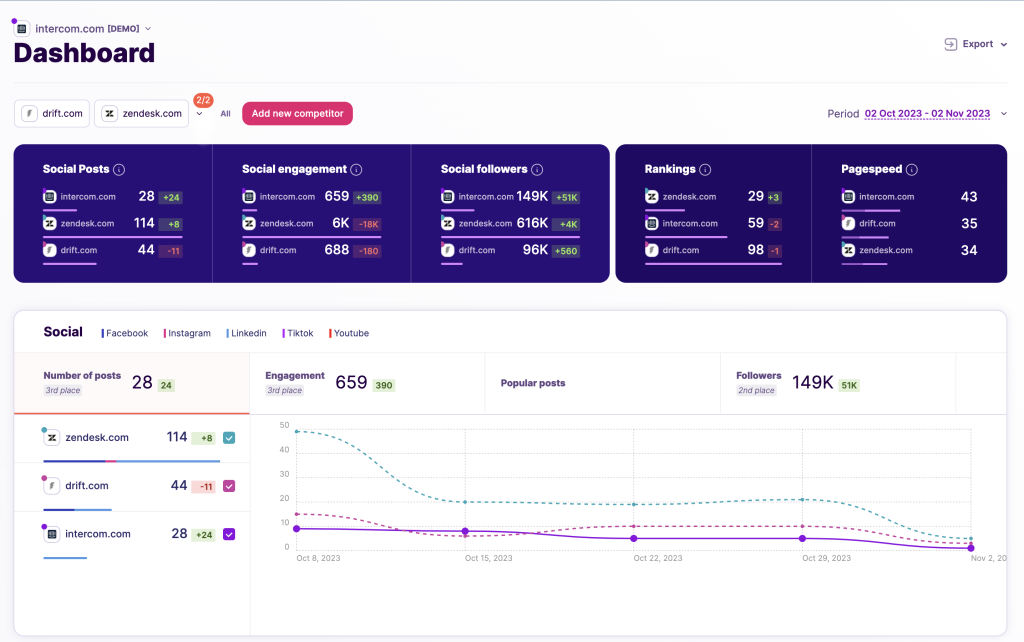 Competitors.app is designed to monitor a slew of your competitors' marketing activities, from social media presence to email campaigns, giving businesses a holistic view of their competition's strategies. It's particularly useful for users who require extensive monitoring beyond pricing, such as content changes and SEO strategies. The main advantage is the breadth of its tracking capabilities, which include detailed notifications of changes. However, the disadvantage is that it may provide more information than needed if pricing is your only concern, potentially overwhelming users with data. To use it, you simply input competitor details and the aspects you want to monitor, then let the app do the rest, with a dashboard to review insights. Pricing: starts at $19.90 per month per competitor, making it a scalable option for businesses of varying sizes.
ZenRows – Best Price Tracking Software for easy Data Extraction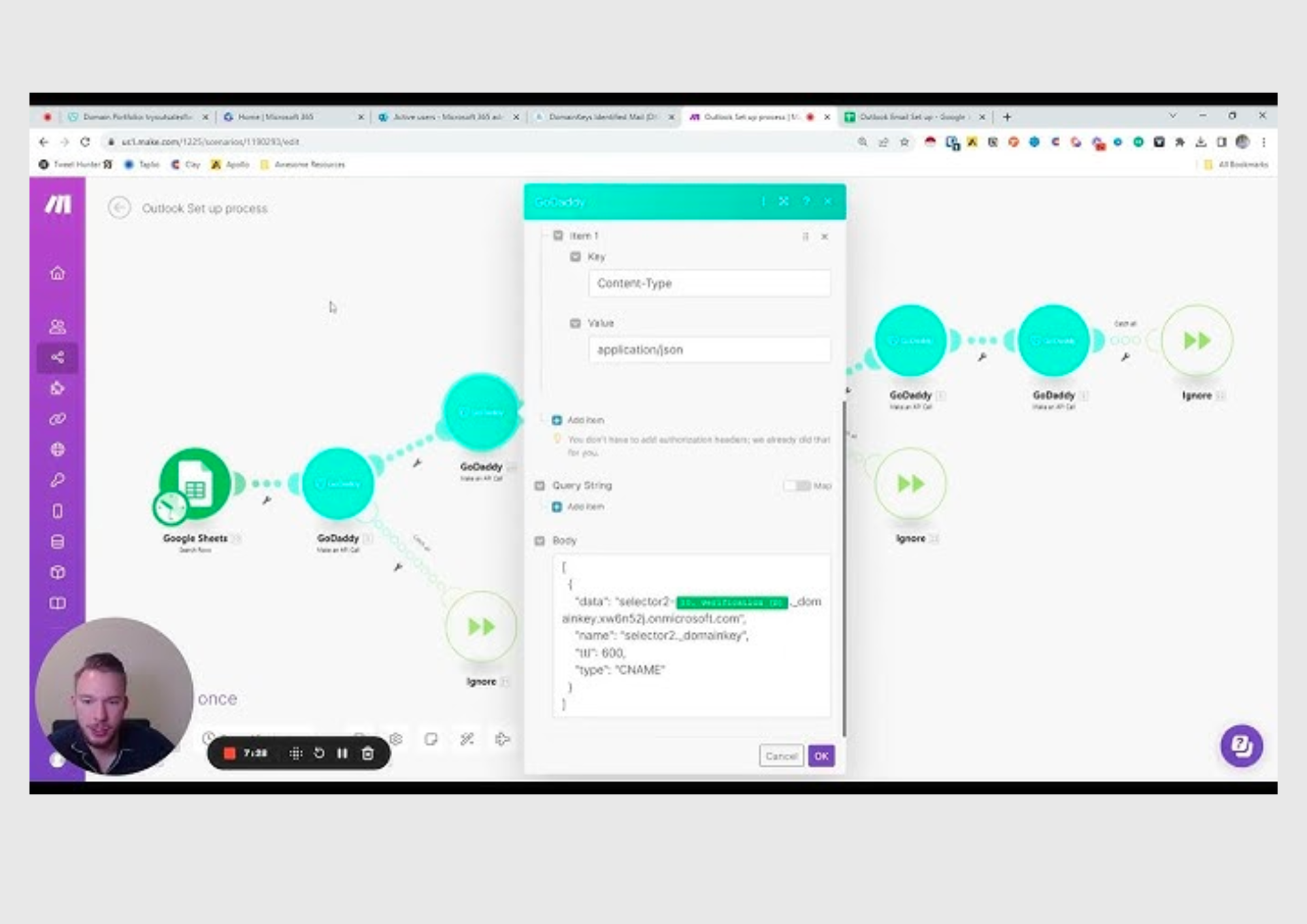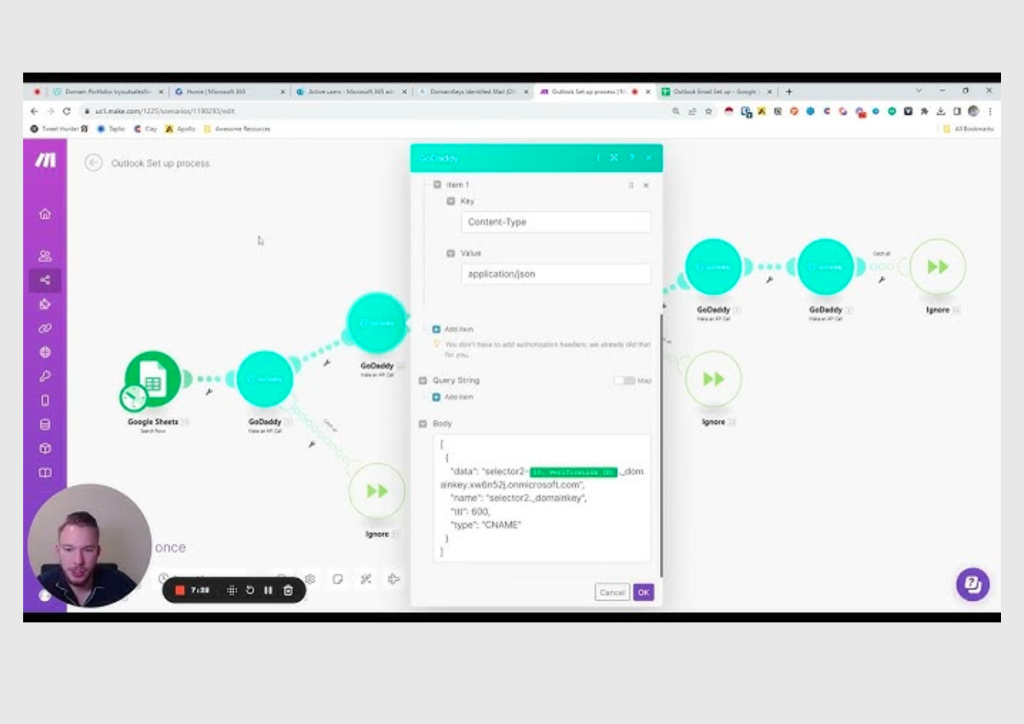 ZenRows is a web scraping service that excels in extracting pricing data with a user-friendly API that offers 1,000 free credits to start. It's advantageous for businesses looking to automate the collection of pricing information from competitor websites without the need for manual input. The downside is that after the free credits are used, you'll need to switch to a paid plan. ZenRows can navigate and handle websites with anti-scraping features, making it robust against various web defenses. Use the free credits to test its capabilities before committing to a monthly plan. Pricing: is transparent, with paid plans starting from $49 per month, providing options for businesses as they scale up their scraping operations.
Competera – Best Price Tracking Tool for eBay and Amazon sellers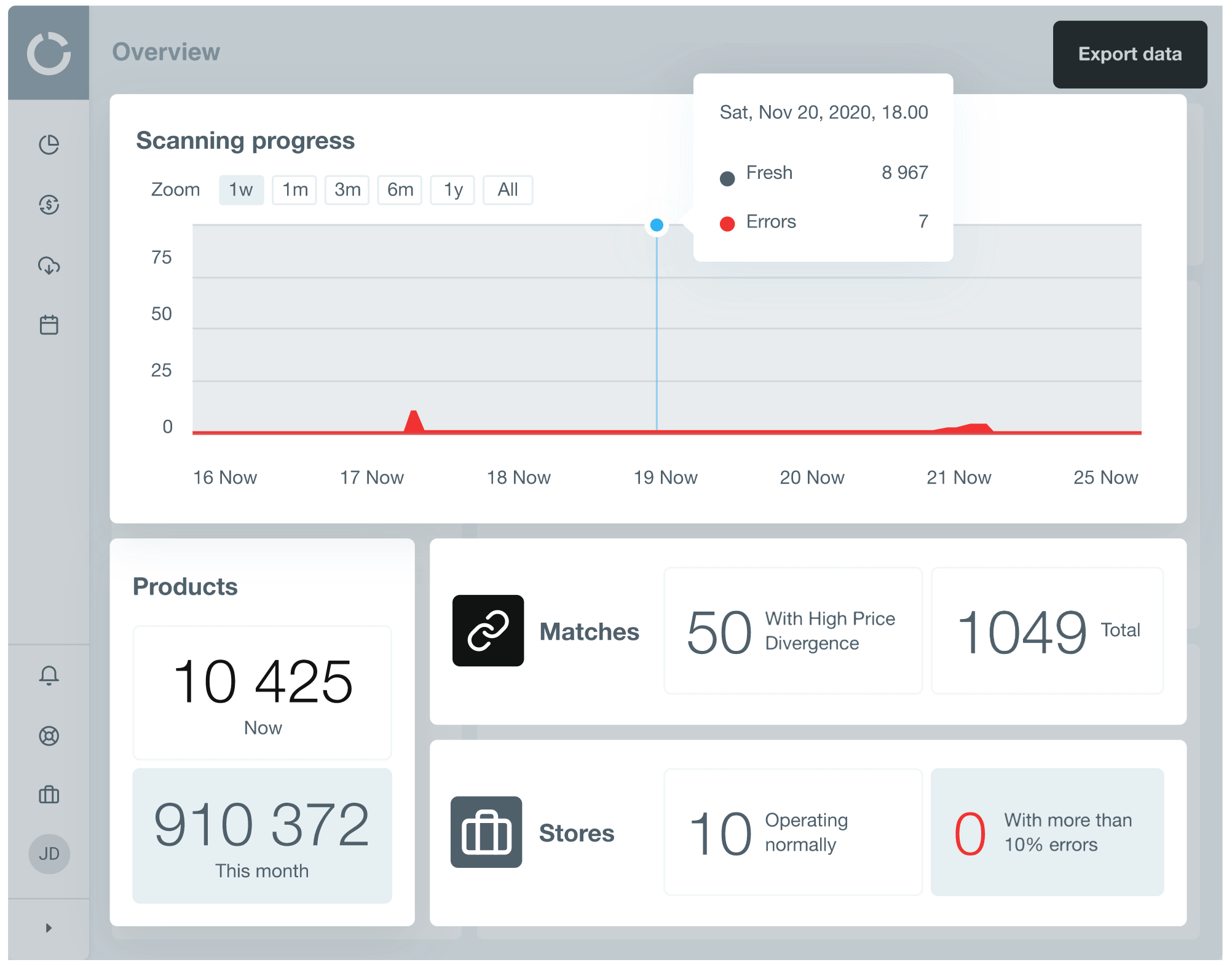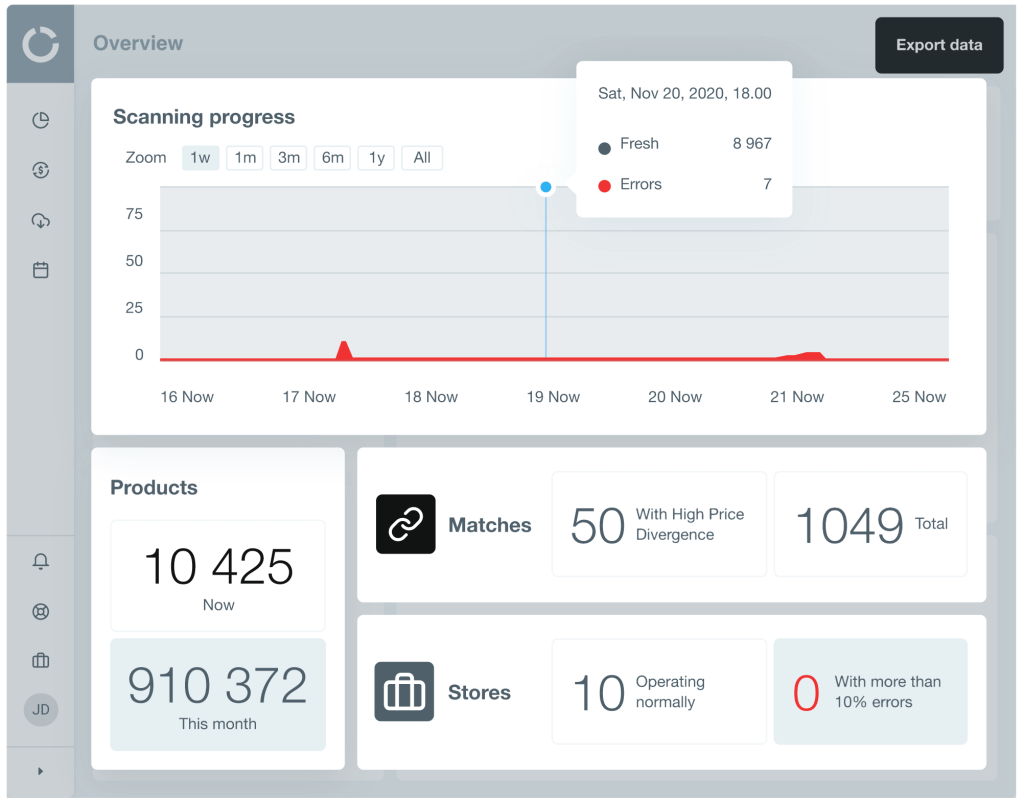 Competera is a market-driven pricing platform offering retailers advanced pricing optimization. Its strengths lie in its sophisticated algorithms that process market data to help set optimal prices, ensuring retailers hit their margin targets. The platform's main disadvantage is the lack of transparent pricing, which might make it difficult for smaller businesses to assess the cost-benefit ratio before engaging. To use Competera, you request a demo, evaluate the platform during a trial period, and then receive a custom quote based on your needs. Pricing: requires contact with sales for a custom quote, following a free trial period.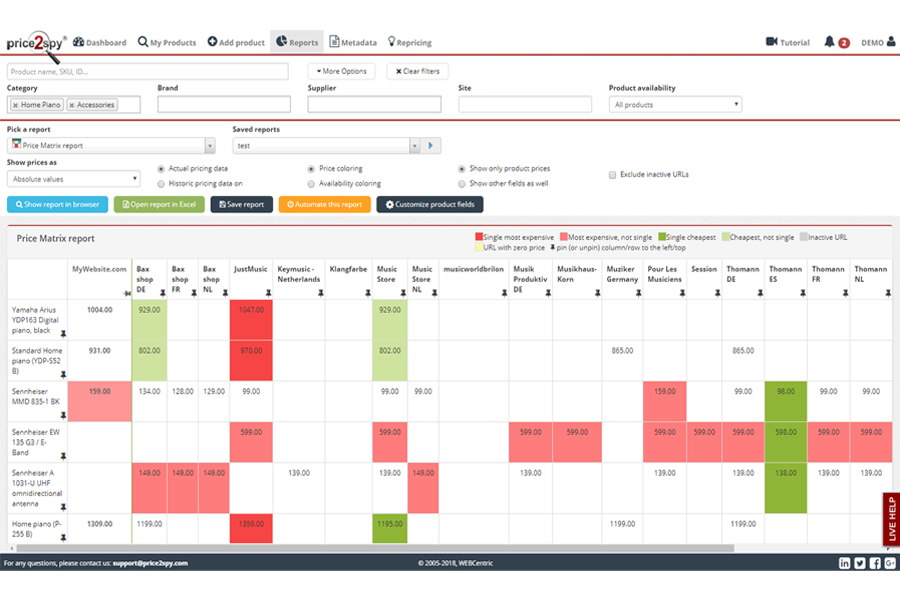 Price2Spy is a robust price tracking tool that offers services like price change alerts, reporting features, and various integrations with e-commerce platforms. It stands out for its ability to handle large-scale tracking across different markets and platforms. However, some users find its interface less intuitive than competing tools. Businesses can start with a 30-day free trial to test Price2Spy's full range of services. Pricing: After the trial, plans start at $26.95 per month, which includes basic tracking features with the option to upgrade for more advanced needs.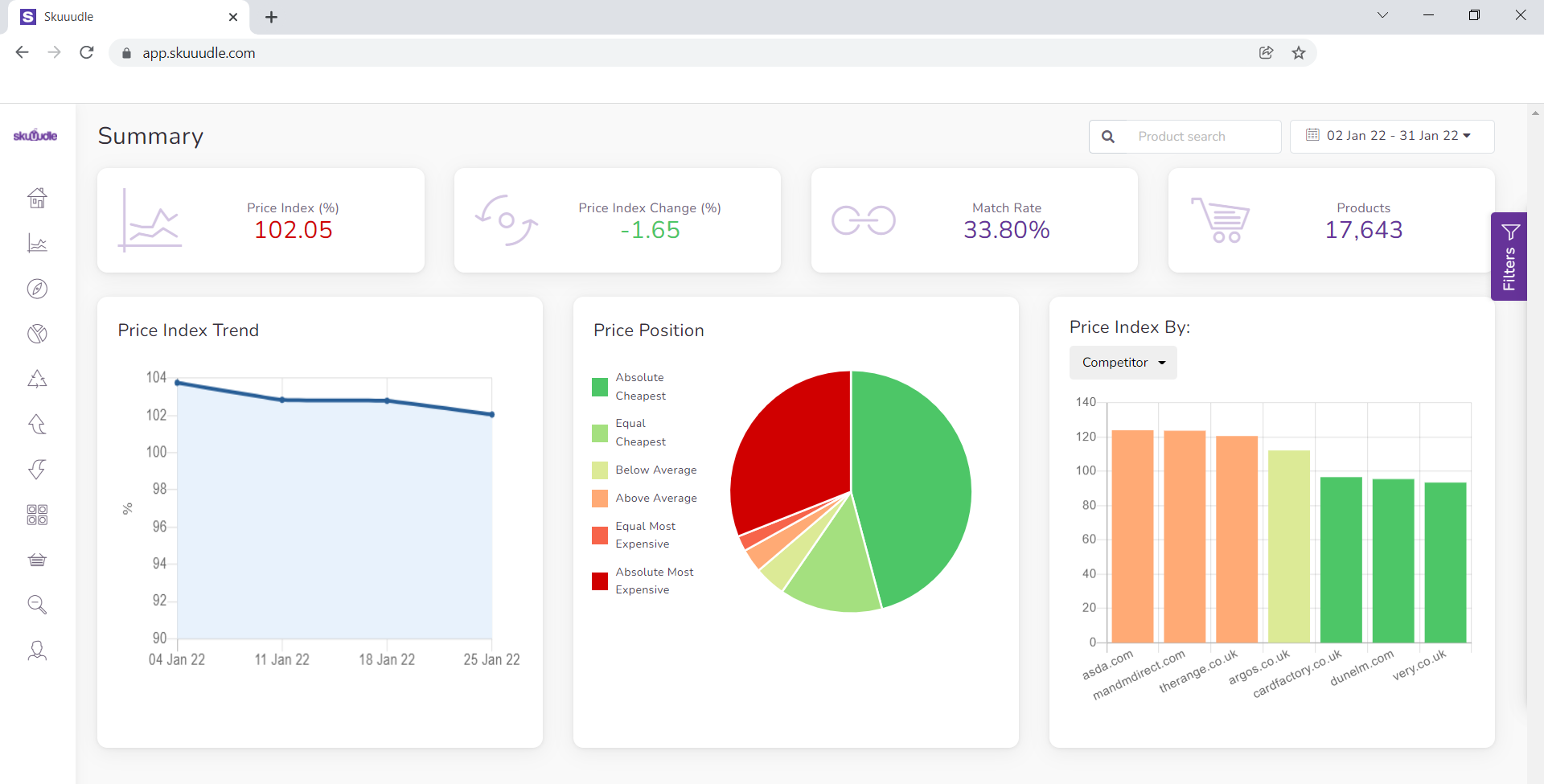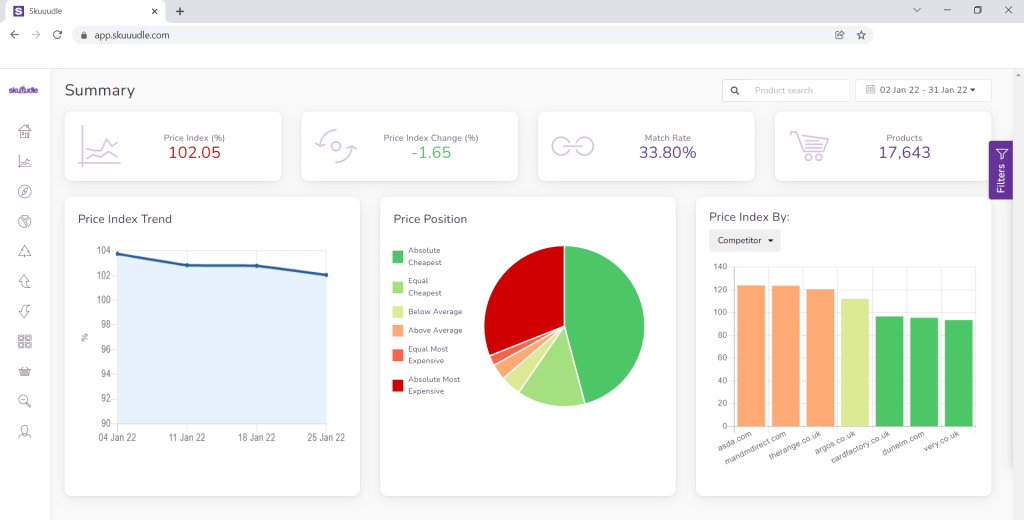 Skuuudle offers price and product intelligence for businesses, providing detailed insights into pricing trends both domestically and globally. Users benefit from Skuuudle's ability to deliver automated, high-volume pricing analytics, which can be crucial for strategic decision-making in retail. The main challenge for potential users is the service's custom pricing, which may require consultation to fit into specific budgets and needs. To use Skuuudle, businesses can start with a trial to assess its fit for their model and then transition to a subscription that aligns with their volume of data and frequency of reports. Pricing: Skuuudle offers a free trial, after which you'll need to contact them for a custom pricing plan that suits your business size and requirements.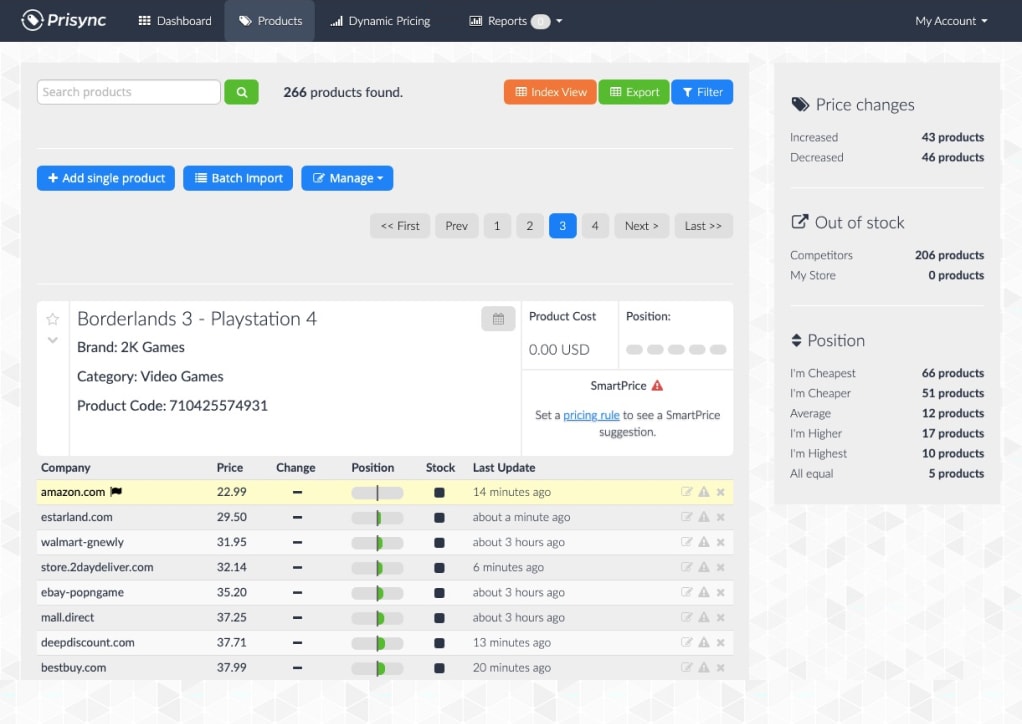 Prisync is a competitive price tracking software that enables e-commerce companies to track prices and stock availability. It shines with its comprehensive dashboard and reporting capabilities, complete with historical price charts. A potential disadvantage could be its price point, which may be steep for smaller businesses or startups just getting into price tracking. Prisync's platform is straightforward to navigate: you add the URLs of the products you want to track, and the system automates the rest, sending you updates and analytical reports. Pricing: They offer a 14-day free trial to get you started, with subsequent plans beginning at $99 per month.
Repricer – Price Change Tool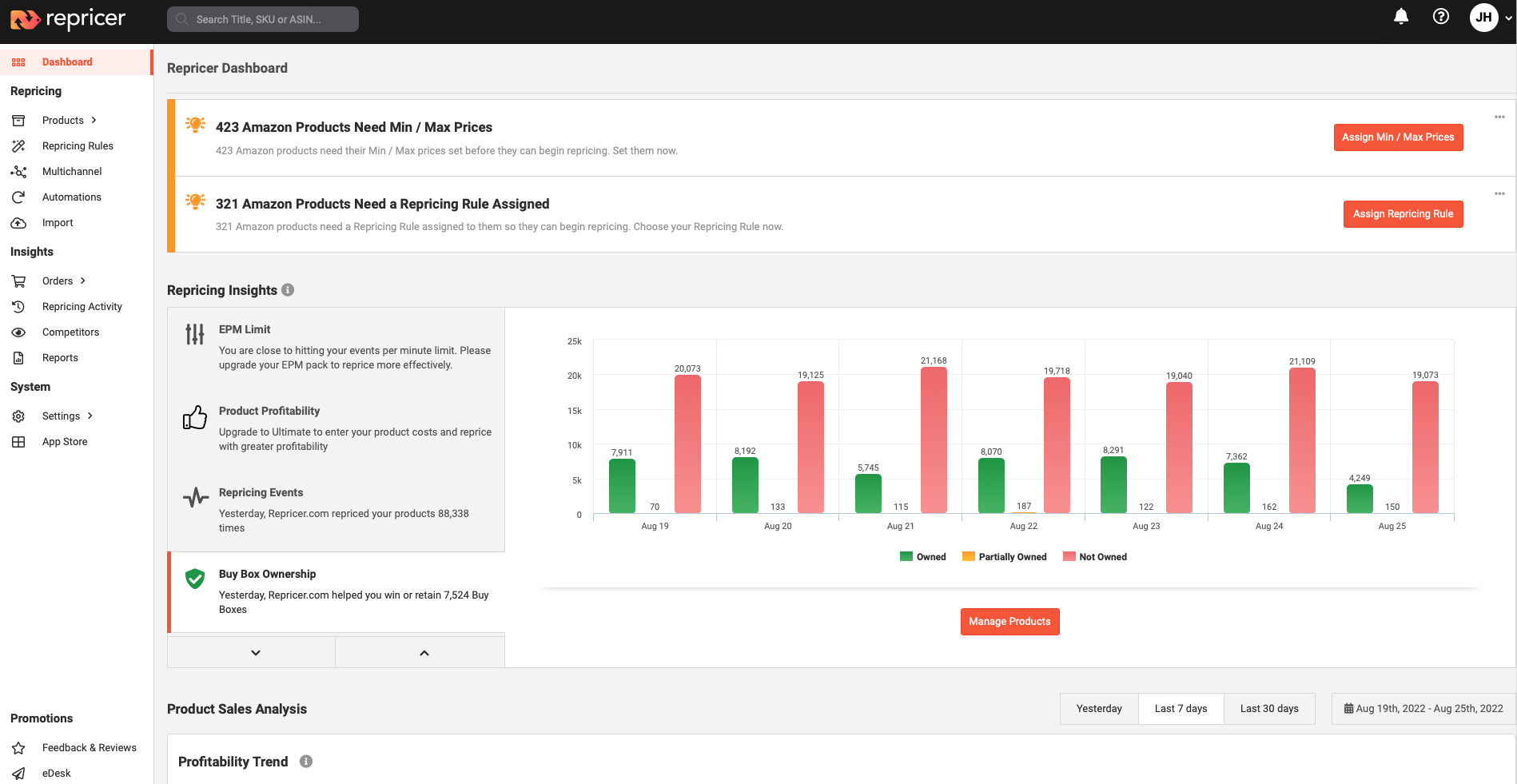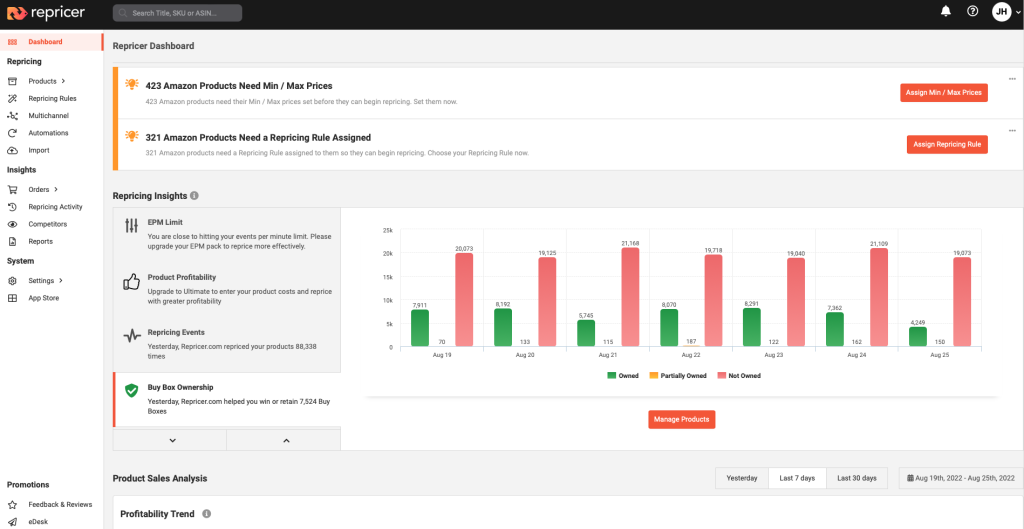 Repricer is a real-time pricing tool designed to help online retailers instantly adjust their prices based on market conditions and predefined rules. The tool's main advantage is its speed and responsiveness, which can help sellers stay competitive 24/7 on platforms like Amazon and eBay. The disadvantage may lie in the complexity of configuring the tool's rules to balance competitiveness with profitability. To leverage Repricer effectively, you set up rules that dictate how your prices should respond to changes from competitors, ensuring your prices are always one step ahead. Pricing: It offers a 14-day free trial to test its features, with plans starting at $85 per month.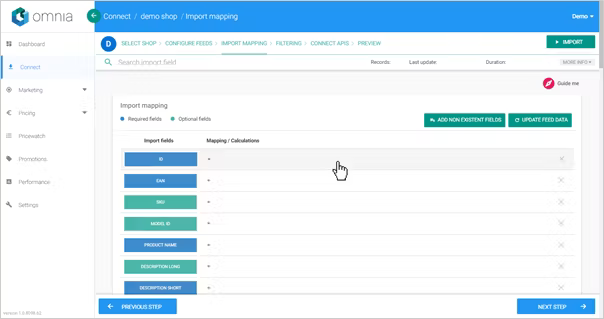 Omnia Dynamic Pricing is a cutting-edge tool for retailers looking to automate their pricing based on a comprehensive set of market data inputs. Its advantage is the level of automation it provides, allowing for sophisticated pricing strategies that save time and resources. The downside is that it may require a significant initial setup and fine-tuning to align with a company's specific pricing strategy. Omnia's platform is ideal for users who want to deeply integrate pricing strategy with sales data, competitor prices, and other market indicators. Pricing: They offer a free trial, with a need to contact them for detailed pricing based on the services required.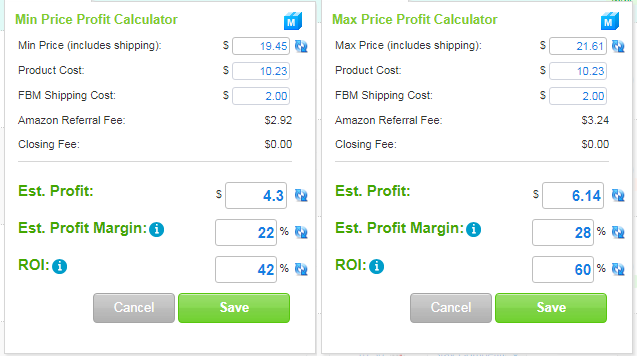 BQool Repricing Central is tailored for Amazon sellers who need to track competitor pricing and adjust their own prices accordingly. The platform offers fast repricing based on algorithms that ensure your listings remain competitive without constant manual adjustments. While it's a robust tool for Amazon, it may not be as relevant for sellers who operate across various e-commerce platforms. BQool's ease of use and quick setup mean sellers can start repricing almost immediately after subscribing. Pricing: A 14-day free trial allows for a thorough evaluation, with plans starting as low as $25 per month.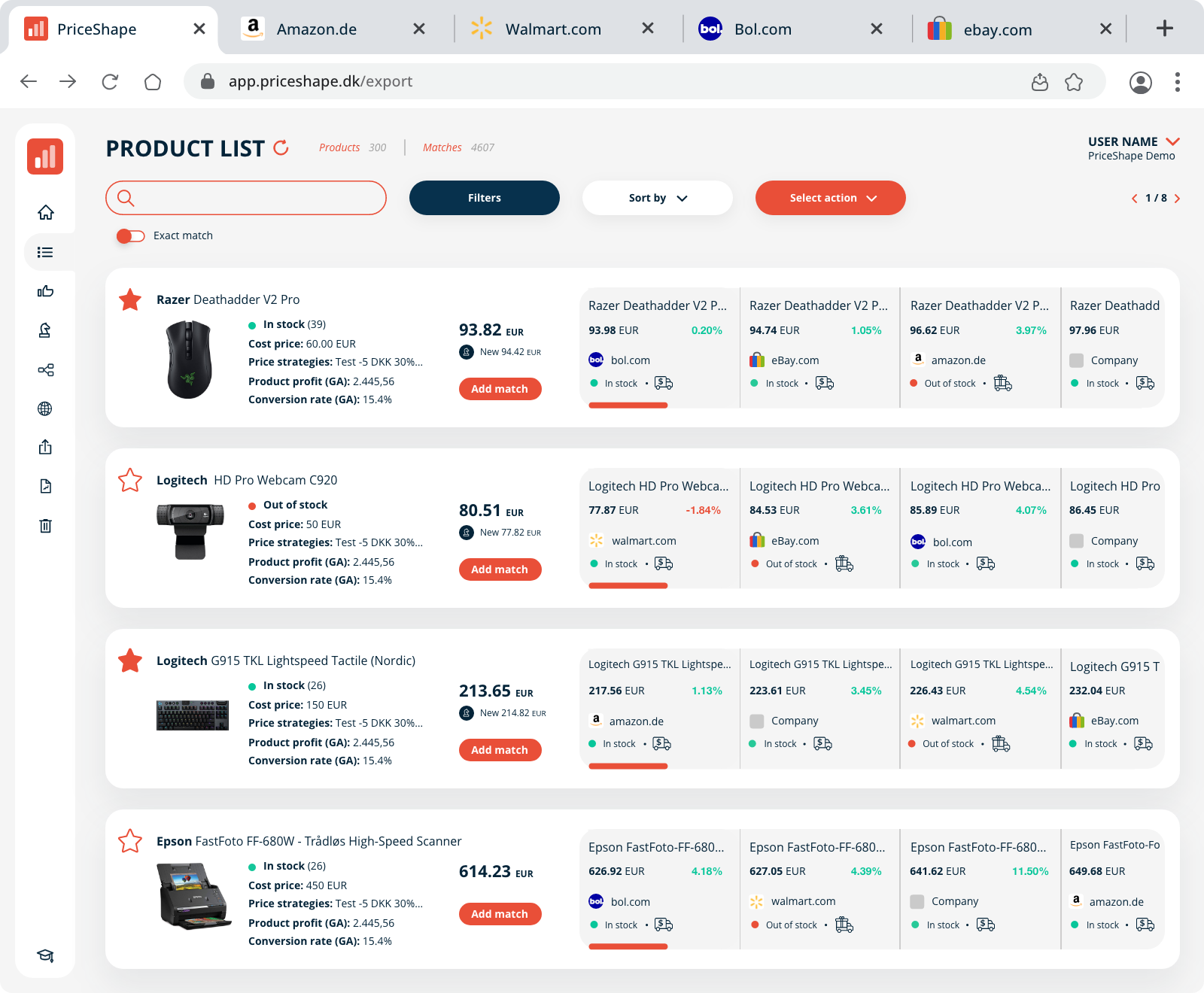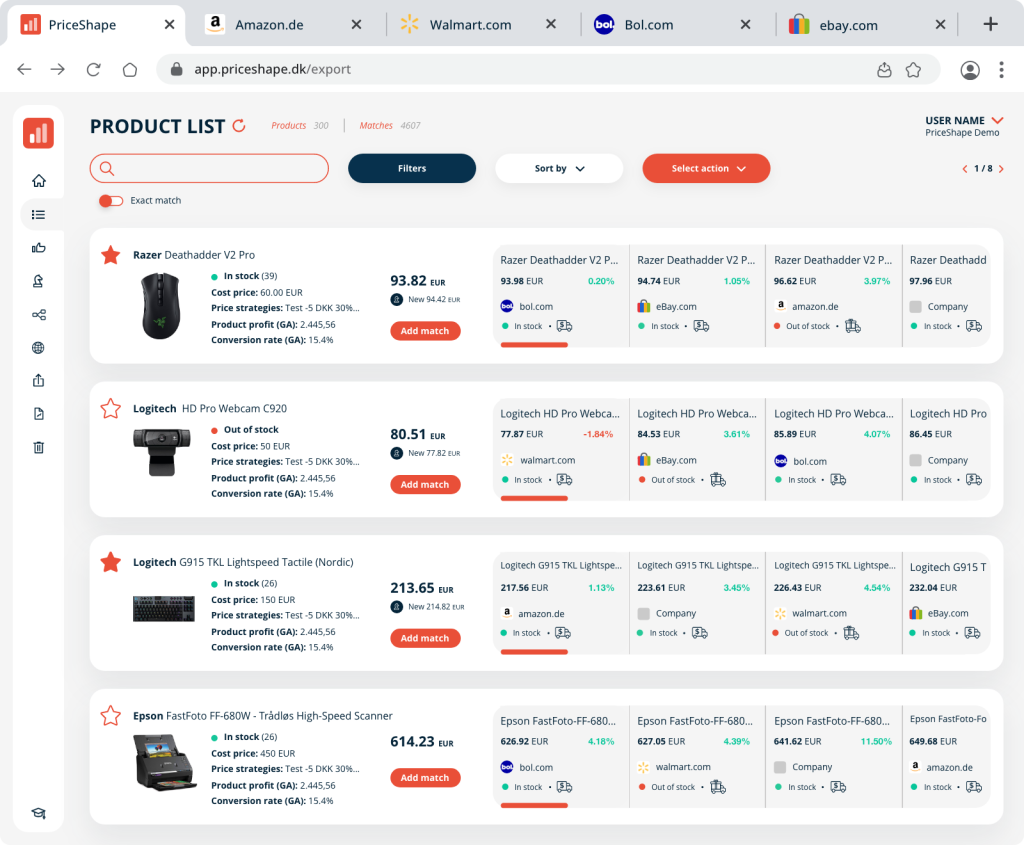 PriceShape provides users with intelligent price recommendations by analyzing vast amounts of online data. Its strengths include user-friendly reporting and actionable pricing insights that help businesses optimize their pricing strategies. However, the starting price is relatively high, which might be a barrier for smaller operations. PriceShape is straightforward to use, requiring users to input their products and competitors before it starts delivering tailored pricing advice. Pricing: They offer a free trial, and the paid plans kick off at $250 per month, positioning it as a premium option in the market.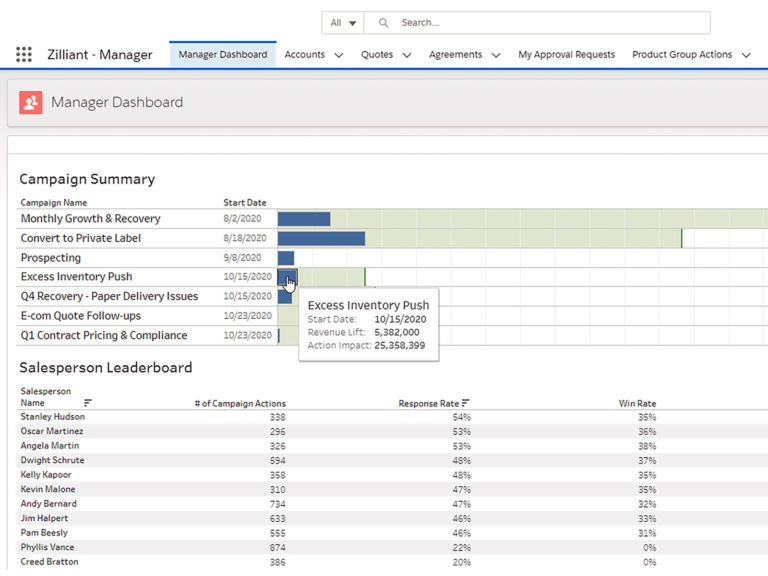 Zilliant is geared towards B2B companies and offers price optimization solutions that are data-driven and backed by machine learning. Its strong suit is in dealing with the complex pricing scenarios typical in B2B industries, where pricing can be highly variable and data-intensive. The main drawback is that pricing details are not disclosed upfront, which could complicate budget planning for interested companies. Zilliant's solutions are used by inputting a range of business-specific data to receive optimized pricing guidance. Pricing: As Zilliant provides tailored solutions, you'd need to contact them for pricing, which is usually custom to each client's needs.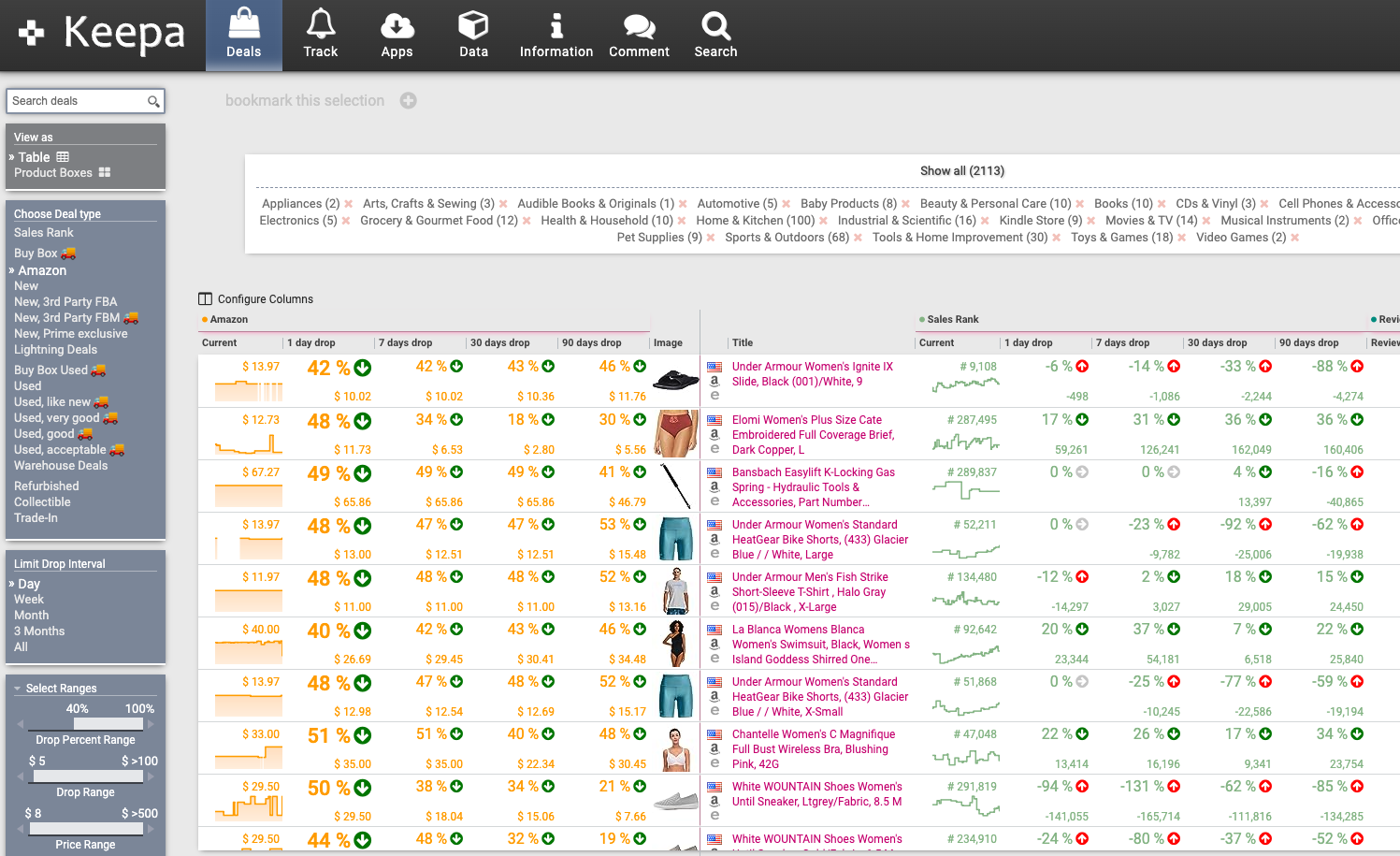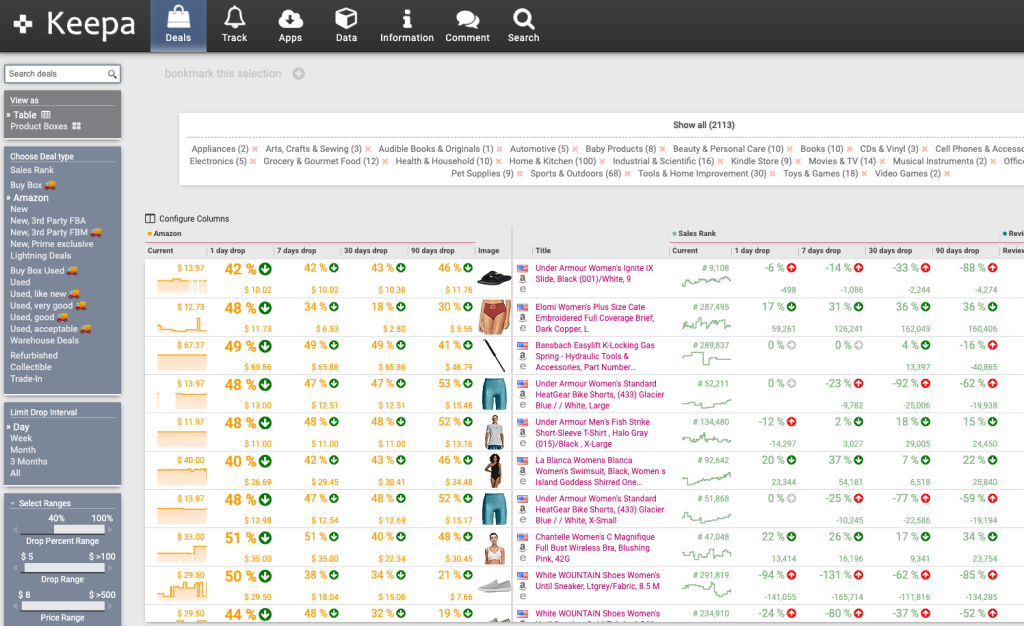 Keepa is an Amazon price tracker that provides comprehensive price drop alerts and historical price data, essential for sellers and buyers on the platform to make informed decisions. Its advantage is the extensive amount of data Keepa offers, which includes tracking for international Amazon markets. However, its focus is exclusively on Amazon, which may not suit sellers looking for multi-platform capabilities. Keepa is very user-friendly, with browser extension options and an easy setup process. Pricing: Keepa is free for basic use, with a subscription option available for users who require deeper data access and more advanced features.
CamelCamelCamel: Best Free Price Tracking Tool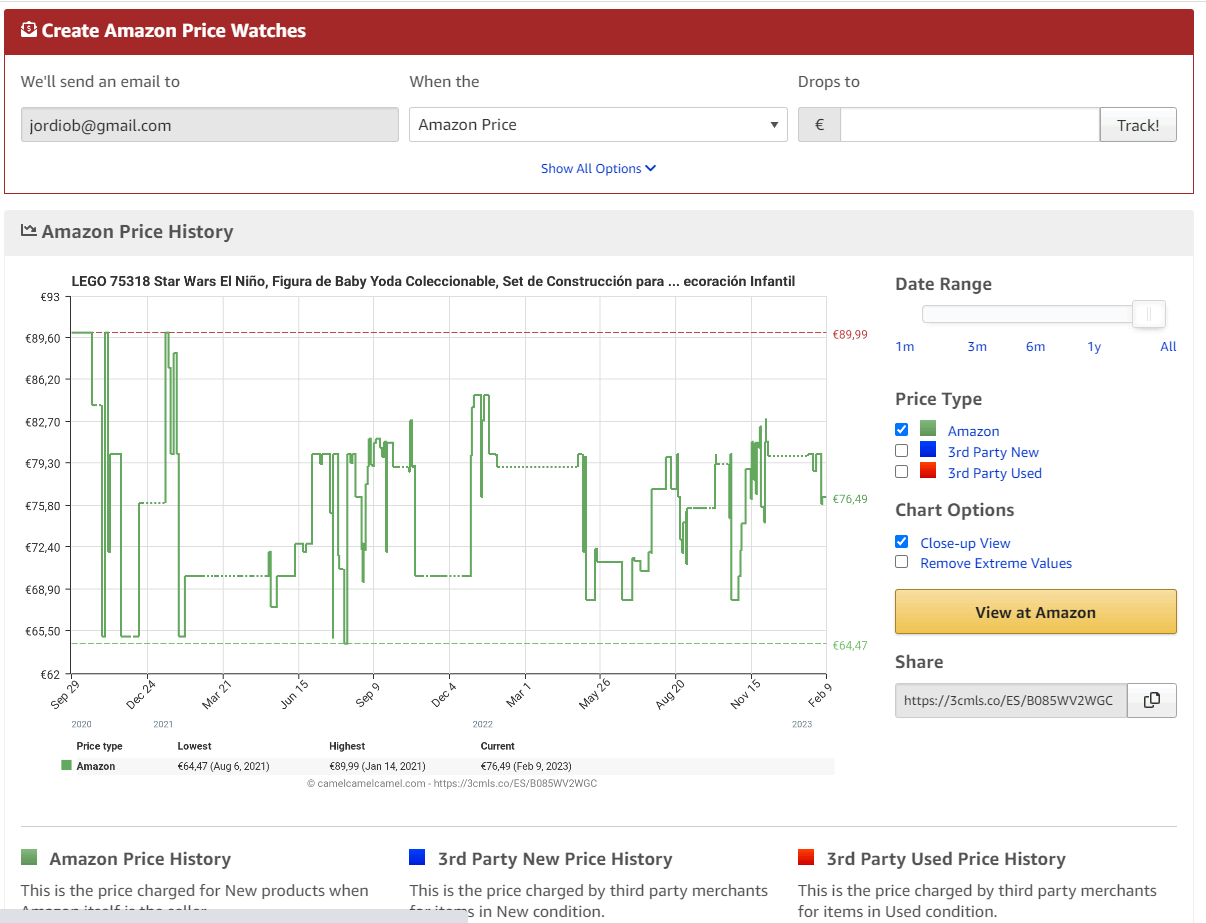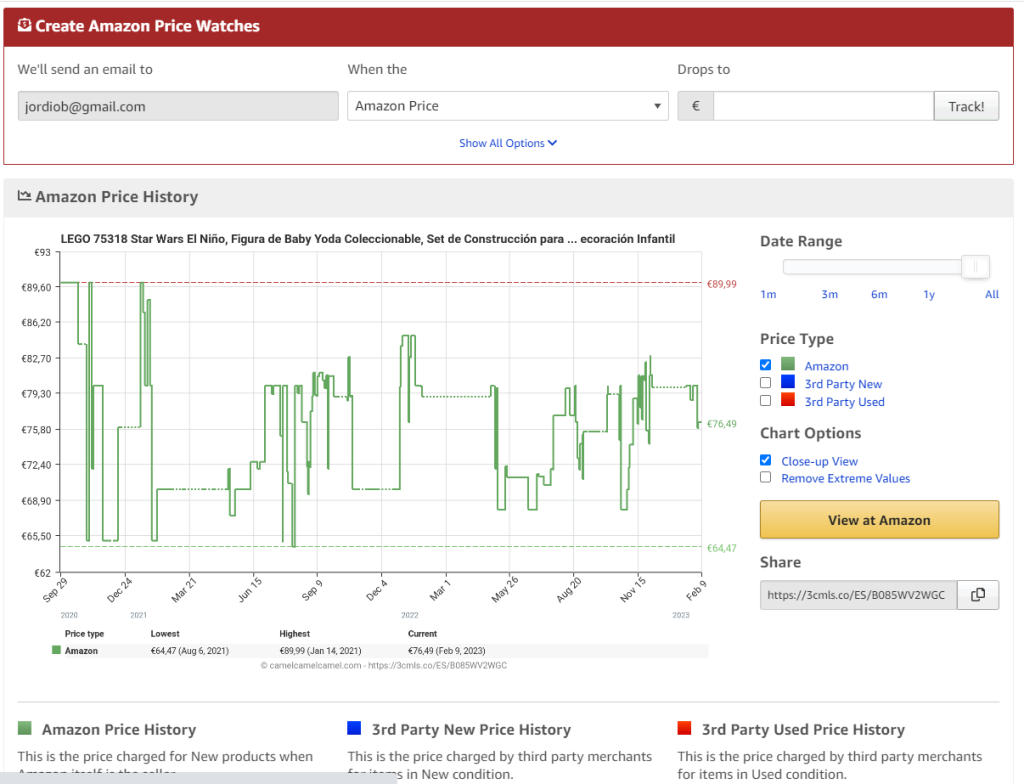 CamelCamelCamel is another Amazon-specific tool that provides price history charts and alerts for price drops, catering to both buyers and sellers in the Amazon marketplace. Its user-friendly interface and straightforward functionality make it popular among Amazon users. The limitation, similar to Keepa, is its exclusivity to Amazon, not providing cross-platform price tracking. CamelCamelCamel is free to use and is an excellent starting point for anyone looking to get a historical perspective on Amazon pricing. Pricing: It's completely free, making it accessible to anyone with an interest in Amazon pricing.
The "best" tool will vary by the specific challenges and opportunities your business faces. Whether you're a small business just getting started with price tracking using Excel or a large retailer looking for a comprehensive solution like NetRivals or Competera, there's a tool out there to match your needs. The key is to choose one that aligns with your business objectives, integrates well with your current operations, and provides actionable insights to help you compete more effectively.
Utilizing Tools for Competitor Price Monitoring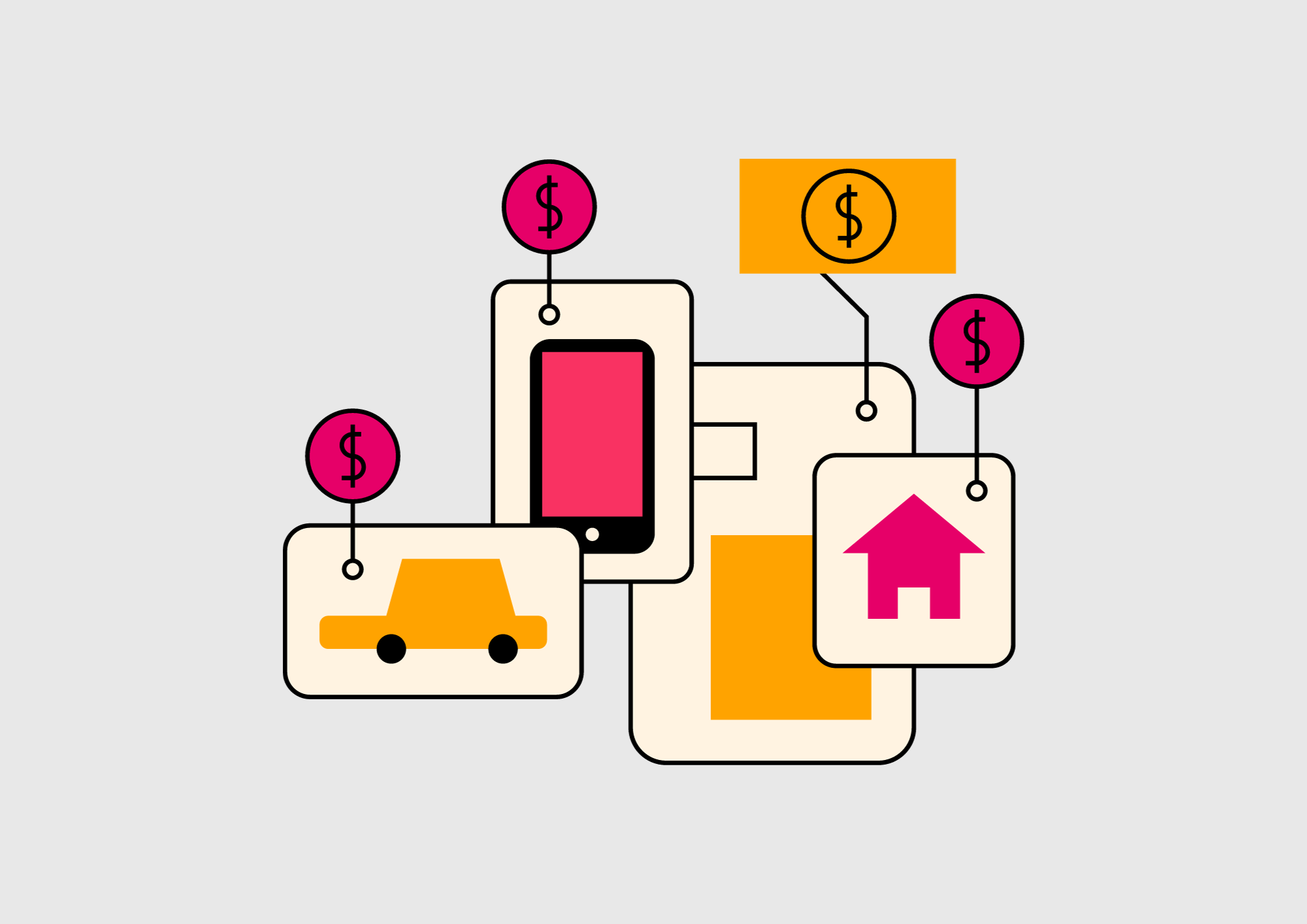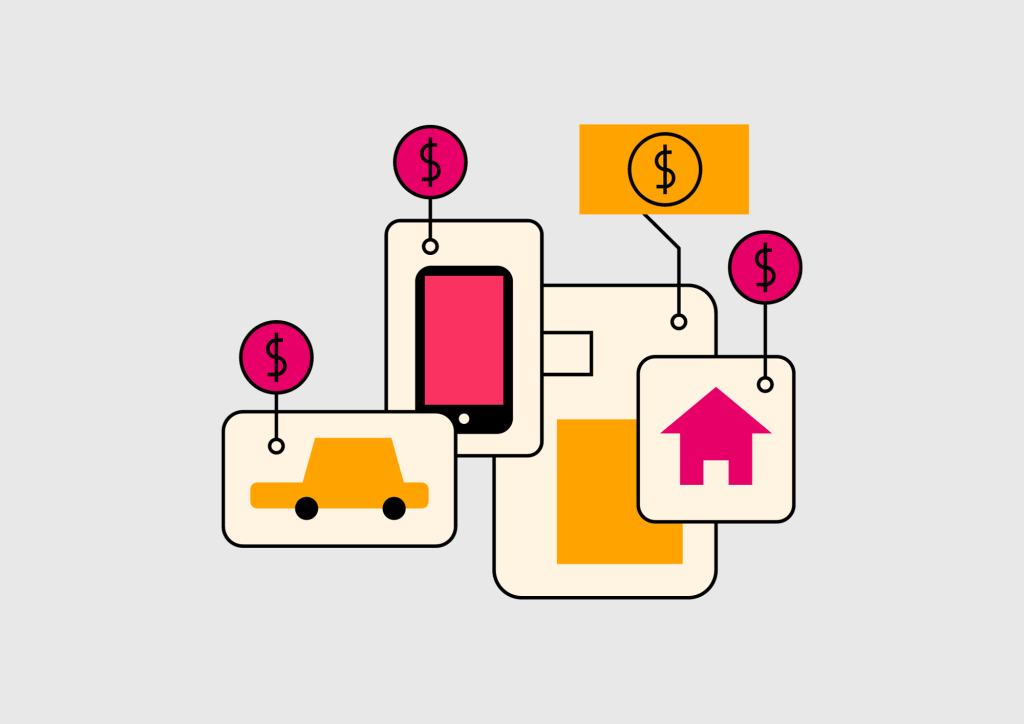 For businesses venturing into competitor price tracking, selecting the right tool is a critical decision that can significantly impact the effectiveness of their pricing strategy. Here's how you can use various tools to your advantage:
Excel and Google Sheets:
Start by setting up a spreadsheet dedicated to tracking competitor prices.
Create a template that includes important fields such as product names, competitor names, prices, dates, and any notes on promotional activities.
Use functions like VLOOKUP or INDEX MATCH to cross-reference your products with competitor listings.
Apply conditional formatting to highlight where your prices are higher or lower than competitors'.
Tableau and Power BI:
Import your pricing data into these platforms to utilize their powerful analytics and visualization capabilities.
Create dashboards to represent your competitive landscape visually, making it easier to spot trends and outliers.
Set up interactive elements in your visualizations to drill down into specific categories or time periods for detailed analysis.
Specialized Software (NetRivals, Competera, Price2Spy, etc.):
Configure the software to track selected competitors and products that directly affect your market positioning.
Utilize automated alerts to stay informed about price changes as they happen.
Take advantage of reporting features to generate regular insights on competitor pricing strategies and market movements.
Implement dynamic pricing features where available to adjust your prices based on real-time market data.
Each of these tools can be adapted to serve the unique requirements of your business, from simple data tracking in spreadsheets to deploying advanced business intelligence software for in-depth analysis. By leveraging these tools, you can develop a systematic approach to competitor price tracking that informs strategic decisions and helps maintain competitive pricing.
What is price tracking software?
Price tracking software is a digital solution that enables businesses to monitor and analyze the pricing strategies of their competitors automatically. It collects pricing information from various online sources, providing insights through analysis and reporting, which businesses can use to make informed decisions on their own pricing strategies. This software often includes features such as real-time alerts on price changes, dynamic pricing capabilities, and integration with other business systems for comprehensive market intelligence.
Why should you use a price monitoring tool or platform?
Using a price monitoring tool or platform is essential for several strategic business reasons:
Competitive Insight: It provides deep visibility into where your products or services stand in comparison to your competitors, allowing you to understand your market position better.
Informed Pricing Decisions: With accurate and up-to-date information on competitor prices, you can make smarter pricing decisions to enhance competitiveness and profitability.
Efficiency: Manually tracking prices is time-consuming and prone to error. Automated tools save time and increase accuracy, allowing you to focus on strategic activities rather than data collection.
Dynamic Pricing: In markets where prices fluctuate rapidly, such as online retail, price monitoring tools can help you adapt prices in real-time to respond to market changes, demand, and competitor actions.
Promotional Opportunities: By monitoring pricing trends, you can identify the best times to run promotions or adjust pricing strategies to capture demand.
Market Trends Analysis: Price monitoring tools can help you analyze long-term pricing trends, giving you valuable insights for future planning and forecasting.
Price Optimization: These tools can help you find the optimal balance between demand and profitability by analyzing how pricing changes impact sales volume.
Alerts and Notifications: You can be notified immediately of any changes in the competitive landscape, ensuring you never miss an opportunity to adjust your pricing or capitalize on competitors' pricing moves.
Strategic Planning: Long-term collected data provides a historical view of pricing strategies employed by both your business and competitors, which can be crucial for strategic planning and growth forecasting.
In a nutshell, price monitoring tools are critical for staying agile in a market where pricing can be a major determinant of business success. They enable you to position your products effectively, optimize sales, and maintain a strong competitive stance.
Tracking competitor prices with web change detection tools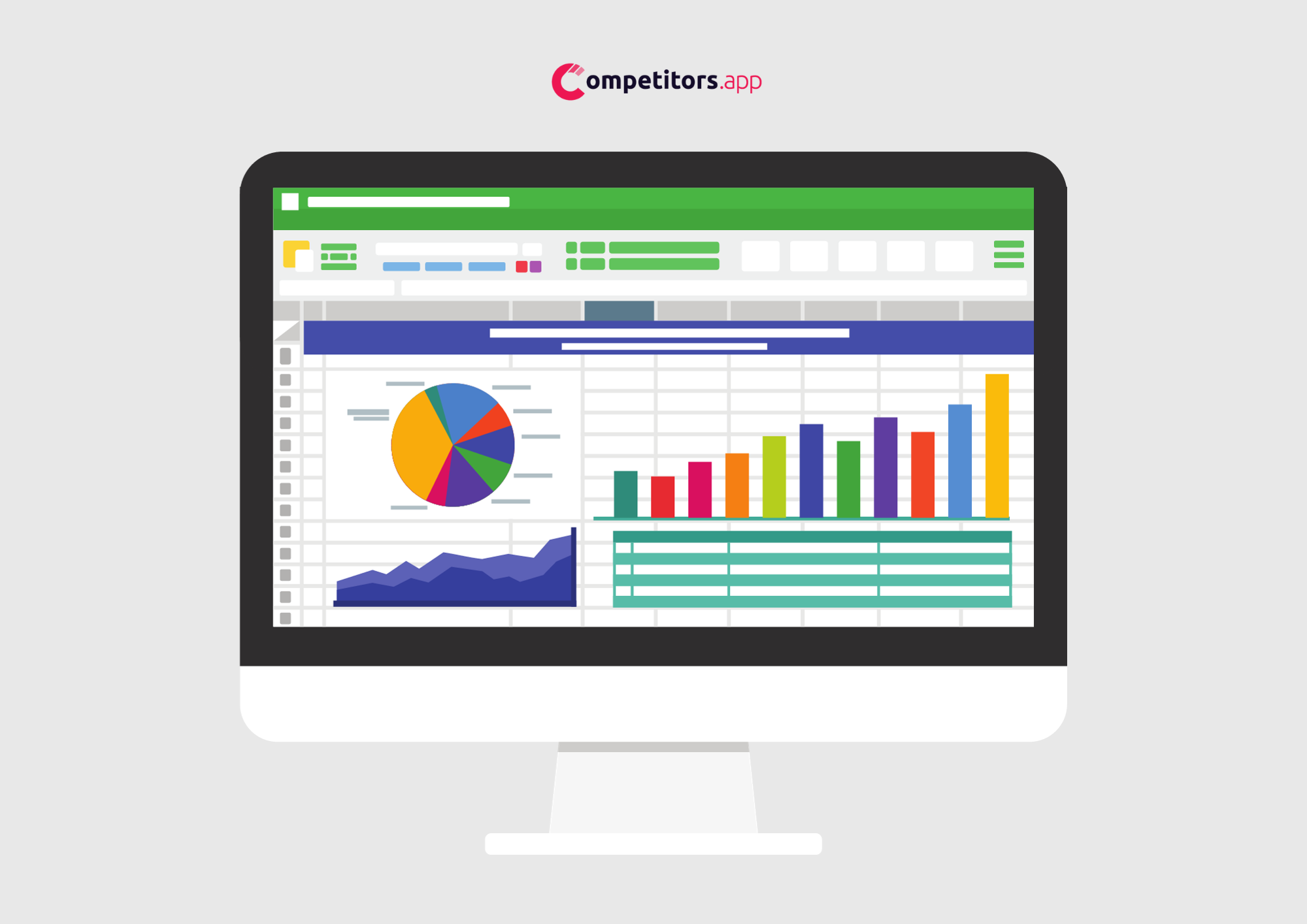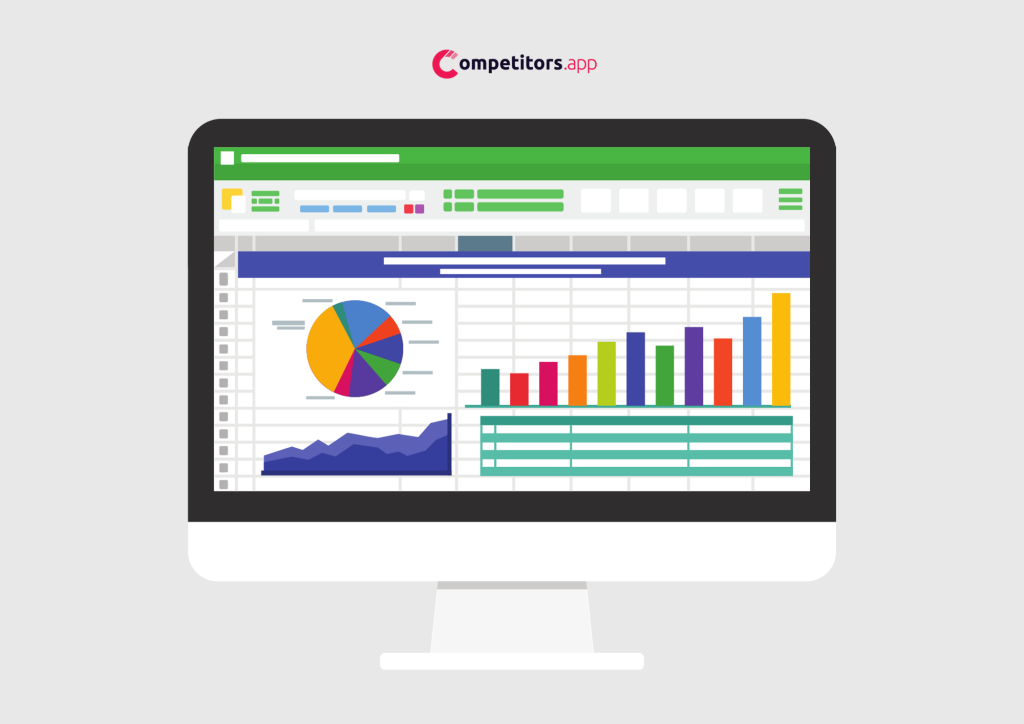 Tracking prices with web change detection tools involves using software that notifies you when changes occur on specific web pages, which can be particularly useful for monitoring competitor pricing strategies. Here's how it works and why it's beneficial:
How It Works:
You specify the URLs of the competitor web pages you want to monitor.
The tool scans these pages regularly for changes in price.
When a change is detected, the tool records the new information and alerts you.
You can then view a log of all changes over time, which may include historical prices and the dates and times of changes.
Benefits:
Immediate Updates: You receive notifications as soon as a price changes, which is critical for industries where prices are volatile and change frequently.
Historical Data Tracking: Over time, you can see the history of a competitor's pricing decisions, allowing you to discern patterns or strategies in their pricing.
Strategic Repricing: With timely information, you can adjust your pricing strategy to stay competitive or to take advantage of opportunities in the market.
Market Intelligence: Regular monitoring can provide a broader understanding of market trends, such as seasonal pricing fluctuations or responses to consumer demand changes.
Resource Efficiency: Automation of price tracking reduces the manpower and resources that would otherwise be spent on manual tracking, making the process more efficient and cost-effective.
Use Cases:
E-commerce: Online retailers can use web change detection tools to monitor competitor websites, ensuring they offer competitive prices or match promotions.
Hospitality and Travel: Hotels and airlines can keep track of changes in pricing for various dates and destinations, allowing them to offer the best rates.
Market Research: Companies can collect data on pricing for market research purposes, providing a foundation for market entry strategies or new product pricing.
Web change detection tools are essential for businesses that operate in competitive online spaces where pricing is a dynamic and influential factor. These tools not only save time and increase accuracy but also provide the strategic data needed to make well-informed business decisions.
Conclusion: The Importance of Competitors Price Monitoring Tools
In conclusion, competitors price tracking is an indispensable strategy for businesses aiming to maintain a competitive edge. The use of web change detection tools streamlines the process, ensuring that you stay updated with the latest price movements in real time. This capability allows for agile responses to market changes, empowering businesses to optimize their pricing strategies promptly. With the insights gained from tracking, companies can make data-driven decisions that directly impact their profitability and market share.
Embracing these advanced tools not only conserves resources but also elevates the strategic planning process, providing a clearer understanding of the competitive landscape. Whether it's through setting the right price, timing promotions correctly, or understanding competitor behaviors, price tracking tools are a crucial component of modern business operations. As the marketplace continues to evolve, the role of comprehensive and accurate price tracking becomes ever more critical for success in any industry.