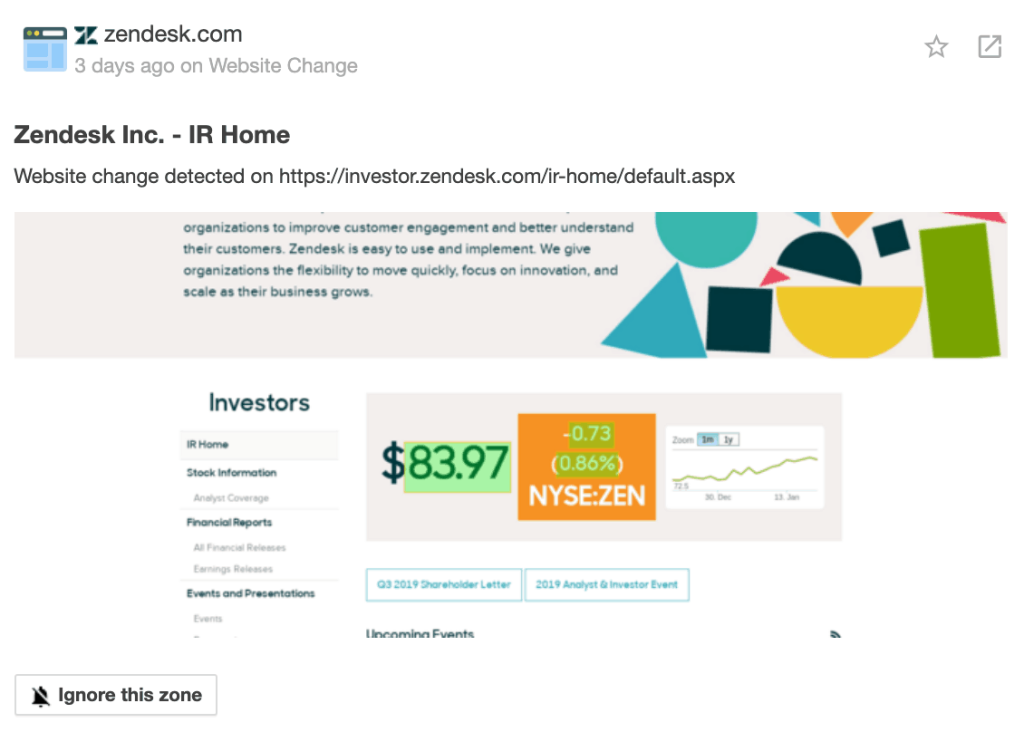 There are many "to do-s" on the list when creating a business, but there are also a couple of key points that are vital for brands in today's digital marketplace, and the most important one is to position the brand online.
A website helps companies to build their online identity and credibility, allows them to reach their audience, and sets up the business on the online market. Moreover, from a company's website, you can find out quickly who they are, what's the company's mission, what services they offer, at what prices, and more.
Before making a purchase or signing up for a service, consumers scroll the internet for their best fit option so that they might pop up on different websites. Your brand's website, visual identity, and content say a lot about your company and your services – so it can encourage conversions and help consumers to go for your service/product.
Why monitoring competitors' websites matters
Besides the typical info that a company's website is proving at a glance distance, the website can be a valuable source of gathering insights into the brand's business strategies – especially when you're looking closely into your competitors' websites.
Not only does your website give you advantages in front of your target public, but it also helps you to differentiate your brand's identity from the competition. Keeping an eye on your competitors' website changes and updates and being aware of each competitor's move on their website will help you to spot new opportunities for your brand, it will uncover new directions on how you can set your business' website apart from your competitors' ones, and it will give you an idea of the website tactics that your competitors are using, and that might work for your case too.
Websites can highlight significant company changes as product and pricing updates, visual updates, messaging changes, and key updates that can help you to get deeper into their strategies and gather data so that you can build a strong competitive advantage for your website.
For example, if your top competitor announces a particular new feature that is requested by the customers, then you might want to think about it and try to implement it, too, especially if your target audience demands it.
Let's get deeper into the topic and discover some examples of website changes and updates that can help companies to build a strategic competitive advantage while gathering competition updates.
Types of website changes to track on competitors' websites
As already mentioned above, a website can be a source of valuable insights into a business's strategy and can uncover the company's values, product/services offer, price details, brand's visual identity, and more. Tracking all competitors' websites moves automatically, with an online monitoring tool, allows marketers to have a better overview of competitors' website updates, saving time, and resources.
Plus, receiving notifications each time when a competitor makes a change on its website keeps companies aware of competitors' actions in real-time, so they can focus on finding opportunities to overcome competition and improving their strategies.
Changes to Call-To-Action (CTA) buttons

Changes to CTA buttons/wording can have a significant impact on conversion and can influence the possible customer's behavior on the website. "View a Demo" was changed to "Get Started" in the example below – attracting customer's curiosity to click and see what's behind the red button and how he can get more of what the company offers.

In this case, "View a Demo" is a clear and effective CTA that no additional argument about it is necessary. But to spark customer's curiosity and to make them part of the company's services discovery.

& New Call-To-Action Buttons

Pricing changes

Your competitor is changing its pricing strategy – I bet this is an important update for your business' strategy, and you might want to keep up your competitor's pricing updates and know each time when a new change appears. To not be caught in a risky position, opt to receive notifications each time when competitors change prices so you can quickly plan your future steps to maintain a competitive price for your service.

In the end, price is one of the first things that a consumer is interested in when searching for a product/service, so keeping up with competitors' pricing strategies is crucial for your business' success.

New features/integrations updates

Staying up to date with your competitors' new features and uncovering all their customers' advantages and benefits helps you to plan how you can further develop your service/product by staying relevant to the competitive market.

Each new change or update that your competitors are making for their services/products should be a piece of valuable information for your business strategy and product development, not only a curiosity. Being aware of what new integrations are your competitors launching for its users, for example, gives you insights about your latest opportunities on the market and show you what your customers might want too and what you should implement next.

Company's updates/Jobs Offers/ Team updates

When automatically tracking competitors' websites, you can get to know whenever a competitor makes a change on its website, from CTA buttons, as seen below, to Terms changes. Discovering your competition changes regarding their Privacy Policies, Data Protection, GDPR makes you aware of their activity and underlines what you might be missing out from your Policies and Terms.

Many signs can uncover your competitors' plans only by having a closer look at their website. Stay up to date with your competitors' movements on their website, and you can quickly discover when a company launches job offers. Opening a job position means opening new paths for developing their service/product, so you should be aware of their plans. As seen above, IFTTT is currently looking for a "Customer Success Manager," – which means they will start focusing and dedicating more resources on their customers' experience – so you should be aware of that and be prepared.

By keeping an eye on competitors' website changes, you can be informed when a new member joins the team, and you can make an idea of your competitors' team and roles – so you'll get to know their resources focused on developing the service/product.

Content Changes/Updates

Being aware of what your competitors are posting on their website makes you aware of their content and marketing strategies – do they have a Case Studies page? How frequently are they posting new case-studies? Which are your competitors' customers? From which domains? Uncovering your competition content strategy on the website gives you hints of what you should focus on, too – in the end, you're sharing the same target audience, and your service/product is similar, right?


Getting to know your competitors' type of articles published on their blogs gives you valuable insights into their content strategies, but also their SEO efforts. On Competitors App, for each competitors' marketing channel, you can analyze engagement details, frequency of posts, and get to know all competitors' articles – so you can start planning your strategies and craft content that attract the audience and educate the public.

SEO Changes

Keep an eye on your competitors' SEO efforts and spot whenever your competitors make some change that will affect their SEO – like changing blog post title or focusing another keyword. Activate notifications for this feature to be the first to know about it so that you can improve your SEO efforts too!

New Web-Pages


Companies create new pages for their website – dedicated pages for features, FAQ, and more. Scrolling on your competitors' website to discover the new pages, from time to time, can be a challenge, so using competitive intelligence tools can facilitate your search. You'll get notified each time a competitor creates a new web page for its website.

Press Releases & Announcements

Companies are using their official website to share the company's news, press releases, and announcements. Tracking competitors' websites help you to easily spot their new releases, annual reports, and the launching of new collaborations/partner programs.

Customers Testimonials Updates

Customer testimonials are one of the most powerful trust weapons, and each site has (or should have) a powerful testimonial or review page. Dedicating a testimonials page on your website guides potential customers, helps them to overcome objections, and builds instant credibility for the brand's services/products.

Sales and offers updates

Get on your email all competitors' offers and sales even before their customers! Understanding your competition sales and marketing strategies allows you to spot your strengths and weaknesses. What is their discount policy? Do they create more attractive offers? What can you do to overcome competitors' sales strategies?

You need to know what competitors are bringing to the market, and, especially when they create unique offerings that might attract your audience or even your customers.
In conclusion, monitoring competitors' website changes and analyzing their updates will help you identify your competitive advantage. Maybe it's the interactive design on the landing page that attract new customers –  may be the login process is easier than in your case – may be the new customers gets quicker from your competitor website what his tool does than on your website — the goal is identifying the competitive advantage that will help you to create the right websites' messages, content, and image for your brand.
ℹ️Start your FREE TRIAL on Competitors App and track all competitors' website changes to identify your websites' strengths and weaknesses.